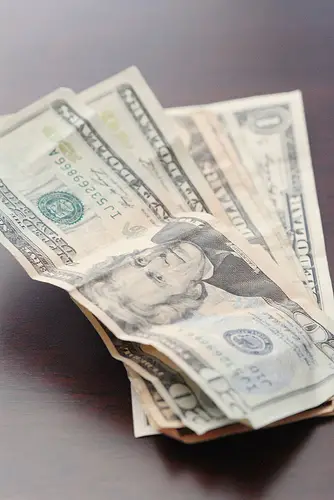 No doubt all of us have racked our brains at one time or another to come up with ways to make extra cash.
Yes, it's tempting to gravitate towards those get-rich-quick and make-money-overnight offers, but unless you're willing to risk becoming the victim of a scam, you'll need to think of more creative ways to earn money.
With that in mind, here are 23 ideas to help you pad your wallet:
1. Become a Tutor
If you're proficient in a certain subject then become a part-time tutor. You can tutor on a freelance basis, but most tutors work as independent contractors who are affiliated with a tutoring agency that finds the clients for them in exchange for splitting the tutoring fees evenly.
2. Sell Your Junk
This is a great task for pack rats. Garage sales, eBay, and CraigsList are all great venues for selling your stuff quickly. The downside is that eventually you'll finish selling all of your stuff, which is why it's important to replenish your inventory with new things to sell; one way is to sell things on consignment.
3. Start a Website
Website start-up costs are next to nothing — and you can be up and running in hours. All you really need to get started is $10 to purchase a domain name and another $20 or so per month for a hosting plan.
Tip: Start a website on a topic that you already know and understand. For example, Len started this site because he has a lot of financial knowledge and wanted to communicate a common sense approach to finding financial freedom.
4. Do Odd Jobs
Walking around your neighborhood and looking for odd jobs will not only put some quick cash in your pocket, but also get you acquainted with the neighbors. You'll be surprised how well this strategy works if you look professional and speak in a very friendly and polite manner.
5. Hand Out Fliers
Many local businesses will pay $100 or more to anyone willing to deliver marketing fliers.
Tip: If you're unsure of what businesses to contact first, then try contacting each of the businesses that are already marketing in the local "Coupon Clipper" fliers that you receive in the mail. Each of these area businesses are prime candidates for wanting to have their own fliers hand-delivered as they are already spending money on marketing in the area.
6. Scoop Dog Poop
Yup, you heard me right. Many people who have dogs pay someone else to scoop and cart away their dog's poop on a weekly or daily basis. Get creative: For an extra charge, you could spray the lawn with a deodorizer afterward too!
Tip: You'll definitely want to invest in a pooper-scooper stick so that you do not have to bend over.
7. Invest in Domain Names
Yes, it's too late now to buy great domain names like Business.com and resell them for a profit — but there are certainly others still available that can be held for your own money-making website or resold for a profit.
8. Peruse CraigsList
The CraigsList.org "Gigs" and "Part Time Jobs" sections of the site are great places to find quick weekend money makers as well as the traditional 15-20 hour a week part-time jobs.
9. Write Articles
With so many people moving their businesses online and starting new websites there is increasing demand for talented writers. Demand Studios is one place where many writers can find an abundance of writing projects with pay ranging from $10 to $20 per article — or more.
10. Join Amazon Mechanical Turk
Amazon Mechanical Turk is a marketplace where you can sign up to complete online human intelligence tasks that are very easy for humans to do but are difficult for a computer to accomplish, such as categorizing different products, or matching up images with descriptions.
11. Start a Business
Sure, this is a very broad suggestion, but maybe at least one of these 999 business ideas will give you a flash of inspiration.
12. Pay Off Your Credit Card
OK, maybe this is not technically a way to make money per se, but if you're carrying a balance on your credit card then the faster you can pay off your credit card the better off you'll be because you will save yourself a boatload of money on interest charges. You can also put your credit cards to work for you by utilizing cash back credit cards that pay from 1% to 3% of everything that you spend. Just remember: If you carry a balance on your card then these cash-back benefits are negated.
13. Detail Cars
Washing, waxing, vacuuming, and cleaning cars will certainly require some sweat and some elbow grease from you to make it a successful venture, but the upside can be great — especially if you love cars as I do. Start-up costs are very low. In fact, you can purchase all of the supplies that you'll need for under $100.
14. Deliver Food
Start a service that will deliver food from restaurants that do not offer delivery. The customer calls you with their order, then you drive down to the restaurant, pick up the food and bring it to the customer's house. The customer then pays you for the food plus your fee.
15. Become an Affiliate Marketer
Affiliate marketers are similar to salespeople that market products or services online for a sales commission. Try the Amazon affiliate program or the Walmart.com affiliate program. You might even try signing up for a third-party affiliate network like Commission Junction that aggregates listings of many different companies affiliate programs.
16. Wait Tables
Waiting tables is certainly not a creative way to make some extra money but it is a tried-and-true money maker that almost anyone can do.
17. Become a Landscaper
Although definitely not a new concept, landscaping is a proven way to spend your weekends making some cold hard cash. If you spend your weekdays working in an office then a side benefit is that you get work outdoors and enjoy the fresh air.
18. Design Something
If you're creative, then making crafts, or designing artwork, stationary — and even stuffed animals — could become a cash cow if people love your work.
19. Clean Houses
Call up a local cleaning company that does residential cleaning and ask them if they have any part-time work.
20. Throw a Party
Plan a gigantic party complete with refreshments, live music, snacks, and dancing, and then charge a cover charge to get in. If you plan ahead and pay strict attention to the budget then you can turn your party into a smashing success — not only for the party-goers, but also for your wallet.
21. Give Driving Lessons
Sure, there are plenty of professional driving schools that offer driving lessons, but if you're patient and dependable, then many parents would likely jump at the chance to have you assist them in teaching their kids to be safe drivers — especially if you undercut professional driving school prices.
22. Coach or Referee
Call your local youth center to see if they have a need for any coaches or referees for any of their youth sports leagues.
23. Organize Houses
Perfectionists and neat freaks can help others organize their garages and closets into space-efficient areas. Offer a free five minute "space efficiency evaluation" and then, if you're good enough at making a shocked face as soon as the potential client opens their garage door, you'll probably win yourself a client.
Photo Credit: Nurse Carla