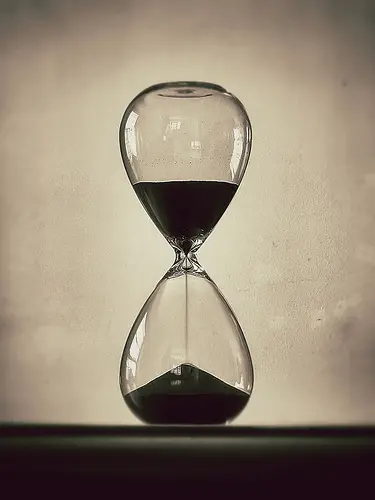 Although I haven't conducted a scientific study, I suspect that most people of modest means who are successful in managing their personal finances understand the importance of being patient.
Let's face it: Most debt-free people aren't impulsive shoppers, or insistent on instant gratification — if they want something but don't have the cash, then they wait until they've saved enough.
An Unexpected Milestone
Patience has certainly played a ginormous role in allowing me to build a healthy nest egg — not to mention keeping my debt to a minimum. I was reminded of that again after the Honeybee and I bought beautiful new end- and coffee-tables to cap off one of our remodeling projects: while loading the car with our old tables to give to a local charity, it dawned on me that we originally bought that furniture second-hand many years ago.
When we first bought our new home, we bought one new furniture set to go into it: a kitchen table with six chairs. Everything else was "donated" by our parents or bought second-hand. Not that we cared. In fact, we ignored the urge to fill every room with brand new furniture because: 1) we didn't have the money, and; 2) we weren't willing to go into debt for five or six years to pay for it.
Why Waiting Was Worth It
Looking back, the wait was definitely worth it. The Honeybee and I could have furnished our entire house when we first moved in (minus the kitchen set we bought) for about $12,000.
If we had been impatient — and took out a 5-year loan for the full amount at an interest rate of 8% — we would have spent an additional $2599 in interest. Even today, that's enough money to pay for a roomful of furniture all by itself.
Over the years, our patience has allowed us to avoid a lot of costly interest payments. As a result, we've been able to afford some things much sooner than we otherwise would have — without being beholden to any lender.
The Reality Is… Saving Money Takes Time
Anyway, that little furniture episode got me thinking about how long the Honeybee and I have had to wait to buy certain things we've wanted since moving into our new home in 1997. So I put together a little list of all the "big ticket" items we've bought since then — either for the first time, or to replace our second-hand stuff. (The numbers in parentheses note how long we waited before we could finally afford to buy each item):
Matthew's new bedroom set (1 year)
Backyard patio slab (1 year)
New mini van (2 years)
Family room sofa set (3 years)
Nina's new bedroom set (4 years)
Built-in family room entertainment center (5 years)
Tile floors for family room, foyer, powder room and kitchen (6 years)
Replace blinds with shutters throughout house (7 years)
Loft remodel, including furniture, wood flooring and built-in loft office desk and cabinets (8 years)
Wood flooring in guest bathroom (8 years)
Upgraded carpet in living room and bedrooms (8 years)
Dining room table, hutch and buffet table (9 years)
Living room sofa sleeper (9 years)
Upgrade the wood privacy fence with a block wall (10 years)
Upgraded glass front doors (11 years)
Upgraded iron staircase balusters (11 years)
Upgraded cabinets in kitchen, powder room, and baths (12 years)
Kitchen, bath and powder room remodel (13 years)
Family room coffee table and end table (13 years)
Backyard patio cover (15 years)
New car (16 years)
New master bedroom furniture and a master bath remodel (17 years)
Computerized telescope (still waiting; unknown how far off)
People of modest means should understand two important facts:
We can't have it all at once.
Saving money takes time — sometimes lots of it.
As you can see, I'm still waiting for my high-end computerized telescope. That's okay though; I may be old, but life is a marathon and — as best as I can tell — I've still got more than a few miles to go. At least I hope so.
Besides, the stars and planets aren't going away any time soon.
Photo Credit: Chris Preen