This is another post from my 12-year-old daughter, Nina.
Hi everyone! My dad asked me if I would write another article to tell you about my latest accomplishments so far in 2012.
My last post received a lot of attention because it was put on MSN's Smart Spending blog. I was very excited when that happened and it made the end of 2011 a memorable one for me. If you remember, in that post I explained how I started up a car washing business so I could save up to buy a laptop.
But guess what? This past Christmas I received a Macbook Air — lucky (and spoiled) me! The only catch was that my mom and dad made me pay for more than half of it. I had to chip in $600 of my own money.
So how did I do that? Easy! I already had $130 from my car wash business, and I received about $300 in Christmas cash from my aunts and uncles and grandparents.
Since Christmas, I have paid $520, and I only have $80 left to go!
So how am I making my money now?
The car wash is long gone. I admit, I kind of quit. Don't call me a slacker, but I became very busy on Saturdays, and the jobs slowly disappeared.
Now, I'm making money a different way: duct tape. Yes, you heard me. Duct tape!
Some people say duct tape was originally used by the military, and then people later began using it for heating ducts (hence the word "duct").
I have multiple colors of duct tape, including red, green, blue, purple, a reindeer pattern, zebra print, black, and white.
With the tape, I now make wallets. The first wallet I made was a black and purple one for my brother. It was terrible. (Hey, it was my first time!) But after a few tries, I eventually got the process down perfectly.
I made a blue bi-fold with a white stripe. The inside had one ID slot with clear plastic, and three white card pockets with black trim. I gave that one to my friend.
I also made a woven neon wallet, with five card pockets, an ID slot, and a hidden pocket. Here is a picture of what it looks like: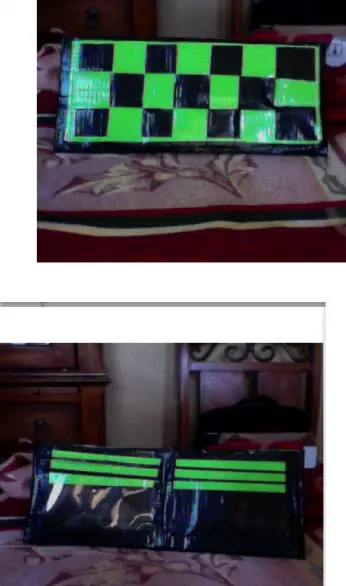 I brought them to school and my wallets became a huge hit! I started getting orders for multiple wallets. After a while, I decided to start selling them for $5 each. One time I made $20 in a single day.
I then found a new way to make wallets. By taping two bi-fold wallets together, I was able to make a woman's wallet. It had twice the card pockets, and money slots. I charge $5 extra for those. I've sold two of them so far.
Along with duct tape wallets, I'm now also making polymer clay charms. Polymer clay is a bakeable clay that comes in many colors. So far, I have made about 25 mini charms. Some of my favorites so far are: a toilet paper roll; a Popsicle; a burrito; some animal cupcakes (a duck, a panda, and an octopus); a fortune cookie; a fishbowl; and a baby rainbow-rings toy. Here is a picture of what I have made so far: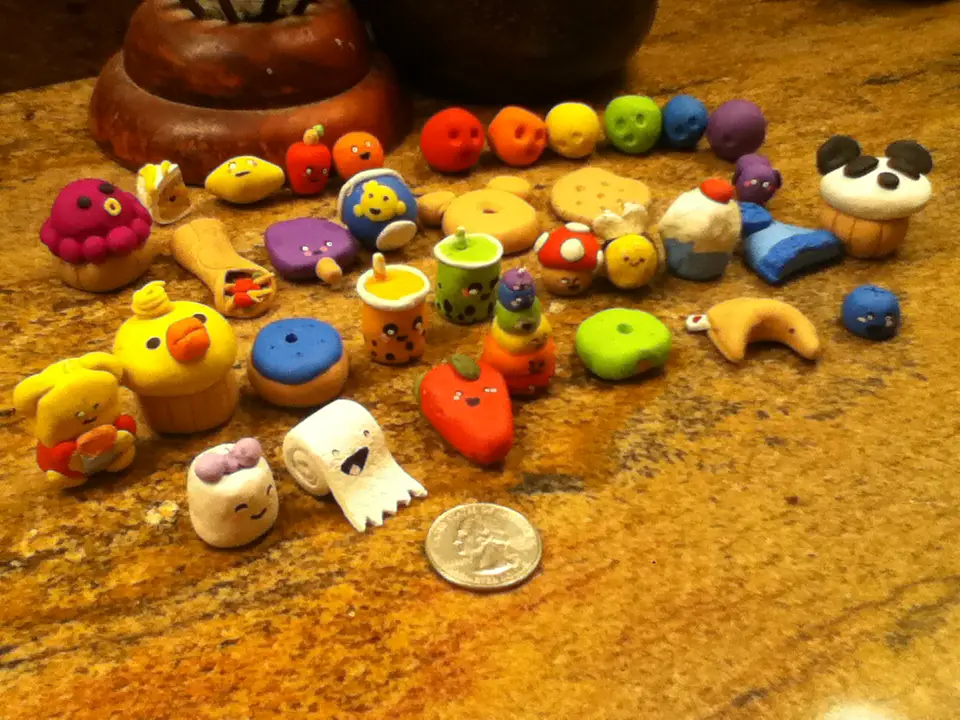 I haven't sold any yet because I'm not sure how to price them. But in the future, I hope to sell them too!
So that's what I'm doing now. I'm just trying to stay creative, keep my mind busy, and get some extra money in the process.
I love both hobbies, and I hope to continue in the future!
If you would like a custom made wallet, email my dad.
See you all soon!
Photo Credit: Nina Penzo