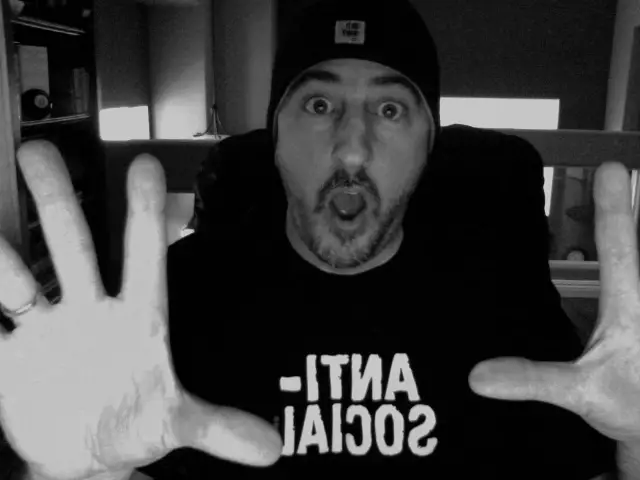 "Who the Heck is Len Penzo, Anyway?"
Welcome! That's yours truly, in the picture up there; although I may look like a bum, I'm an electrical engineer who recently retired at the tender age of 58 after working 35 years in the aerospace industry.
I started this little ol' blog in December 2008. Since then, it has garnered more than 17 million page views and 10 million visitors!
I've always had a strong disdain for debt, which is why I've been practicing sound personal finance management since I graduated from high school many years ago. Using money I saved working as a teenager and throughout college, I was able to fully pay for my own education, room, and board, without the benefit of any loans.
The only debt I have is a $470 monthly mortgage payment, which I've managed to work down over the years via a series of five strategic refinancings.
"I'm Not Impressed. Do You Have Any Famous Followers?"
Well, I'm very proud to say that this little platform was selected as one of Kiplinger's Personal Finance Best Money Blogs in 2010, and then honored again in 2012.
Len Penzo dot Com was also selected by Political Calculations as one of the best new money blogs of 2009.
In 2012 my blog also received the Plutus Award for the Best Personal Finance Blog. The following year I was honored with another Plutus Award for the Most Humorous Personal Finance Blog.
I've been a featured guest on consumer reporter Michael Finney's radio show on San Francisco's KGO 810. I've also been interviewed by Doug Goldstein for his money show on Israel National Radio, Goldstein on Gelt. My articles have been the topic of discussion on other radio shows, including those hosted by Tim Conway Jr. on Los Angeles's KFI 640, and Dave Ramsey.
I've been on television too; CBS News in Los Angeles featured me in a fun story on my annual cost survey of brown bag sandwiches.
You can find me all over the web. I had this op-ed piece on tipping featured in the New York Times. Len Penzo dot Com is also a very proud partner of MSN's Smart Spending blog, where my articles are often featured. My posts are also regularly featured at Business Insider, Time, MoneyTalksNews, and Clark Howard.
That's not all. I'm also occasionally featured at other great websites too including: Forbes, the Huffington Post, LifeHacker, the Consumerist, Yahoo! Finance, and CBS MoneyWatch, just to name a few.
And if that ain't enough, I'm a regular member of Joe Saul-Sehy's roundtable panel on his weekly Stacking Benjamin's podcast, and I'm one of only 11 bloggers on CBS MoneyWatch's exclusive Twiterrati List. In fact, CBS MoneyWatch even remarked on their front page that I was one of "the best people to follow for money tips and tricks." Pretty cool, huh?
OK, how's that?
"Big Deal. In a Nutshell, What Is the Main Theme of Your Blog?"
Well, my blog is all about being personally responsible — not only for our personal finances, but also for everything else we do in life. As you will learn from my blog, the great thing about financial freedom is that anyone can attain it — regardless of income level!
"Give Me One Good Reason Why I Should Read YOUR Blog."
Well, I promise you won't be bored! Every time I write, I try my best to teach in a uniquely fun and entertaining fashion. I may not succeed every time, but I promise to try! For some examples, check out my very popular Blind Taste Test Experiment series where I assemble expert panels to compare store brand versus name brand products. A few other examples include:
If you get a chance, I strongly encourage you to check out the top Len Penzo dot Com posts of all time; you can find the list — which is updated daily — in my blog sidebar.
"Give Me One Good Reason Why I Should NOT Read Your Blog."
If you don't believe in personal responsibility, then you shouldn't waste your time here because I will probably just make your blood boil. After all, this is a personal finance blog for responsible people.
"Okay, So Tell Me A Little More About You."
I have a Bachelor of Science degree in Electrical Engineering from Cal Poly San Luis Obispo. I also have an MBA.
I've been very happily married since 1996 to the Honeybee, who is the household CFO and tirelessly worked double duty for many years as a stay-at-home mom to our two kids, who are now all grown up.
If you like what you read here, don't forget to hit that "Like" button and become a fan of Len Penzo dot Com on Facebook and/or follow my random rambles and updates on Twitter. If you want to friend me, make sure you note that you follow my blog! Thanks.
"How Can I Contact You?"
If you'd like to drop me a line, I can be reached via email at: Len@LenPenzo.com

I read every message that fills my inbox, and I try to reply within 72 hours — but sometimes it takes a bit longer than that. I'd like to reply faster, but I'm just a one-man show here!