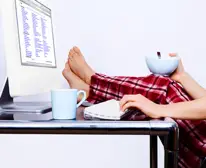 If you've ever dreamed about working from home, this could be the best time for you to take the leap and start a business that allows you to make extra money while staying at home.
In fact, more and more Americans are turning to self-employment to keep their bills paid. More than eight million Americans primarily work from home and more than 17 million people spend at least one day a week in a home office.
Working from home provides you a number of advantages including relief from stressful commutes, a flexible schedule, and an unlimited earning potential.
Here are five home-based businesses that might help you escape from the confines of the traditional office:
Catering Business
If you love cooking and enjoy hosting dinner parties with all of your friends, consider starting a catering business. Use your culinary talents to cater parties both large and small, or other special events that require a large amount of food preparation. Work with a variety of foods offering a large menu of specialty dishes, or choose to specialize — such as authentic Mexican food or French haute cuisine. Gina Pace of Inc.com notes that picking a specialty within the catering field can give you an edge in the market.
Freelancing
As a freelancer, you'll need little more than a computer, a telephone and a set of specific skills depending on the type of service you offer. Freelancing offers a lot of flexibility and offers great potential for making money from home; sometimes, the money you earn can far exceed the salary that you could make in a 9-to-5 job.
No matter what the job market is doing, freelancing offers a consistent base of opportunities. Here are a few freelancing careers for you to consider:
Writing, editing and proofreading
Graphic design
Public relations
Translation
If you want to choose a creative profession to freelance in, be prepared to show samples of your work. Create a website that showcases your work, or put together a professional portfolio that's easy to send to clients when the need arises.
Virtual Nursing
If you're a registered nurse who's tired of working hospital hours or have grown weary of the daily commute, keep in mind that specialized software and computers supplied by pharmaceutical companies, health-related organizations and insurance companies, now allow nurses to work from home. April LaJune, a writer for Yahoo Voices, explains that with the onset of new technologies, these companies are among many customers that hire nurses to answer patient questions by telephone or email explains. Virtual nursing's flexible hours keep you connected to your profession while you work from home.
Virtual Concierge
People are so busy these days that they need people to help them with the simplest tasks. If you have good organizational skills and are willing to take on any task, make some great money as a virtual concierge. Similar to a hotel concierge, a virtual concierge takes care of everything that busy individuals need. You'll pick up laundry, shop for clothes, make dinner reservations; you may even be asked to track down 100 red roses for a marriage proposal! As a virtual concierge you can work for a service like VIP desk or work for yourself. Either way, it's a great way to start building a successful business and bring in additional income.
Sales
One of the oldest ways to make extra money from home is by selling items through a direct marketing company like Avon or Mary Kay. Direct selling is a $30 billion industry, and it can be a great way to earn some extra spending money. Sell a company's items directly to your clients; this allows businesses to cut out the brick-and-mortar stores, saving them a ton on overhead costs. If you're motivated enough, you can make a little money by simply selling these items to your family, friends, neighbors, and colleagues. The secret to making this type of home business a success is having an established network of potential buyers ready to make a purchase.
If you think that working from home would be a welcome place for a second or primary job, then you're not alone. Thankfully, there are a number of unique opportunities that you can take advantage of. Working from home offers more freedom and a stronger sense of pride for the work that you're doing. So find something that makes you happy and figure out a way to turn it into a profitable home business.
Photo Credit: Wikimedia