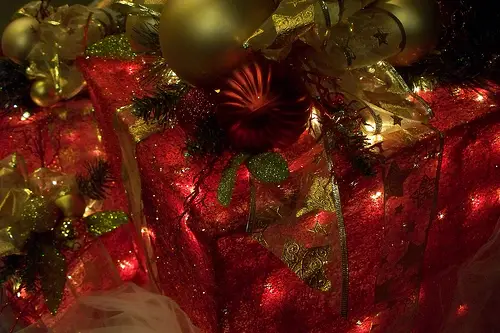 I always struggle when it comes to finding great gift ideas for people who have everything.
My family draws names every year as part of our annual Christmas gift exchange. It's typically done a year in advance, on Christmas Day, long after all the presents have been opened, and everybody has stuffed themselves on our traditional cavatelli dinner.
I remember one year when I had the misfortune of pulling Uncle Paul's name out of Santa's hat. That put me in a tough spot because he's a nonagenarian who has all the money he'll ever need — so when the guy wants something, he buys it.
Anyway, as soon as I drew his name, I pulled my Aunt Mary Jane aside to get some gift advice, but she was no help. "Paul's had everything he's ever wanted since 1979," she said. Great.
For a moment, I considered trying to make a homemade Christmas gift; but truth be told, I quit working with bird seed, paste and toilet paper rolls after I graduated from kindergarten.
Eventually, I came to realize that there are plenty of great gift ideas for people who have everything — you just have to be willing to think outside the box.
Here are nine of them:
1. Car Washes or Detailing
Why It's a Great Gift Idea: Who doesn't love a nice shiny clean vehicle? Buy some gift certificates to a local car wash. If you're looking to spend a little more, then consider a mobile auto detailer who will work at the recipient's home or place of employment.
What's the Cost? That depends. The cheapest hand-dry car washes are typically $25 a pop. Detailing can run anywhere from $150 to $500, depending on the size of the vehicle, interior style, and other service options.
2. Car Repairs
Why It's a Great Gift Idea: Most people don't have the luxury of their own car mechanic. Auto dealerships and many other repair houses typically offer gift cards that can be used for anything from routine oil changes to major car repairs.
What's the Cost? That depends. A gift certificate for $100 will certainly cover the cost of a routine oil change — or help defray the cost of large repair expenses. Regardless, it's guaranteed to be a great gift idea for people who have everything.
3. Hot Air Balloon Rides
Why It's a Great Gift Idea: If you're looking for a gift that offers a truly unforgettable experience, then this is it! I've taken two hot air balloon rides: a sunrise trip over Southern California wine country, and a sunset journey along the San Diego coastline. Both trips were absolutely magnificent and included post-flight champagne and hors d'oeuvres. You can find local balloon ride companies with FAA-licensed pilots on the Internet.
What's the Cost? In Southern California, one-hour balloon rides usually run in the neighborhood of $190 per person; weekend ride prices are about 30% higher. Private two-person rides typically start at $400 per person.
4. Art, Cooking, or Dance Lessons
Why It's a Great Gift Idea: If dear old Dad can't make a piece of toast without burning it, try buying him a few cooking lessons. If he has two left feet, then dancing lessons is a good bet too. Art lessons are another idea.
What's the Cost? A four-hour in-house private cooking lesson for two typically runs from $250 to $500. The tuition cost includes all food products needed for the class. Private dance lessons usually start around $75 per hour; group lessons are considerably cheaper. Private art lessons typically start at $50 per hour.

5. The Gift of Charity
Why It's a Great Gift Idea: Perhaps Aunt Edna is passionate about a particular cause. If so, consider giving them a TisBest Charity Gift Card; they currently have more than 300 charity partners!
What's the Cost? Of course, that's up to you.
6. Membership in a Gift of the Month Club
Why It's a Great Gift Idea: Wine clubs are perfect for wine connoisseurs and newbies alike — not to mention a great way to build a wine collection. Then there is Amazing Clubs; they offer 42 different monthly clubs to choose from. This year, their most popular clubs are: beer, wine, fruit, coffee, and hot sauce. Other clubs include cheese, neckties, tea, salsa, cigars, pasta, flowers, and even dog treats.
What's the Cost? Again, it depends. Obviously the cheese club is going to run more than, say, the doggie treats. Depending on which club you choose, expect to pay between $30 and $60 per month. Memberships run for three, six, or 12 months.
7. Spa Services
Why It's a Great Gift Idea: Almost all day spas now offer specials and customized mix-and-match package deals; for example, a massage and facial. Some spa treatments often include lunch.
What's the Cost? Generally speaking, prices at luxury resorts and hotels will cost more than other day spas. A one-hour Swedish massage in smaller markets will typically run you between $150 and $250. The same massage at a luxury resort can run upwards of $400.
8. Something Personal
Why It's a Great Gift Idea: Unlike me, a lot of folks have real talent. If you're a skilled painter, use your skills to create a special painting. If you enjoy scrap-booking, assemble a memorable collage. Just remember: Whatever you create, the more you personalize it, the bigger the "wow" factor will be.
What's the Cost? Obviously, material prices will vary — but the labor is free!
9. Groceries
Why It's a Great Gift Idea: Trust me; grandparents on tight budgets love gift certificates for groceries. Better yet, consider having their groceries delivered through services such as Amazon or WeGoShop.
What's the Cost? That's up to you. Of course, the home delivery option will be more expensive, but hey … aren't Nana and Papa worth it?
BONUS:
10. Immortality (Well … kinda sorta.)
Why It's a Great Gift Idea: When it comes to great gift ideas for people who have everything, this may be the ultimate. After all, almost nobody has a heavenly body named after them! So dub a star after Uncle Joe by entering his name in a star registry.
What's the Cost? Getting a star named after your special someone will cost you around $60.
As for my Uncle Paul … he thoroughly enjoyed his pedicure.
Photo Credit: sociotard