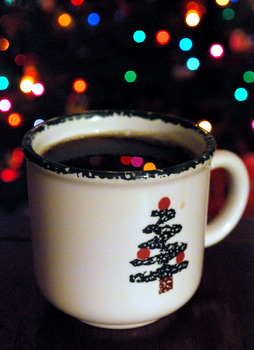 It's time to sit back, relax and enjoy a little joe …
Welcome to another rousing edition of Black Coffee, your off-beat weekly round-up of what's been going on in the world of money and personal finance.
Merry Christmas, everyone!
Put a log on the fire, grab yourself a big cup of hot chocolate, or some yummy egg nog, and let's get started …
"The first duty of a man is to think for himself."
— Jose Marti
"The last duty of a central banker is to tell the public the truth."
— Alan Blinder, former Vice Chairman of the Fed
Credits and Debits
Debit: Did you see this? Nearly one in three Americans say that dining out is the top budget buster for them. Groceries run a close second. Hmm. Perhaps that explains — if only partially — why the average American today is fatter than ever.
Debit: Speaking of budget busters, the most recent actuarial report for the city of Chicago reveals that every household in the Windy City would have to pony up $140,000 to make state and municipal pensions solvent. That's funny; considering the vast majority of those same Chicago households most likely have nothing saved for their own retirement. Does anybody else see a problem here? No? Okay … then how about here:
Debit: Then again, it's not just Chicago; the debt for Illinois' five state-run pension funds covering teachers, university employees, judges, lawmakers and other state employees climbed $4 billion to $134 billion in fiscal 2018 — this despite a strong stock market and billions from taxpayers. You think people are finally starting to realize that those unrealistic benefit promises will eventually have to be broken? Me neither.
Credit: On a related note, the central bank for the world's central banks, the Bank for International Settlements (BIS), is yet again warning that the global financial system is unstable and ripe for a frightening chain-reaction collapse. They say the reason is rising US interest rates, which are exposing the debt market weak links. The real reason is that our debt-based monetary system is nearing its mathematical limit.
Debit: It's been a nice ride but, 47 years after officially decoupling the dollar's link to gold, the global fiat-currency monetary system is now on the nasty section of the exponential debt curve. Worldwide debt hit a record $184 trillion in the last year; that's $86,000 per person and more than double the average per-capita income. Overall, worldwide public and private debt is 225% percent of global GDP. Uh oh.
Debit: By the way, unlike in 2008, the Fed will be unable to "save" us during the next financial crisis, as it has $4.1 trillion in bonds on its balance sheet. And its massive portfolio has suffered substantial paper losses thanks to sharply rising bond yields. In fact, the Fed suffered a $66 billion loss last quarter. Even worse, it only has $39 billion in capital — which means the Fed is now technically insolvent. Imagine that.
Credit: Of course, in the real world, negative balance sheets lead to bankruptcy. However, the Fed gets to create "money" out of thin air — which is why former Fed governor Kevin Warsh told Bloomberg this week that "a central bank with a negative net worth matters not, in theory. But in practice, it risks chipping away at Fed credibility." Psst. Hey, Kevin — the Fed lost its credibility a while ago. And I mean all of it.
Credit: Meanwhile, the so-called "everything bubble" is deflating as tighter central bank monetary policies weaken credit markets, leading over-indebted nations to struggle with dollar shortages and rising debt-service costs. But as banker Satyajit Das notes, "The fact that it's happening relatively slowly shouldn't blind us to the real threat: The world is dangerously underestimating how hard it'll be to deal with the fallout once it pops." Just ask these guys who know all about underestimating danger:
Debit: Needless to say, those tighter monetary policies are also impacting stawks — and not in a good way. The stock market ended its worst week in ten years and is on pace for its worst December since 1931. For the week, the Dow and S&P 500 each fell 7%; and they're both down 10% for the year. As for the Nasdaq, it lost 8.3%; the index is 22% below its August all-time high. Yes, that officially puts it in a bear market. Yikes.
Debit: And, finally … Last December, 35% of Americans said the economy would get better in 2018, while only 20% said it would get worse. This year, it's a different story: 33% expect the economy to get worse next year, while just 28% say it will improve; that's the highest level of pessimism since 2013. And if you think Americans are pessimistic now, just wait until they get their 401k statements next month.
The Question of the Week
 Loading ...
Last Week's Poll Results
How much is your Christmas gift budget this year?
$101 – $500 (48%)
More than $500 (37%)
$100 or less (15%)
More than 1700 Len Penzo dot Com readers answered last week's question and it turns out that just under half will be spending somewhere between $101 and $500 on Christmas gifts this holiday season. while slightly more than 1 in 7 have a budget of $100 or less. By the way, for those thinking of giving their true love all of the gifts mentioned in the "12 Days of Christmas" carol, the total price tag this year is $39,034.
(The Best of) By the Numbers
Christmas is the most widely observed cultural holiday in the world. Here's how Americans observe it:
95 Percentage who say they celebrate the holiday.
93 Percentage who exchange gifts.
88 Percentage who put up a tree.
74 Percentage who attend parties.
65 Percentage who attend religious services.
Source: History Channel
Other Useless News
Here are the top 5 articles viewed by my 21,457 RSS feed, weekly email subscribers and followers over the past 30 days (excluding Black Coffee posts):
Hey, while you're here, please don't forget to:
1. Click on that Like button in the sidebar to your right and become a fan of Len Penzo dot Com on Facebook!
2. Make sure you follow me on Twitter!
3. Subscribe via email too!
And last, but not least …
4. Consider becoming a Len Penzo dot Com Insider! Thank you.
Letters, I Get Letters
Every week I feature the most interesting question or comment — assuming I get one, that is. And folks who are lucky enough to have the only question in the mailbag get their letter highlighted here whether it's interesting or not! You can reach out to me at: Len@LenPenzo.com
After reading my article explaining why Miracle Whip doesn't belong on a tuna sandwich, John F. Hutchison left this comment:
"You're right! Miracle Whip doesn't belong on a tuna sandwich; so hold the tuna."
You know, John … this is a perfect opportunity to share a fish pun, but I think I'll leave it to salmon else.
If you enjoyed this, please forward it to your friends and family. I'm Len Penzo and I approved this message.
Photo Credit: breweddaily.com