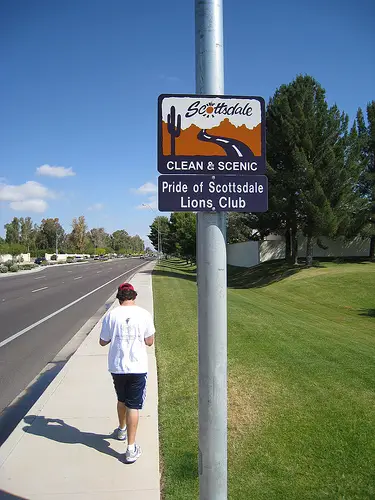 I recently took my entire family — including my folks and the in-laws — to Scottsdale, Arizona for a little summer fun at a very posh desert resort.
Okay, perhaps I'm exaggerating just a tiny bit. Let's call it fairly posh.
Regardless, one thing is certain: the resort is still fancier than a Holiday Inn Express. For example, it has honest-to-goodness living, breathing valets. They even greeted us warmly as we pulled up to the lobby — despite the fact we drove up in an old beat-up minivan that ended up looking more like a clown car after we opened the doors and everyone managed to finally stagger out.
Did I mention the resort also has many amenities? Uh huh. Spacious multi-room suites, a spa, a golf course, a nice swimming pool, bike riding, hiking trails and, of course, the obligatory bar with a couple of fancy pancy restaurants to boot.
I know what you're thinking: Okay, Len, so who recently died and left you a small fortune? Well, the answer is nobody.
The fact is, because the average summertime temperature in Scottsdale is only a few degrees cooler than the surface of the sun, it's not very hard to find resorts there offering accommodations between June and September for a song.
My family ended up getting several spacious guest rooms for $75 per night — the very same ones that normally go for $450 or more during the winter high season. Needless to say, it's an incredible deal for those willing to brave the desert heat.
But while the resorts giveth they also taketh away.
For instance, consider one of the great mysteries of life: the in-room hotel mini-bar. Ours included a well-stocked goodie basket full of snacks, bottled water, and even a sleeve of three golf balls for duffers who wanted to stock their bag before hitting the course. But while the resort was practically giving their gorgeous suites away, their mini-bar prices were so far out of touch with reality that they bordered on price gouging.
I realize that this is no big revelation, folks, but still … check out these goodie basket prices:
Cheez-It crackers (1.5 oz.) $5
Rold-Gold pretzels (2.0 oz.) $5
M&M's candies (1.74 oz.) $5
Kit Kat candy bar (1.5 oz) $5
Snickers candy bar (2.1 oz) $5
Nutri-Grain cereal bar (1.3 oz) $5
Pringles (1.4 oz.) $6
Famous Amos chocolate chip cookies (2.0 oz.) $6
Bottled water (1 liter) $9
Honey roasted peanuts (6.0 oz) $10
Cheesy snack crackers (6.0 oz) $13
Cashew mix (6.0 oz.) $15
Sleeve of golf balls (3) $18
I was too afraid to unlock the accompanying refrigerator that was filled with alcohol and cans of soda for sale, but I'm sure those prices were, shall we say, "exorbitant" too.
For awhile, I even strongly considered locking the goodie-basket snacks in the refrigerator too — and then throwing away the key — just in case my kids got any "bright ideas" in the middle of the night. I know. But consider this: The combined price of all 13 goodie-basket items in my room exceeded the resort's low-season room rate. That's why, if you're on a tight budget, it's important to avoid temptation and stay away from those in-room snacks — otherwise, any room rate savings you secure can be quickly eroded.
The best way to do this is to bring your own snacks and drinks from home; we bring everything from pretzels to potato chips, as well as a cooler full of soft drinks and other beverages. If you can't do that, at least stock up on munchies from a nearby grocer or liquor store before checking in to your room.
Remember, while resort hotels usually have a low season — it's always the high season at the mini-bar.
Photo Credit: Dru Bloomfield – At Home In Scottsdale