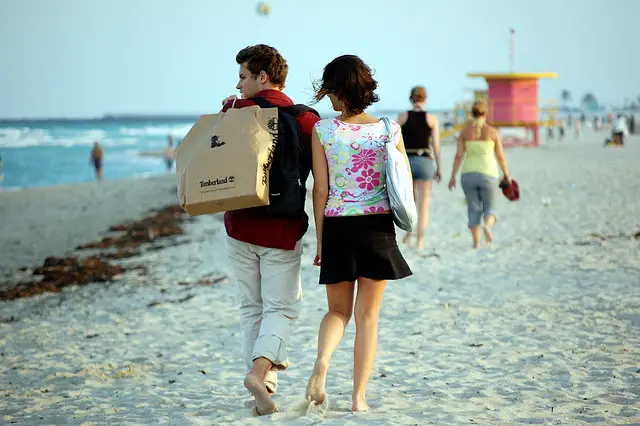 So you want to get away, eh? Then stop planning staycations and start thinking bigger with these seven tips on how to take the vacation of a lifetime without spending your life's savings.
Use Deal Services and Online Resources to Slash Prices on Luxury Trips
I've soured on Groupon and LivingSocial because I've had a few bad experiences with shady service providers who essentially used the service for their own bait-and-switch. I do, however, still consult their respective apps and websites for gift items and vacations. For example, through LivingSocial I purchased a seven-day trip to Costa Rica complete with a split stay at a resort near the jungle and an all-inclusive stay at a beach resort with airfare, car rental, zip line activities, and more for $1,200.
In addition to the big names in deeply discounted travel opportunities, there are a bunch of little guys — like travel startup TRVLVIP— that will help you get the most out of your vacation fund.
TRVLVIP founder Merriah Harkins recently told me about some of the available deals on the site, including a luxurious three-week trip to Malaysia, Bali, Singapore, the Maldives, Oman, and Abu Dhabi from the United States at about 85% off. Total cost is less than $5,000 for what should cost $34,000.
If you're planning the trip yourself, you should search for cheap flights at online resources such as Skyscanner and Google Flights, says Matilda Geroulis, travel expert and writer for The Travel Sisters blog.
"You can also set fare alerts for routes you are interested in at Airfarewatchdog, and you can follow certain accounts on twitter for breaking fare sales such as @theflightdeal, @airfarewatchdog and @secretflying," she adds.
Plan a Cruise If You Like to Indulge in Food and Beverages on Vacation
Hands-down, I think the best vacation value is a cruise; you'll be hard-pressed to find a better getaway, dollar-for-dollar. This is also true for parents who want to take their kids on a great vacation that everyone will enjoy because, let's be honest, there's daycare on board!
"When I know that somebody is on a budget, I often recommend a Disney Cruise because of everything that's included," says independent travel consultant Shani Wolf. "Gourmet meals and great snacks; several Broadway-style productions; and movies. Throw in the deck parties, pools and water slides, character meet-and-greets, a sports deck, nightclubs, lounges, the various ports of call, and Disney's excellent customer service — all at no extra cost."
Redeem Accumulated Miles and Points to Finance Your Trip
"If you collect miles and points you can use them for near-free flights and hotel stays," Geroulis says. "Make sure to credit your travel to various mileage and hotel programs, too. Plus, those that are not frequent flyers can earn miles/points through travel hacking, including credit cards with big initial sign-up bonuses, online shopping, dining programs, surveys and more."
Travel During the Off-Season to Guarantee Best Available Rates
Why anyone travels during peak season if they don't have to is beyond me. Who wants to pay premium prices to experience delays, crowds, and other stress-inducing circumstances?
"My tip for the vacation of a lifetime — especially in the Caribbean — is to plan trips in low-season and you'll not only get a better rate, but also potential off-season specials. It helps if you can be a last minute traveler too," says Laurie Norton, author of the Belize-specific blog TacoGirl.com. "Often tour companies here will also offer off-season deals — for example, book two trips and get a third free."
Norton adds, "Travelers can also do advance research and map out all the great happy hour places where they're going in order to help make their food budget cheaper."
Avoid Holiday Periods And Other Times of the Year When Travel Is Up
You're going to pay more for airfare, hotels, activities, and other vacation staples if you're traveling around the holidays. For some, it's the best time of year to see new places, and on one hand it is — all the lights, liveliness, and festivity — but it all comes at a cost. If you really want to travel during the holidays, consider this alternative:
Keep Tabs on Shoulder Season Sales If You Want to Travel at Holiday(ish) Time
"For those who look at a cruise as a once-in-a-lifetime splurge, trading up to a premium cruise line isn't necessarily unaffordable," explains travel journalist David Yeskel. "There are several key strategies to cruising more affordably — with most revolving around timing. It's fairly well known by now that shoulder season travel offers good value: cruises sailing after Thanksgiving through mid-December; voyages departing just after New Year's; and those leaving after Labor Day, when the kids have already gone back to school, typically come at a bargain."
Fly the Opposite Direction of Everyone Else
If you want to experience an altogether different and incredible part of this planet for probably much less than you'll spend in London, Sydney, or Puerto Rico, consider Tokyo, Shanghai, Hong Kong, or Seoul.
"If you're from the West and wish to take the vacation of a lifetime, choose to fly to an East Asia destination," recommends Reut Saadi, marketing manager for a mobile aggregator that specializes in equity and debt crowdfunding deals. "While the ticket may be a bit more expensive, the return on your investment will be extremely high. Not only will your daily expenses be ridiculously low — even when you pamper yourself — but you'll spend less on dining, and travel as the locals do. You'll get a unique experience that will leave memories for years to come, taste food you never tried before, meet people from different cultures, and hardly touch your bank account."
If that's not an endorsement worth investigating, I don't know what is.
Photo Credit: Sreejith K