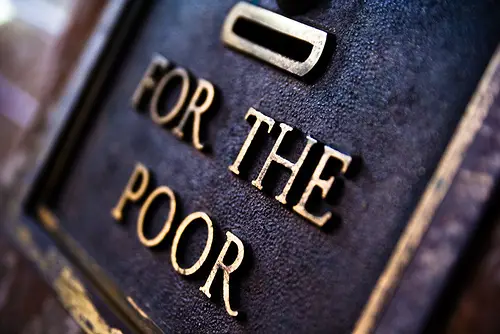 Charity is defined as an act of giving, not coerced and not expecting anything in return; an act motivated by the desire to help those less fortunate than yourself.
Awhile back, there was an article on this blog by a guest author who explained why he avoids making charitable contributions. Unfortunately, it's for reasons that are completely opposite to the idea and spirit of giving!
Allow me to address the flaws in each of his points:
1. "I give to charity indirectly through my taxes." Taxes are required by law, paid out of an individual's responsibility to live within the law. One may only choose to disobey the law and live with the consequences. Paying tax has nothing to do with charity; it is the responsibility of a person who lives in a civil society. In fact, there would be no such thing as "charitable needs" if the taxes paid covered all needs in our society.
2. "Charity adds up over time." The idea that one should not give to charity until one has taken care of oneself is contradictory to the idea of helping others. The human condition rarely is satisfied with enough. Under the writer's theory on this point, those in need would rarely receive help from charity as the "givers" could first have to decide they have "enough."
3. "Charity promotes dependency." This is an interesting rationalization of why this individual does not want to help others. I believe he is trying to say I will help those in need by doing nothing. He is suggesting everyone in need is somehow just taking advantage of those who help them. There is no doubt that may be true of some people, however, if one has a heart for his fellow man, one would look for areas of need and would help.
4. "The money I spend on charity may not be wisely spent by the recipient." I agree, however, once again this is the author's own rationalization for his desire to keep it all for himself. Considering even the poorest American is wealthy on a global scale I would challenge the writer to find ways to assist his fellow man and not judge whether the recipient must be perfect in the writer's eyes before he becomes worthy of the writer's assistance.
5. "I am not the only one who does not donate to charity." Once again, the writer is so determined to keep everything for himself he has chosen the lowest common denominator. I would challenge him to seek loftier things for himself and his fellow man who may be in need.
6. "Charity may not be there when I need it." Another interesting reason to not help others. Is the paraphrase of his position, "I would consider charity if it has a guaranteed return for me?" I challenge the writer to go back to the beginning and review the definition of charity.
7. "It makes sense to donate my time instead." As the saying goes, time is money. Clearly, the author has spent a lot of time to come up with the positions he holds on charity. Charity should be considered as a way to help others with their basic needs and not as a challenge to protecting one's basic wants.
8. "I won't be rewarded in the after life for helping others." Wow. Charity is not an investment that is supposed to have a guaranteed financial return. This particular point seems to say that even if there was an earthly guarantee for him, that would not be enough; before he lets go of that hard-earned money of his he needs some kind of contract granting him a reward in the after life. I know there are many different religions; we're all free to believe whatever we wish in this regard. As a Christian, I submit that Christianity is not the same as Santa — it doesn't reward goodness. Instead, its premise is we're all imperfect compared to a perfect God and, as a result, can never be good enough on our own merits to warrant an after life with God. God in his own wisdom gave us the free will to make mistakes, but at the same time offers us an after life with Him if we only admit our mistakes and believe Christ is the only Son of God.
In summary, these reasons aren't a list of why one shouldn't give to charity — they're reasons why one shouldn't be a charitable person!
There's A Better Way of Looking at Charity
There is a better way of approaching charity. Consider that everything you have is not of your own making: You did not choose your family, you did not choose the country you were born in, you did not choose the neighborhood you grew up in and you did not choose the opportunities and circumstances that came your way.
Certainly we can all look with some satisfaction to things we personally accomplished including responsible decisions and hard work we may have done, but we should all keep in mind none of us are solely responsible for our success.
I would encourage the writer to do the following: Discover a real need outside of himself that he is passionate about, find a way to give directly to that need, and stop thinking that if he cannot personally solve that need in its entirety, then he should not lift a finger to help.
Photo Credit: stevendepolo