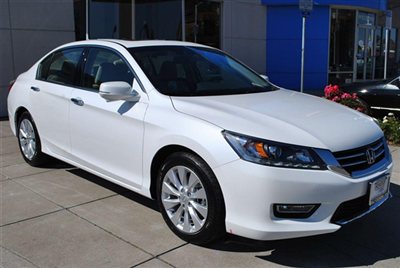 OK, I did it.
After commuting to and from work in my 1997 Honda Civic for the past 13 years, and with my son on the verge of getting his driver's license, I finally relented and bought myself a new car.
That's right. I'm now the proud owner of a brand-new factory-fresh 2013 Honda Accord.
Frankly, I feel like I died and went to heaven. This is the first new car I've ever owned that I got to drive from day one; both my Civic and our 2001 Honda Odyssey were both bought for the Honeybee.
I spared almost no expense this time too, as I purchased the model's penultimate trim.
For a modest family sedan, my new car has all the feel and accoutrements of, dare I say it, an expensive luxury car. Thanks to her V-6 engine with 278 horses under the hood, the Accord can get from 0 to 60 in 6.1 seconds — not that I typically drive that way. It's also got leather seats, a satellite-linked navigation system with voice recognition, a Bluetooth hands-free link and streaming audio, and dual-zone climate control.
Since I live in Southern California, I suspect I'll rarely, if ever, use the Accord's heated front seats — although I will use the moon roof. I'm also going to make good use of the 360-Watt audio system and its seven speakers (including a sub-woofer).
There's also a rear camera that shows what's directly behind my car when I put the car in reverse. I'm loving that. It's too bad I didn't have that feature on my old pick-up truck; if I did I wouldn't have accidentally made mincemeat out of one of those low-profile "drive-thru" signs while backing out of a parking space at my local Taco Bell 20 years ago.
Perhaps my favorite new feature is the driver seat's 10-way power adjustment option that makes driving a real joy. Ten ways! That's a big improvement over my Civic; its driver's seat seemingly has only three preset positions: uncomfortable, awkward, and incommodious. (Contrary to popular belief, the "pestiferous" setting was only offered on the Civic's luxury model.)
My new car warns me when I'm drifting out of my lane (rarely), or getting too close to the car in front of me (more than I care to admit).
Sometimes it even speaks to me.
The other day, while backing out of a parking space I heard an anonymous chime in the cabin. I had no idea what it meant, so I continued to work my way out of the parking lot. A few seconds later, a very pleasant female voice came through the audio system speakers, politely asking me to disengage the parking break. I couldn't believe it! After all, I'm used to relying on the Honeybee when I make mistakes like that — but instead of a gentle reminder, she usually hits me over the head with a rhetorical question, followed by the obligatory insult. You know, something like this: "Why do you still have the hand brake on? Knucklehead."
I know what you're thinking: Hey, Len! Why didn't you let somebody else take the depreciation hit by buying a used car that was only a few years old? Knucklehead.
Well, that would have been financially smarter considering that most new cars lose upwards of 50% of their value within three years, but I have lots of good reasons for buying new instead of used. Here were three of the biggest:
I've paid my dues. After more than 170,000 miles and many years commuting in my cramped little Civic, I was ready for something a bit more comfortable. Besides, by driving that car for so long, I've saved more than $40,000 in car payments over the years.
I can afford it. Frankly, maximum value wasn't a top priority for me this time around. That's because after many years of scrimping and saving — and lots of hard work — I'm at a sweet spot in my life now, financially speaking. In fact, I could have paid the dealer cash for the vehicle, but I decided to take advantage of my good credit score and take out an auto loan at 1.9% interest over five years instead.
I'll be keeping the car for at least a decade. Holding my car for at least ten years will help temper those painful depreciation costs I'll be incurring over the next several years in exchange for the pleasure of driving my very own brand new car.
For the first time in my life, I'm enjoying my commute to work, driving in a brand-new automobile with that terrific new-car smell.
Yes, I realize the vehicular honeymoon won't last forever — but at this stage of my life, trust me, it's well worth it.
Photo Credit: zibe