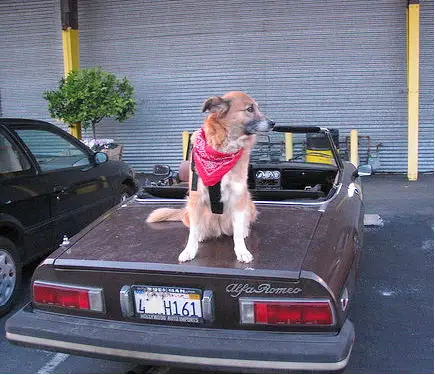 I was surfing the Internet this week when I stumbled upon a brilliant essay by The Washington Post's Gene Weingarten on why old dogs make the best dogs. In it, Weingarten astutely observed:
"It's no big deal to love a dog; they make it so easy for you. They find you brilliant, even if you are a witling. You fascinate them, even if you are as dull as a butter knife."
That's exactly why I'm such a dog lover: they're the perfect pet for dull witlings like yours truly.
That being said, don't be misled; I know dogs appeal to millions of fascinating intellectuals too. After all, what's not to love about them?
Dogs are not only faithful companions and protectors, but they never complain either. Dogs live to please and they're loyal to a fault, worshiping us regardless of whether or not we're deserving of their adoration.
Those characteristics are why I didn't bat an eyelash several years ago when our late Rhodesian ridgeback, Major, needed surgery that required me to shell out a thousand bucks. That's right, I didn't blink an eye; my dog is definitely worth every penny I've ever spent on him.
Weingarten made a particularly interesting observation about old dogs: their most important virtues, such as gratitude and trust, don't really appear until they reach old age.
Maybe it's because my dad used to sell used cars in Ohio, but I feel much the same way when it comes to old cars. That's because an older properly maintained car's most important virtue is the money it saves its owner over time.
Man's Other Best Friend
The Honeybee and I have two cars: a Honda Civic we bought in 1997 for about $13,000, and a 2001 Honda Odyssey we bought four years later for roughly $26,000. We still have those two cars today and they've served us well over the years. Our intention is to keep them for as long as we can because as long as they stay reliable, we have no reason to buy a new car — and that saves us thousands of dollars every year.
Oh, I know what you're thinking. Len, as a car gets older, the maintenance costs probably become overwhelming! Nope.
Here is a year-by-year look at our automobile maintenance costs (in then-year dollars):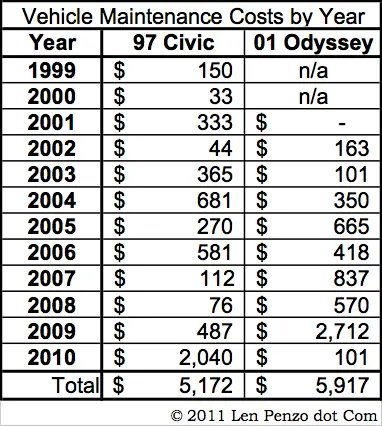 As you can see, over a 14 year period, the maintenance costs for my 1997 Civic have averaged just a hair under $400 annually; for the Odyssey, they've averaged less than $600. Depending on the loan, those totals could arguably be considered roughly equivalent to a monthly car payment for a brand new Civic and Odyssey, respectively. And don't get me started on expensive luxury cars; they'd be even more of a financial drain.
Lest you think I'm scrimping on maintenance, think again. Our maintenance routine for both cars generally follows the Honda recommendations.
To help you correlate my costs to the actual maintenance performed on my cars, here is a service summary for my Civic. As you can see, I keep fairly meticulous — if not 100% complete — records.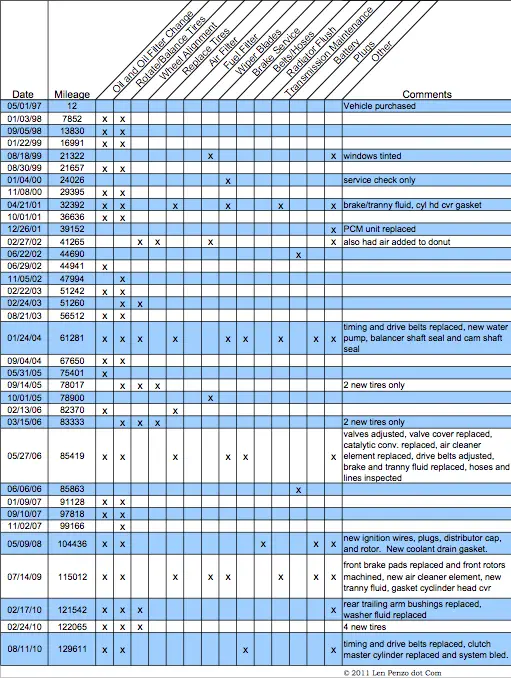 The Moral of the Story
If you're looking for one of the best ways to save money over time, then buy a car and keep it for as long as you can. Remember that a well-maintained car will save you tens of thousands of dollars over the life of the vehicle. The best part is there's no reason why you couldn't keep a vehicle for decades — assuming you treat it the same way you'd expect your best friend to treat you.
On average, I figure my two old faithful friends that are parked in the garage currently save me approximately $11,000 annually in car payments. That's $11,000 I end up spending each year on much more important priorities instead. You know, stuff like retirement savings, family vacations and, well … the occasional vet bill, of course.
Photo Credit: dphiffer