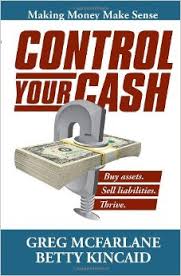 It seems like every week I get at least one note in my inbox asking me about personal finance books and a suggestion for which one to buy.
Well … The other day somebody asked me to recommend a personal finance book they could give to their 20-something son. Without hesitation I told them to pick up a copy of Control Your Cash: Making Money Make Sense by Greg McFarlane and Betty Kincaid.
Now before I go any further, for those of you who think I am shilling this book simply to make a quick buck, you're wrong. I receive no affiliate commissions or other advertisement revenue for linking to this book. That is because I think Control Your Cash is the best basic, no-nonsense, personal finance book I have ever read.
Control Your Cash covers everything you need to know about the basics of personal finance, from banking accounts, credit scores and budgeting to taxes, securities and investing strategies. In between it lays out, in clear and concise terms, how to go about buying a house and an automobile.
Most importantly, the book is smartly written and very entertaining. Truth be told, I use the book as my personal finance bible; it is a terrific reference book that you can go back to again and again.
If I was forced to pick my favorite chapter in Control Your Cash it would be the one on how to buy a new car. One of the quickest ways to blow a big chunk of money — short of dropping a big stack of hundies at the craps table on a "hard way" bet — is to be unprepared when you walk into a car dealership with the intent of buying an automobile. I guarantee you the folks who have read Control Your Cash will have no such worries.
Photo Credit: Mill City Publishing