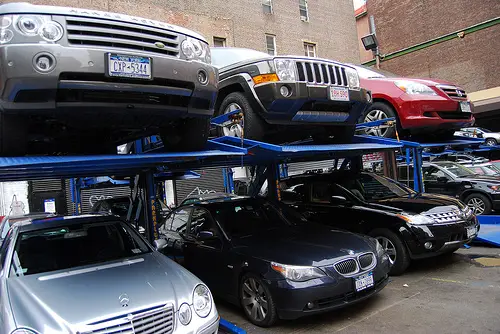 If you're low on cash, but you desperately need a new car, there are many ways to save that you may not have considered. In fact, saving money on your next car purchase is easier than you probably expected. All it takes is some research and decision making prior to purchasing your next car.
By following these tips, you'll feel more confident the next time you are at the dealership — and you'll save a little money too:
Research what kind of car you want online. Figure out which feature is most important to you, whether it is great gas mileage, safety, speed, or size. Then narrow your options down to just three or four choices.
Shop online. Finding the best deal on a car is extremely easy if you use the Internet because it allows you to compare prices. Most dealerships post their cars online as well, so you can find out if the car dealership has cars within your price range prior to visiting.
Check the Kelly Blue Book. Once you have decided on a particular set of cars that you want to consider purchasing, look them up on the Kelly Blue Book to find out how much they usually cost. Print off the page in case you need to show it to the car salesperson.
Check competitor car advertisements for low prices. Print them out and bring them along when you head to the dealership. If you show salespeople the competitor prices, they might match them for you. Bring as much evidence as possible to prove to the dealership that you should be able to buy the car at the price you want.
Try not to seem desperate when talking to the car salesperson. Remain non-emotional and be rational. Do not let the salesperson talk you into purchasing something you cannot afford or do not actually want.
Negotiate the final price of the car rather than monthly payments. One of the sneakiest and most profitable tricks car salespeople use is to lower your monthly payments but increase the final cost you'll pay for the vehicle.
Plan out how you are going to pay for the car before heading to the dealership. You never know if the dealership's financing options are going to be right for you. So compare prices and car financing options online.
Save up some cash so that you can make a larger down payment. If you make a big down payment, you'll be paying less interest to the dealership. This will significantly lower the total cost of the car.
Consider buying a used car. Purchasing a used car instead of a new car can be a smart move financially — in fact, it's really the best option of them all! Although buying a new car is sometimes necessary, it's not a very good investment because the value of cars decreases very quickly. Used cars are much less expensive than new cars — even when they're in perfect condition. Best of all, financing for used cars is available online and at most dealerships.
Photo Credit: Eric Chan