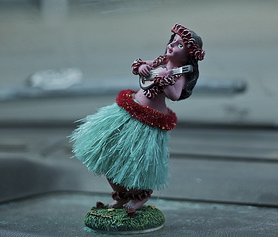 Sometimes things aren't always what they seem. Especially upon first glance.
This past summer I was examining my Marriott rewards account when I noticed that I had finally — finally! — accrued enough points to score a 6-night stay on Maui at their beautiful Wailea Beach property.
Within seconds my head was filled with visions of the Honeybee and me enjoying a few days of romantic bliss — sans kids, of course — on a beautiful island paradise.
Needless to say, I was absolutely determined to see this unplanned trip happen.
No matter what.
Well, that is, as long as all of the adventitious outlays weren't going to exceed the roughly $5000 we had sitting in our "mad money" account.
So, with that ground rule in mind, I dutifully surveyed several of the top travel websites to get airfare and rental car prices, and then quickly made the following back-of-the-envelope estimate:
Airfare ($1250)
Lodging (free!)
Food/Drinks ($1250)
Rental Car ($200)
As you can see, even though we were staying at a five-star resort, my rough calculation suggested our Maui trip would be somewhere in the neighborhood of $2700, which was well within our budget. And so, with that gross estimate in hand, I told the Honeybee to pack her bags — and mine too.
Reality, What a (More Expensive) Concept
Before I go any farther, look at this seemingly innocent picture of coffee beans: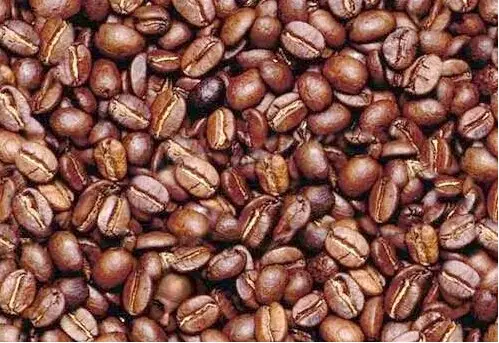 Now, if you simply took a quick glance at the photo, I suspect you probably failed to notice anything out of the ordinary. But like most things in life, the devil is in the details. If you examined the picture more thoroughly, you probably noticed the face that's hidden within the myriad of coffee kernels.
It turns out that a good chunk of our total Maui vacation expenses were locked in the dirty details too. In fact, soon after committing to travel, it became apparent that my initial vacation cost estimate wasn't worth a hill of Kona coffee beans. I had no idea just how badly that original back-of-the-envelope guess of $2700 was though until I finally got home this weekend and totaled up the damage.
Here is the final tally of every expense related to our trip.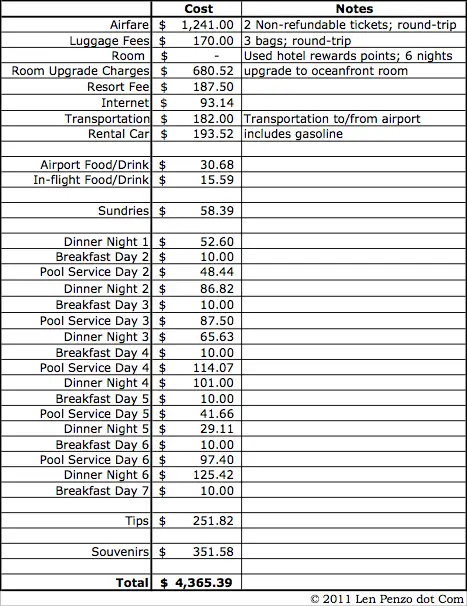 Those Pesky "Other" Costs
Now don't get me wrong; I'm not complaining about the bottom line. The resort accommodations were spectacular, and the Honeybee and I had a great time, so the $4365 price tag was well worth it.
Still, tracking vacation expenses to the last penny revealed some interesting unexpected outlays that significantly drove up actual costs well beyond my original estimate.
With that in mind, here are four prime examples you should remember to account for when budgeting for your next vacation:
Other hotel costs. Although I should have, I never considered that I would want to take advantage of the hotel's optional resort and Internet fees which came to over $280 in additional charges. I also didn't plan on spending $680 for the week to upgrade into one of the best oceanfront rooms in the entire resort (room 6208, in case you're interested), but in the end I decided I would be crazy not to — especially considering that same room would run me about $3000 under normal circumstances.
Other airfare costs. Costs related to airfare didn't stop with the $1241 we spent on tickets. For example, United charged us an additional $85 each way for our three bags. The private sedan that took us to and from Los Angeles International Airport cost us another $182. And on the way to Maui, the Honeybee spent $15.59 on the plane for a cold sandwich and, um, an adult beverage.
Tips. Maybe I was guilty of a little tip inflation on this trip; I spent $251.82 on tips to the bell hops, drivers, maid, waiters and pool servers. Not only is that a fairly significant amount of cash — it's also $251.82 that I didn't include in my initial estimate.
Souvenirs. Some people can travel half-way around the world without getting so much as a two-bit refrigerator magnet. For this trip we spent $351.58 on vacation mementos — which represents roughly six percent of our entire vacation cost. I know.
Speaking of souvenirs, while we were in Maui I wanted to get my handyman father-in-law, Tony, one of those dancing dashboard hula girls, but I was quickly overruled by You-Know-Who. So, instead, all he got was a lousy tee-shirt. And although he didn't say a word, I'm pretty sure he hated it.
It's okay; I can't say that I blame him.
After all, some faces are a lot easier to hide than others.
Photo Credit (hula): Michael Cory; Photo Credit (coffee beans): furitsu