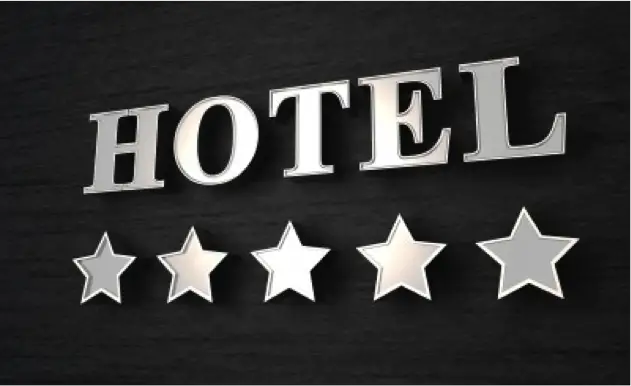 If you've ever searched for a hotel, whether via an online travel agency, a guidebook or simply by looking at hotel websites, you've probably noticed star ratings and deals and promotions with headlines like those above.
But have you ever thought about what these ratings actually mean — especially since the same property can have multiple ratings from different sources? Hotels use stars to give guests an idea of what they can expect when they check in, and hotel reviewers, both amateur and professional, use stars to provide consistency to their ratings. But what if you see that your guidebook gives a hotel four stars while a major travel magazine only gives it three stars and the hotel website promises "five-star service"?
Not knowing for sure can certainly make planning your vacation more difficult. So what does it all mean?
While every source has different criteria for star ratings, and there are some subtle differences, in most cases a three-star hotel is about the same regardless of the source. When you're looking for cheap hotels, use this guide to decipher exactly what these symbols mean and to avoid disappointment when you check in.
One Star

In general, one-star accommodations are basic and no-frills. They are essentially a place to sleep and take a shower. You won't find these properties packed with amenities and services; in fact, few one-star hotels even offer swimming pools, never mind workout rooms, restaurants or concierges. Travelers looking for a place to stay while they're on the road may turn to a one-star property, since the hotel is just a stopping point and not really a part of the vacation experience.
Two Star
As you might expect, two-star hotels are a step up from the no-frills accommodations of the one-star properties. Like the lower-rated properties, these hotels offer affordable, basic accommodations but with a few more creature comforts. In some cases, a two-star hotel might be cleaner and better-maintained than a one-star hotel and offer some amenities, like a swimming pool or a complimentary continental breakfast. Two-star hotels aren't luxurious, but they do offer a clean and comfortable place to rest your head.
Three Star
Three star hotels are mid-level hotels that offer clean and comfortable accommodations with a wide array of amenities, plus an expanded menu of services that you won't find at one- and two-star properties. For example, the hotel might offer a limited room service menu and a complimentary breakfast, higher-quality linens and toiletries and amenities like a gym, multiple pools, a business center and a spa.
Four Star
Four star hotels kick it up a notch when it comes to the number and style of services and amenities. They typically offer such modern conveniences as in-room computers and iPod docking stations, as well as higher-quality basics, like European linens, brand-name bath products and plush robes. What really sets four-star hotels apart from other types of accommodations is the service. Four-star hotels anticipate and meet the needs of their guests, from prompt bell service to an in-house concierge. These properties also tend to have prime locations; you generally won't find four-star properties in industrial parks or close to interstate exits. They tend to be located in either the heart of the city or within a scenic area (sometimes both), offering guests both beautiful views and access to the best the area has to offer.
Five Star
Five-star hotels are the cream of the crop, with all of the features of a four-star hotel and an even higher level of service. Five-star hotels must meet exacting standards that depend on the designator's specific rating criteria. For example, in some cases, a five star hotel's room service must answer calls within three rings, or guests must be greeted by a doorman within 60 seconds of pulling up to the main entrance. Five-star hotels are certainly marked by the amenities and features they offer — you won't find scratchy sheets, lumpy beds and outdated televisions in these rooms — but it's really the service that sets them apart. The properties are the most luxurious and well-appointed of hotel categories and tend to have the best locations.
Keep in mind that these are simply generalizations for each star level, and specific rating agencies may have their own criteria for evaluating properties. While there are many similarities, different organizations, like AAA and Forbes, may weight specific points differently or have different expectations for each level. That being said, if you understand how star ratings work in general, you can find the best hotel for your needs and avoid disappointment.
Photo Credit: Darius Turek