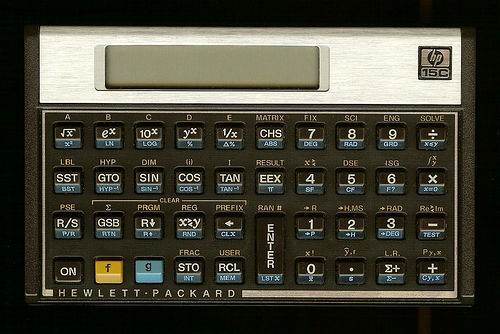 The other day my son Matthew was extolling the virtues of the laptop computer that he recently bought with his own money. "This is the best thing I ever bought, Dad!"
Of course, after hearing that, the first thought that came to mind was: Well of course it is, son — you're only 14-years-old! But instead, I just nodded my head and smiled.

The truth is, if I took a moment to count up all the things Matthew has bought with his very own money during the relatively short amount of time he's been around, his laptop really doesn't have a lot of competition. Let's see: there's a used skateboard or two, some video games, lots of pop rocks, and a handful of other baubles. Oh yes — how could I forget? — there's also the remote controlled mini-helicopter that, soon after he bought it, disintegrated in a violent confrontation with the living room wall, rotor blades whirring at near-hypersonic speed. But that's about it.
Anyway, that got me thinking about the best thing I've ever bought during my lifetime. And the more I thought about it, the more I realized it was impossible to settle on just one thing — so I put together a top ten list instead. Here it is, in no particular order. How does it compare to your list?
1. Our current house
Purchase Date: 1997
Purchase Price: $198,000
Why it's in my top ten: Our home is situated on a small and extremely quiet cul de sac in a relatively rural area, far away from the usual noises you hear in most parts of Southern California. At barely 2000 square feet, our home is roomy yet still small enough to be cost efficient. By being patient, we have been able to slowly make numerous improvements and upgrades over the years, including remodeling the kitchen and our master bathroom.
2. Window shutters
Purchase Date: 2005
Purchase Price: $7211.68
Why it's in my top ten: I love our window shutters! They not only give the house a refined look that blinds can't match, they also help reduce the energy bill by keeping our home warmer in the winter and cooler in the summer.
3. Hewlett Packard 15C scientific calculator
Purchase Date: 1983
Purchase Price: $135
Why it's in my top ten: Just as car aficionados get weak-kneed around classic automobiles, engineers like me who began plying their trade prior to 1990 appreciate old calculators. The 15C is a real class act; it's programmable, and uses Reverse Polish Notation designed for making multiple complex calculations in rapid succession. Sadly, HP discontinued making these beauties in 1989 — another victim of the personal computer. Even so, when I'm at work I still like to take my 15C "out of the garage" for an occasional spin.
4. My dog, Major
Purchase Date: 2003
Purchase Price: $1500
Why it's in my top ten: I've had a lot of dogs over the years, but none as terrific as our Rhodesian Ridegback, Major, who passed away just a few months short of his 12th birthday. Major was an amazing pup with an absolutely perfect disposition. He was a fantastic family dog, not to mention one of my trusty taste test challenge panelists. Simply put, Major was the greatest dog I've ever owned — and I miss him terribly.
5. 1997 Honda Civic
Purchase Date: 1997
Purchase Price: $14,592.56
Why it's in my top ten: I recently wrote a piece explaining why both dogs and old cars are worthy of being man's best friend. With respect to old cars, an older properly maintained automobile saves its owner significant cash over time. Before I gave it to my son, I figure my trusty Civic had saved me roughly $50,000 in car payments after we paid off the car loan in 2002.
6. 2001 Honda Odyssey
Purchase Date: 2001
Purchase Price: $26,400
Why it's in my top ten: Aside from the cost benefits described above, until we sold it in 2017 our Odyssey had been our family's transportation workhorse. Powerful, reliable and well-designed — it is the most comfortable minivan I've ever been in — the Odyssey handled everything from countless local grocery store trips to multiple coast-to-coast summer road trips.
7. 1974 Fender Stratocaster guitar
Purchase Date: 1994
Purchase Price: $400
Why it's in my top ten: I used to play in a rock and roll band in my younger days. I know. I bought this beautiful vintage guitar with a gorgeous sunburst finish from a work colleague who found it hiding in his mother's basement after she passed away. He didn't play and just wanted to get rid of it — so he sold it to me for $400. The guitar is still in excellent condition and has served me well over the years. It turns out it was a good investment too; depending on their condition, 1974 Stratocasters are now commanding thousands of dollars in the marketplace.
8. My college education
Purchase Date: 1983 – 1988
Purchase Price: $15,000 (approximate)
Why it's in my top ten: Talk about getting a bargain! The listed purchase price includes the cost of my tuition … plus books, room and board for the entire five-plus years I spent earning my engineering degree from Cal Poly San Luis Obispo back in the 1980s. Today, the cost of a public college education in California is an astounding 17 times higher than it was in 1980, which begs the question: is a college degree still worth it?
9. A t-shirt and matching capris from Custer State Park
Purchase Date: 2008
Purchase Price: $56
Why it's in my top ten: No they're not mine. But, in retrospect, I was absurdly apoplectic when the Honeybee bought this simple cotton ensemble from the little gift shop at the historic State Game Lodge in beautiful Custer State Park, South Dakota. As if to prove a point, she faithfully wore that outfit at least one day each week until it finally gave up the ghost in 2012. That's more than 210 times by my count — and only $0.27 per use.
10. My wife's wedding ring
Purchase Date: 1995
Purchase Price: $4400
Why it's in my top ten: Speaking of the Honeybee, I know I said these were in no particular order but, the truth is, asking my wife to marry me was the best decision I ever made in life, bar none. I'm just glad she said yes.
Photo Credit: dvs
***
(This is an updated version of an article that was originally posted on August 22, 2011.)