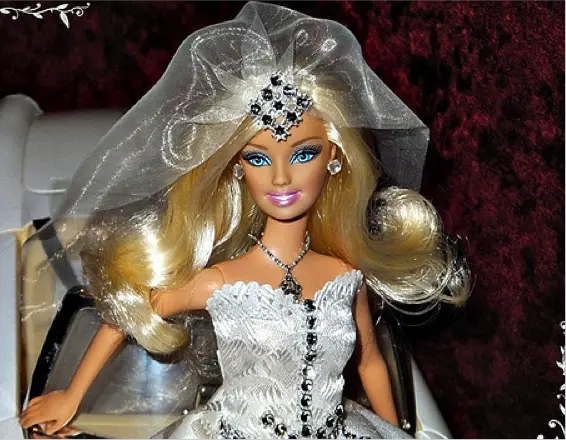 According to the New York Daily News, Chelsea Clinton and Marc Mezvinsky spent roughly $3.3 million in 2010 on their marriage celebration.
Talk about a big fat expensive wedding.
The good news is, more than three years after saying "I do," the famous couple is still, apparently, happily married.
Truth be told, 18 years ago I spent a little over $6000 on my wedding, excluding the Honeybee's engagement ring and wedding band.
With that in mind, I thought it would be interesting to make a quick-and-dirty approximate cost comparison between the Clinton/Mezvinsky and Honeybee/Penzo wedding celebrations — so here it is: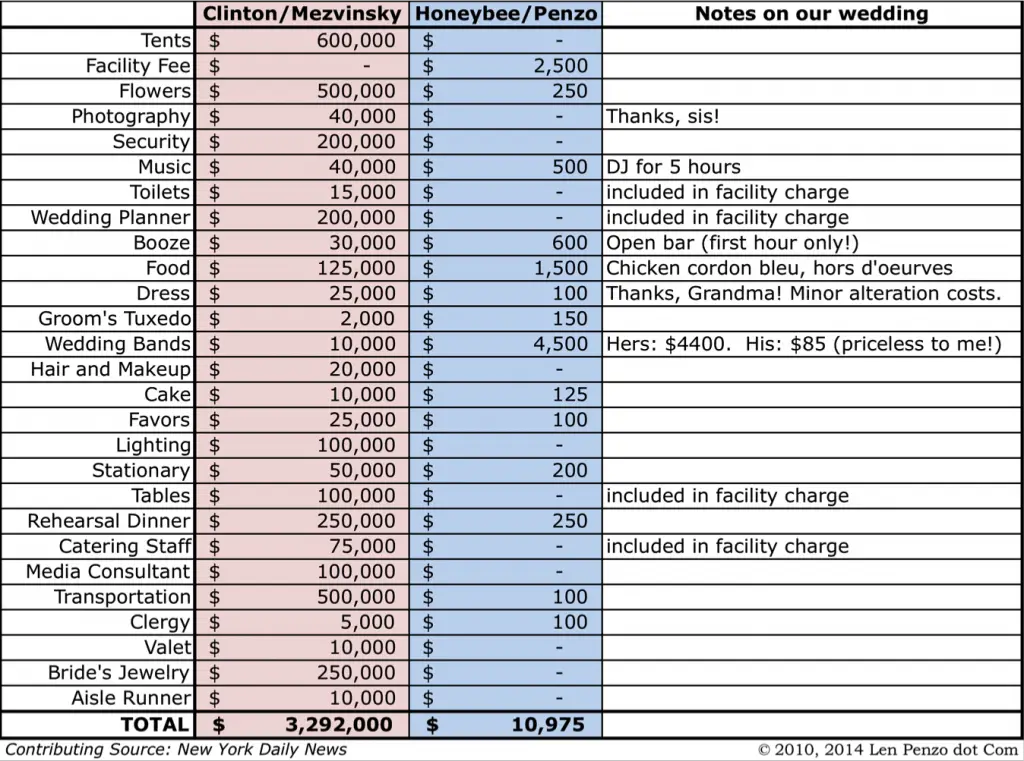 Okay, I know what a lot of you ladies out there are thinking right now: Penzo, you're a pathetic cheapskate.
But before you start feeling all sad and sorry for the Honeybee, let me just say that we had a great time. At least that's what we've been told — and the photos seem to back that up.
You also need to keep in mind that the massive and incredibly pernicious effects of inflation skew those numbers somewhat. So much so that six grand in 1996 equates to roughly $8700 today.
Okay, so it looks like the massive and incredibly pernicious effects of inflation didn't help make my case so much. Nevertheless, you have to believe me when I tell you that a big fat expensive wedding is a luxury that is best left to couples out there who: a) can truly afford it, or; b) have wealthy parents willing to pay for one.
It's true. For all of you other brides- and grooms-to-be, here is the bottom line: Blowing a big chunk of your savings on a big fat expensive wedding is one of the worst financial mistakes most you could ever make. Sorry, ladies.
When people look at a bride and groom of modest means throwing a wedding soiree that would make Kim Kardashian blush, I'll often hear many of them — the same types who think fancy cars are indicative of a person's wealth — say how impressed they are with the happy couple. Not me. I always look at those financially delusional newlyweds and think this: dumb and dumber.
Yep. Is there anything more stupid than people of modest means throwing away their hard-earned money on an opulent, yet fleeting, wedding reception when they'd be better served having a more modest affair (okay, that was a bad choice of words) and then using the savings to pay for an awesome honeymoon or, even better, a down-payment on their first home?
Of course not.
And if you think that still makes me a pathetic cheapskate, well, so be it.
Photo Credit: BarbieFantasies