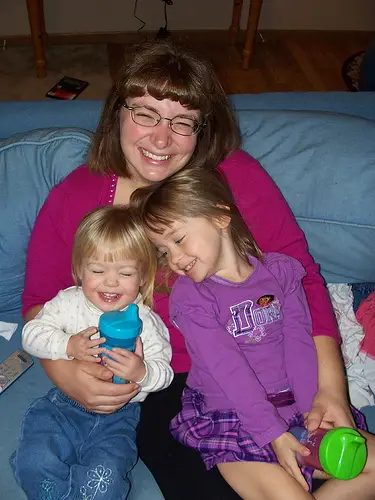 Sometimes you just can't put a price on things — and the intangible benefits of a stay-at-home parent is certainly one of them. At least it is to me.
According to the latest data from the US Census Bureau, there are approximately 11 million stay-at-home parents in America; sadly, that equates to slightly less than one of every five married-couple family groups.
I'm not surprised.
The trouble is, being a stay-at-home mom (or dad) isn't for everyone. After all, not only is it one of the most difficult jobs in the world, but it doesn't come with a paycheck either.
According to a Salary.com study, if the average stay-at-home mom did get paid, her annual compensation would be more than $162,000.
My mom was a stay-at-home parent and I still marvel at all the things she used to do. Mom did it all: cooking, cleaning, shopping, paying bills, yard work, running errands and shuttling me and my sister all over town — even when she wasn't feeling well.
Mom also was responsible for a lot of our home maintenance too. For example, when the walls needed a fresh coat of paint, she was on it. I even remember one year she spent the entire summer painstakingly stripping and restaining all the woodwork in our house.
As a child growing up, I can't tell you how comforting it was for me knowing that my mom was going to be home when I finished my day at school. It was an even bigger treat on the days I'd come home to find fresh-baked cookies or pie on the counter. After all these years, those memories are still fresh in my mind and, let me tell you, they are truly special.
Needless to say, after our son, Matthew, was born in 1997, the Honeybee and I decided to go the stay-at-home mom route. Yes, we've since forfeited more than $600,000 in lost salary since then — but it's a decision neither of us regret. Not for one minute.
If you're thinking about being a stay-at-home mom or dad, here are a few financial tips and considerations you'll need to keep in mind:
Determine your expenses. Ironically, for some families, the benefits of having an extra paycheck are often almost completely offset by additional taxes, childcare and other work-related expenses. Even so, before making the jump from two incomes to one, you'll first need to evaluate whether you can live within the confines of a reduced income. If you haven't already done so, now is the time to determine all of your non-discretionary expenses; things like your mortgage, utilities, insurance, groceries, and retirement contributions. Be sure to set aside money to handle unexpected expenses like car repairs or pop-up medical issues. Once you've done that, you'll know how much you have left for the discretionary spending like vacations and entertainment.
Don't forget to subtract your work-related expenses. Remember, by staying home, you will end up saving money by eliminating work-related costs like childcare, commuting expenses, clothing, and lunches. And because you'll have the time to cook more meals at home, the odds are you'll be eating out less too for even more savings.
Consider your alternatives. If you've cut your expenses to the bone and still can't seem to make the bottom line work, don't despair. If you are truly committed to having a stay-at-home parent there are alternatives to making it work even while both parents are still working. For example, perhaps one parent can take advantage of 4-day/10-hour shifts or work only part-time.
Don't stop networking. Because job loss is always a concern in a one-income family, it's important that stay-at-home moms — and dads — continue networking after leaving their old jobs. Stay in touch with your old coworkers and business partners and, if you haven't already done so, create a profile on a web-based networking site like LinkedIn.
Being a stay-at-home parent can be extremely rewarding, but sometimes it's just not possible. However, if you are fortunate enough to be in a position to make it work, I urge you to give it a shot.
I promise that it's one of the greatest gifts you can ever give your kids.
Photo Credit: Dustin and Jennifer Stacey