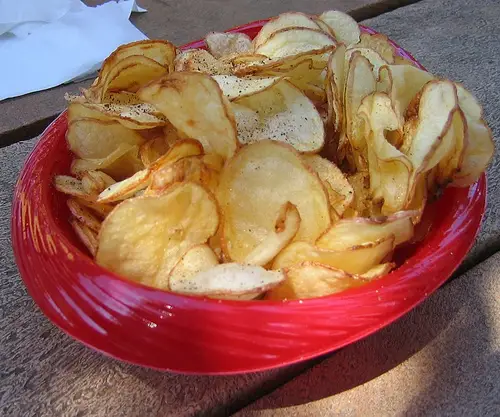 Potato chips are big business. According to AIB International, over $7 billion of the salty snacks were were consumed in 2009.
It's been reported that over 1.2 billion pounds of potato chips are consumed annually; I know I'm probably good for ten pounds a year all by myself.
I bet most of you are too. Don't deny it.
A Brief History of the Potato Chip

As legend has it, the first potato chip — known as a "crisp" in Great Britain and Ireland — was born way back in 1853 at a restaurant in Saratoga Springs, New York by an exasperated Irish chef named (somewhat appropriately) George Crum who created them in response to a hard-to-please customer who kept sending his french fries back because they were too thick and soggy.
The resulting "Saratoga Chip," as it was originally called, soon became a wild success. Even so, potato chips could only be found in restaurants until the turn of the 20th century, when they finally began showing up in stores for home consumption — although they were essentially unsalted due to manufacturing technology limitations. In fact, seasoned potato chips as we know them today did not hit the market until the mid-1950s.
How the Test Was Conducted
As I did with last year's popular ketchup taste test, as well as most of my other taste test experiments, I recruited a bunch of family members to be an expert panel — this time there were 11 chippy human volunteers.
As usual, my dog, Major, was also included in fun. (Hey, he's family too, folks.)
With the panel in place, I placed chip samples in separate bowls. To ensure the taste test was a blind comparison, the samples were simply marked 'A' through 'C.'
Scoring was simple. The experts were asked to rank each potato chip solely for taste, from best to worst, with three points for the top performer and one point for the worst. The panel was also free to note any accompanying comments they had regarding each sample.
The Expert Panel
Before we get to the results, let's once again meet our distinguished panel of experts: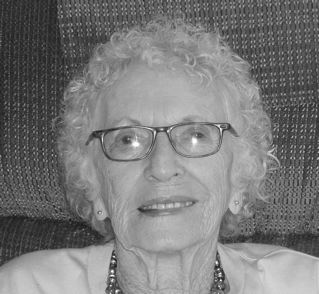 Aunt Doris
Birthplace: London, England
Age: Ninety-something.
Most money ever found: 20 (Presumably in a London bomb shelter.)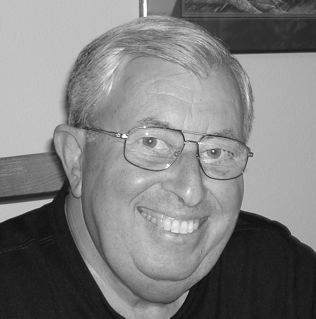 Dad
Birthplace: Youngstown, Ohio
Age: 74
Most money ever found: a half-dime (No, really.)

Tony
Birthplace: New Haven, Connecticut
Age: 68
Most money ever found: $350
.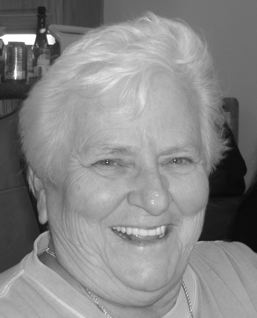 Mom
Birthplace: Youngstown, Ohio
Age: 71
Most money ever found: "a penny" (If you were anybody else, Mom, I wouldn't believe it.)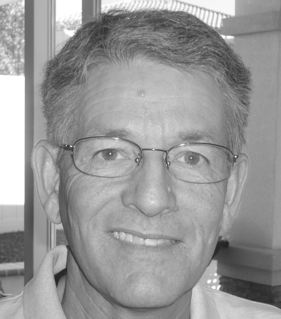 Kevin
Birthplace: Youngstown, Ohio
Age: 59
Most money ever found: $500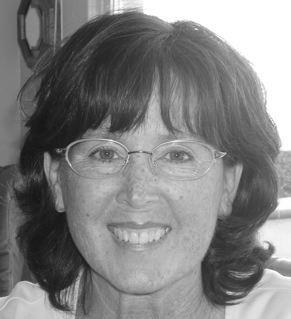 Chris
Birthplace: Hemet, California
Age: Classified (but if you're interested, it's on WikiLeaks).
Most money ever found: $20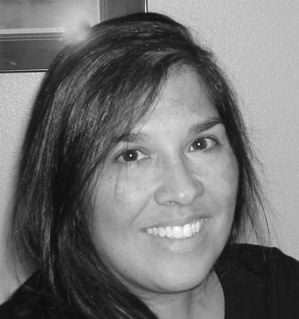 The Honeybee
Birthplace: Whittier, California
Age: 43
Most money ever found: $20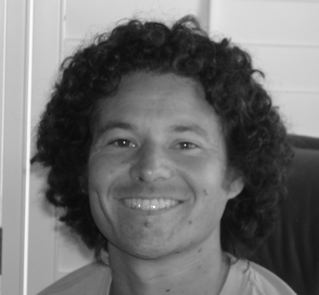 Evan
Birthplace: Escondido, California
Age: 33
Most money ever found: Declines to state. (Actually, he's afraid the IRS will tax him retroactively.)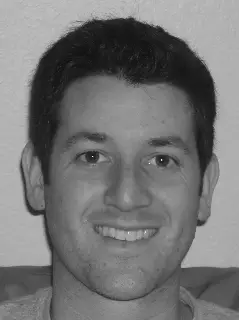 Mark
Birthplace: Escondido, California
Age: 31
Most money ever found: $1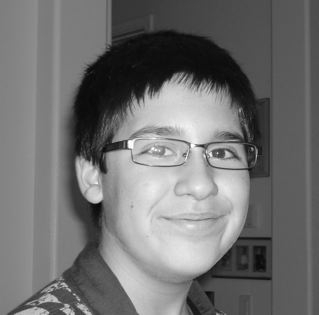 Matthew
Birthplace: Fontana, California
Age: 14
Most money ever found: $35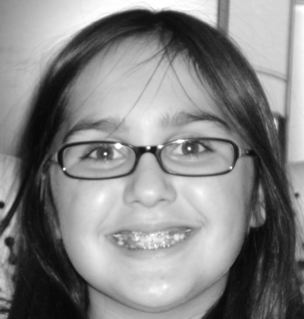 Nina
Birthplace: Fontana, California
Age: 12
Most money ever found: $10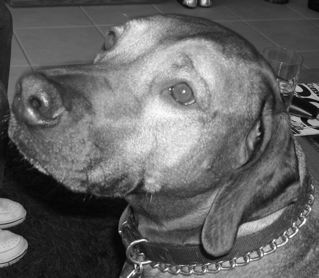 Major
Birthplace: Julian, California
Age: 8
Most money ever found: 2 bones
.
Introducing The Potato Chip Competitors
Upon entering my local supermarket's potato chip aisle, the cornucopia of potato chips available for purchase immediately struck me; when you're not paying attention, it's easy to take such a large assortment for granted. Anyway, in addition to the traditional bags of salted fried spuds, there were also potato chips with ridges and so-called "kettle" chips, all in a myriad of flavors like barbecue and sour cream & onion.
For this taste test, I only wanted to compare traditional salted potato chips sans ridges. Ironically, the grocery store's chip collection was so large that my selection for that specific variety was limited to two brands: the premium brand Lay's, and — at half the cost — a bargain-brand distributed under the Shopper's Value label. So to round out the experiment, I ran down to my local Trader Joe's and picked up a bag of their store brand potato chips.
Without further ado, here, in reverse order, is a summary of the potato chip taste test results, based upon the inputs of my expert panel:
3. Shopper's Value Potato Chips

Price per ounce: $0.19
Panel Scoring: 22 points
Average Score (3-point scale): 1.8
Human Judges Who Deemed Them the Best: 1
As the survey's bargain-brand chip, the Shopper's Value entry didn't come in with high expectations. That's probably a good thing considering the comments from the majority of my expert panel. Aunt Doris thought the Shopper's Value chips were "light and tasty," and my son, Matthew, noted they had a "nice yellow color" — but it was all downhill from there. Kevin and Chris described them as being "ordinary" and "salty," respectively. Mom thought they tasted "stale." My dad was even less impressed; he decried them for their "bitter" flavor. Tony said the bargain brand chips were just "blah," and the Honeybee agreed, opining that they "lacked flavor." Don't tell that to the dog — judging from his reaction, those chips tasted better than a bacon-wrapped filet Mignon.
2. Trader Joe's Potato Chips
Price per ounce: $0.20
Panel Scoring: 23 points
Average Score (3-point scale): 1.9
Human Judges Who Deemed Them the Best: 3
When it came to the Traders Joe's brand, the opinions of my expert panel ended up being a mixed bag. Mark thought the Trader Joe's chips had "the best balance of salt, potato flavor and crunchiness," and Chris agreed, saying that the flavor was "just right." Matthew also gave them a thumbs up for having a slightly thicker cut compared to the other two brands. The Honeybee thought they were "good, but not great." Still, the Trader Joe's brand had its detractors. Tony said they were "dry," while Dad dinged them for being "bland." Kevin lamented that were too "Pringle-like" but surmised that because they "tasted the worst" they were also most likely the healthiest. My daughter, Nina, disliked them because they were "too thick" and Mom thought they were "too salty." I'm sure saltiness wasn't a problem for Major; after all, seasoning isn't an issue for those who inhale their food.
1. Lay's Potato Chips
Price per ounce: $0.41
Panel Scoring: 30 points
Average Score (3-point scale): 2.5
Human Judges Who Deemed Them the Best: 7
Without a doubt, this was the overwhelming favorite of the expert panel. In all, the Lay's brand chips received seven first place votes. The consensus was so strong that only two panelists felt the premium brand chip was, well, crummy. Chris gave Lay's demerits for blandness and Mark for excessive seasoning and oiliness — but those opinions were clearly in the minority. The Honeybee thought the chips were "crisp and tasty." Both Kevin and my mom lauded the premium-brand chips for being "light" and "crispy." Nina summed things up by noting that the Lay's were "yummy!"

The Moral of the Story

I think this taste test experiment answers the question as to how Lay's stays competitive in a crowded market despite costing up to twice the price of rival potato chip brands: when it comes to potato chips, it appears you get what you pay for.
As far as my expert taste test panel is concerned, the premium-brand Lay's potato chips are clearly worth their salt.
Photo Credit: star athena