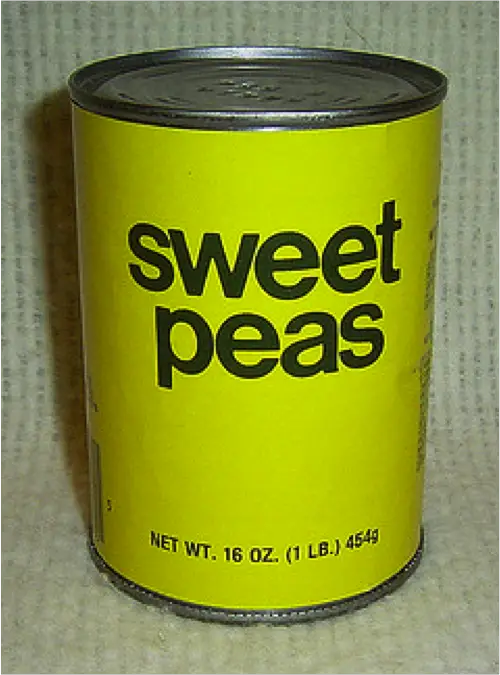 Even though buying store brands is a great way to save money on your grocery bill, many people refuse to try them because they believe they're automatically inferior to their name brand counterparts.
That can be a costly assumption.
Since my first store brand challenge in 2009, I've conducted more than a dozen taste test experiments that have evaluated almost 30 products using an extensive panel of culinary experts. (Of course, that would be my zany family!) In fact, over the years I've run product taste tests on almost everything you can think of: from potato chips and fruit cocktail to ketchup and canned soup.
Over the course of those experiments, my expert panel identified several store-brand stinkers that couldn't come close to matching the taste or quality of their name-brand complement. On the other hand, they also discovered far more store brand items that actually outperformed the name brand products they were emulating.
Believe it or not.
Here are the eight best-performing store-brand products from all of those experiments — at least according to my expert panel — whose taste and quality were found to be significantly better than their more-famous name brand counterparts:
Peanut Butter
In an impressive display of peanut butter performance among a five-candidate field, the store brand came out on top, beating out perennial favorites like Jif, Skippy and Peter Pan. Most panelists praised the the store brand for its pleasing combination of fresh peanut taste and creaminess.
Bottled Water
Don't tell the makers of Arrowhead spring water, but in this blind taste test, my experts preferred the store brand purified water by a 2-to-1 margin. The real insult, however, is that Arrowhead received the same score as the filtered water from my tap — especially since it runs at a 22,000% price premium to tap. (No, that's not a typo.)
Ketchup
With blue ribbons from six judges, the generic brand ketchup not only vanquished Heinz, but it thoroughly trounced the other competition too. The victory was so impressive that all but one of the judges ranked the store brand ketchup first, second, or third on their list. The store brand's secret? The panel found it to be extremely flavorful and well-balanced.
Polska Kielbasa
My test panel preferred the taste of the generic sausage to Hillshire Farms' famous kielbasa — by a wide margin. The Honeybee made an astute observation at the time, suggesting it was probably due to the higher fat and salt content in the store-brand meat.
Spaghetti Sauce
Although my panel scored the store brand spaghetti sauce higher than Prego's version, that didn't mean they thought it was delicious. Then again, I'd expect no less from my Italian family, which would never be caught eating jar sauce in the first place. In fact, the majority of my panelists hated both brands, faulting each for being bland and lacking a fresh-tomato taste. They just hated the store brand less.
Canned Peas
The store brand canned peas trounced Del Monte's offering. In fact, the store brand received a near-unanimous decision from the nine panelists (one expert called it a draw on his scorecard). Ironically, it was the generic peas that got high marks for being sweet and fluffy — unlike the name brand peas, which were found to be tasteless, chalky and hard.
Vanilla Ice Cream
The store brand ice cream got kudos from my panelists for having a better texture, as well as a more pleasant vanilla taste. For its part, the Dreyer's was docked points for actually being a bit too sweet. Go figure.
Apple Jacks Cereal
Although Kelloggs Apple Jacks will always be my favorite cereal, my expert panel of 11 neighborhood kids preferred the store brand cereal. Remember that the next time you go shopping, parents. Especially considering genuine Apple Jacks come with a 53% price premium.
And here is a summary chart showing just how well these eight store-brand products performed against their name-brand counterparts: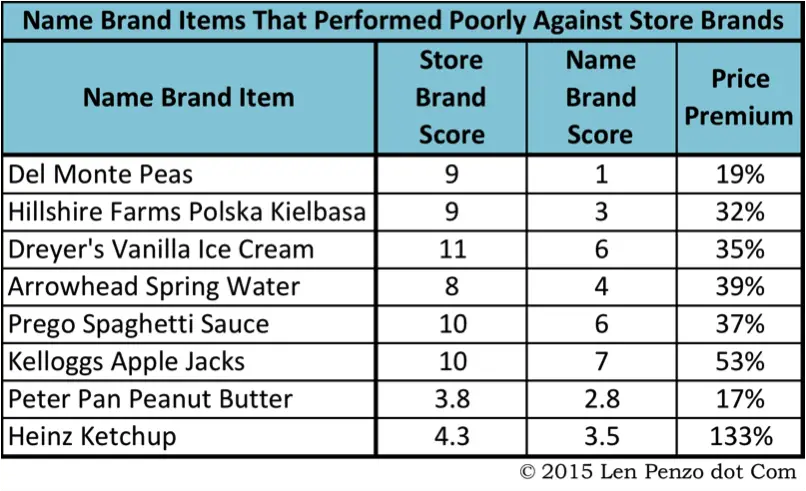 So there you have it, folks: Despite price premiums between 17% and 133% for these eight items, it just goes to show … sometimes you really don't get what you pay for.
Photo Credit: robertstinnett