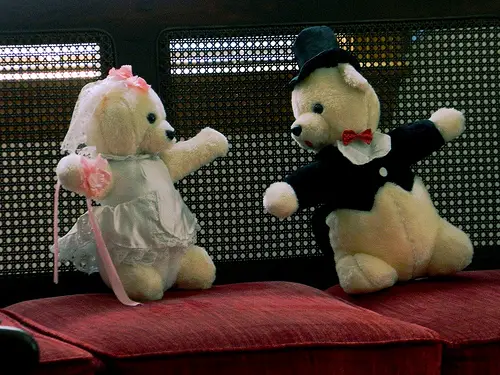 The average cost to have a wedding is now $29,000. That's some serious dough – especially for couples looking to have a beautiful wedding and honeymoon for $5000 or less!
I know getting married is supposed to be a once-in-a-lifetime event, but is one night really worth $29,000? Where I live in central Iowa, that's enough money to put a down payment on a decent house!
Obviously, how much you spend on a wedding should depend on the financial situation of those who are paying for it, but should an average couple really be spending nearly $30,000 for one night of I dos? In our case, we decided that there were better ways for us to use that money.
I recently planned, budgeted, and enjoyed a wonderful wedding with my beautiful bride, Sophie. We're each in our early twenties, so we had to think outside the box when planning our big day.
Although we did a good job budgeting, we absolutely couldn't have had the wedding we did without help and donations from our loving families, friends and even small business owners. Our budget went a lot farther than it should have because of them.
Ultimately, our entire wedding and honeymoon ended up costing us less than $5000. I won't to go into every detail, but here are a few examples of how we were able to stretch our wedding and honeymoon budget as far as we did:
The reception hall. CNN Money notes that the biggest wedding expense is usually the venue. On average, newlyweds spent $12,905 on their reception hall — so we decided to focus on reducing that expense first. Thankfully, we were able to use our church's sanctuary for both the ceremony and the reception for free — although we gave our church a donation. After the wedding was over, we converted the room into a reception hall.
The rehearsal dinner. We had a local church member cater a pulled pork entree for our rehearsal dinner. We then saved even more by buying all of the side dishes from our local supermarket.
Groomsmen apparel. Instead of asking my groomsmen to rent tuxedos, I had them all wear black dress pants and cream dress shirts.
The groom's apparel. I found a hand-me-down tux which I got for free. I then paid $40 to have it altered to fit me. What a steal!
Decorations. Sophie did an outstanding job picking decorations that made a big impact for very little cost. She bought old picture frames from Goodwill for our back drop, and big balloons for along the aisle.
Music. We asked a family friend to act as our DJ at the reception. For the songs, he simply installed a free 1-month trial to Spotify on his laptop.
Refreshments. Instead of serving a full-course dinner at the reception, we only served dessert — ice cream catered from Cold Stone Creamery. Yum! (It didn't hurt that the owner gave us an incredible discount because Sophie had previously worked for him there.)
Photography. Sophie and I hired a professional photographer who was trying to get his business started — and since he had only one other wedding under his belt, we received an amazing deal. That was a real blessing to us. Here are a couple of photos from our wedding (click to enlarge):

One more tip: It also helps to have plenty of willing volunteers out of our loving families and wonderful friends!
By cutting costs on our wedding, we were able to save enough dough to pay for a week-long adventurous honeymoon to Cancun.
So you see, it is possible to have a beautiful wedding on a tight budget — although for some people, that may entail reconsidering their definition of a "perfect" wedding. For us, that meant having a nice, fun evening with our family and friends, where the focus of attention was on our commitment to each other and God's blessing in our lives.
Don't get me wrong, I'm not trying to argue that expensive weddings are less honorable than financially modest ones. If you can truly afford a lavish wedding, great! However, I do want young people to understand how fast wedding costs can escalate, and show that it is possible to stick to an affordable budget and have both a wedding and honeymoon for $5000 or less.
Your wedding can be a day that you look back on with fondness as the beginning of a wonderful marriage. It can also be an event that you look back on as the beginning of years of debt and financial regret. The choice is yours.
Photo Credit: (bears) Josh Meek; Wedding photos courtesy of Kacy
***
(Note: This updated article was originally published on 13 November 2013.)