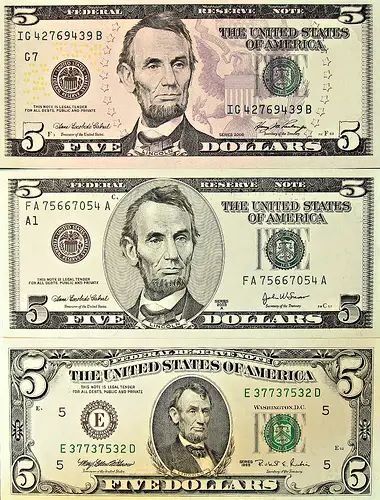 I want everyone to pull up a chair and get comfortable because I'm about to tell you a story that may seem hard to believe — but it is the absolute truth. Awhile back, I made a decision that forever changed my relationship to money: instead of spending every $5 bill that passed through my hands, I started saving them.
At the time, I had two daughters in private colleges and, to put it mildly, my husband and I were financially stressed. But I found that socking away each and every $5 bill I received as change in a cash transaction was one way I could stay in control of what little extra money I had at the time — and the strategy has paid off. The girls are out of college and both are married now. And I've saved almost $36,000, all in $5 bills. Wowza!
The best part about my plan is that you can do it too. All it takes to get started is a commitment to save and one $5 bill.
The number one reason most people don't save is that they don't have a savings plan. Not me. From the moment I wake in the morning, I'm thinking of ways to get back a $5 bill. That's one reason I do most of my day to day living by spending cash, because let's be honest, you can't get a $5 back if you pay with a debit or credit card.
And once you commit to saving your fives, you'll never look at a $5 bill the same way again. Once you see them accumulate, you won't be tempted to spend them. It becomes an addictive habit, a fun game to see how fast you can grow your stash.
One of Warren Buffett's ideas about investing that I really like is that we should invest in ourselves before anything else. What better way to invest in ourselves than committing to a personal savings plan?
The way I see it, people everywhere are yearning for a simple way to put aside some extra money, to pay for a wedding or a vacation, a new car or a house; to pay off school loans or help put a child through school; or maybe the ultimate savings goal — retirement. Some people throw loose change in a jar, while others are way more ambitious and disciplined, setting aside 10% of their monthly income as savings before paying their bills.
But loose change never amounts to any significant money and most people can't save at all, much less 10% of their salary. So I started a blog called "Save Money Fast with Fives" to help people get started on the idea, and hope you will become a faithful reader and a follower.
Marie C. Franklin is a former member of the Boston Globe staff and today a journalism professor at Lasell College in Auburndale, MA. She publishes a personal finance blog at Save Money Fast with Fives.
Photo Credit: The.Comedian