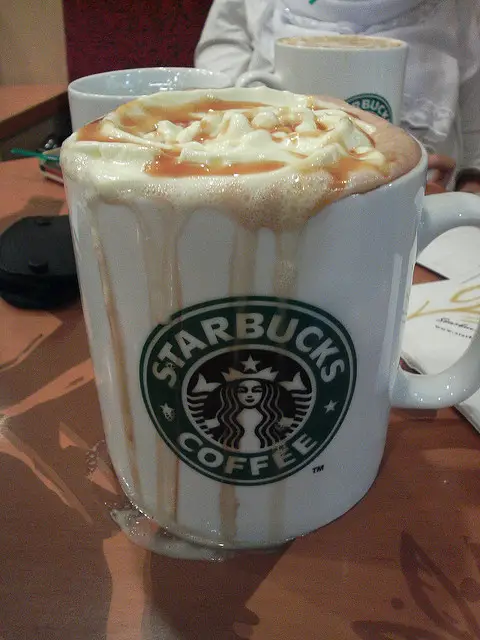 It's a common refrain: buying coffee at Starbucks is a waste of money. Now, I don't mean to make you uncomfortable, but I think it's high-time we had a deeper, more serious, conversation about the wildly popular coffee house chain.
I want to start by pointing out that there's a Starbucks in my neighborhood grocery store.
Then again, where isn't there a Starbucks?
Take the town where I live: it has almost as many Starbucks (12) as the Lakers have NBA championships (17). Based on those numbers you'd think I come from a large city. But it's a fairly small town of 70,000 residents or so — that's one Starbucks for every 6000 people.
By comparison, we have only two McDonald's. But I digress.
Let me get to the real issue that always seems to be, well, brewing under the surface:
Occasionally the Honeybee likes to get a venti Caramel Macchiato which, I've been told, is some kind of special caramel vanilla coffee drink. These abominations on the traditional cup of joe cost approximately $6.25 with tax, which is why I like to call Starbucks "Six-bucks."
Anyway, the Honeybee might have one of these overpriced concoctions a couple times a month, which is reasonable. But I know people who go to work with one of these 20-ounce Starbucks coffee concoctions … every. stinking. morning.
I wonder if they ever consider how much money they're wasting at Starbucks – or any coffee house – on glorified java.
Let's assume they average two weeks of vacation, and another two weeks of sick time and holidays each year. That means they're buying Starbucks brew 48 weeks a year, 5 days a week. That's 240 trips to Starbucks at roughly $6.25 a pop, or $1500 annually for a measly cup of morning coffee! Remember, this doesn't count the days they go to Starbucks when they aren't working.
Even worse, if you consider the 10 minutes most people spend on average waiting in line – or the drive-through – for the baristas to make their drink, then that equates to an entire 40-hour work week each year. So they're not only wasting money, they're wasting time too. And lots of it.
With that in mind, can anybody tell me why queuing up to spend $6.25 for a cup of flavored foo foo coffee at Starbucks is better than making your own Folgers at home? Or grabbing a cup from the office coffee maker? Or walking into your local Quickie Mart and taking a minute to pay a buck and change for the Maxwell House blend they're serving up?
It seems to me that Starbucks is a waste.
I mean come on, folks. Is going to Starbucks — or any other fancy-pancy coffee house for that matter — really worth 40 hours of your life each year and the annual $900 premium?
I'm just askin'.
Photo Credit: MyLifeStory