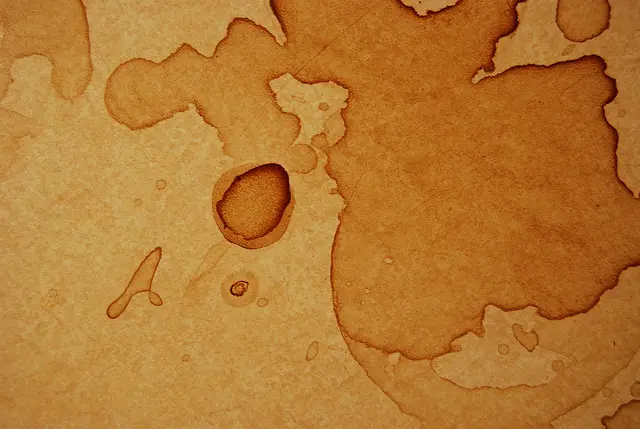 Accidents happen, and they can totally put a damper on your otherwise positive demeanor if you don't know how to properly eliminate the stains they cause around the house. To prevent your own spontaneous combustion, take a look at these 22 home hacks for common stains that are proven to save the furniture and the day.
1. Coffee on Clothing
We've all mistakenly sipped from the wrong end of the Starbucks cup. When that happens, reach for the seltzer, says cleaning coach Leslie Reichert.
When you spill coffee on your white shirt, spritz it with the seltzer water, she advises. Blot the stain after applying.
If you have a Sodastream machine, its quick and easy to create seltzer out of ordinary tap water that you can keep in the car.
2. Red Wine
Red wine can make you a little tipsy which isn't the best state to be in if you don't want stains on your clothing, carpet or furniture.
The best solution is hydrogen peroxide, Reichert recommends. Pour the hydrogen peroxide right over the wine stain and let it sit. If you have a big spill you can sprinkle the area with salt to absorb the wine, then shake it off [or vacuum] and use the hydrogen peroxide.
Merry Maids home cleaning expert Debra Johnson offers another solution.
If you notice a red wine stain, blot it right away with a white cloth until all of the liquid has been absorbed, she says. If the stains dry, whip up a quick solution of dishwashing liquid (1 tbsp), white vinegar (1 tbsp) and warm water (2 cups) to blot away the stain.
3. Chocolate
Red wine pairs very well with certain chocolates. If they both end up on your clothes, (its probably time to switch to water) you can rest assured that the stains are only temporary.
Place the item with the chocolate stain in the freezer then scrape off all the hard chocolate, Reichert advises. Use a drop of dish soap in water and dab the area until the color comes out. Finish by rubbing the area with alcohol to remove the greasy stain.
4. Salad Dressing
Unless you eat with a bib, you're bound to drop food on yourself from time to time. And if youre eating liquid foods like salad dressing the rate of occurrence is much higher.
To remove the stain, blot the area and remove as much of the oil as you can, Reichert says. Spritz the area with rubbing alcohol or vodka and let the alcohol break down the oil. Then gently rub in a gentle soap like ivory soap to lift and remove the stain.
5. Candle Wax and Crayons
How I've ever gotten wax on my clothing is a mystery — sort of like why do I have so many single socks?! — but I figured out this hack on my own. Sometimes trial and error and common sense is all you need.
Place in freezer and remove as much of the hard part as you can, Reichert explains. Once the item is back to room temperature, place a clean white cloth over the area and use a warm iron to pull the wax out of the area. Continue until the wax or crayon is removed. There may be a waxy or oily film remaining. Use alcohol over the area to break down the oils and then finish with a gentle soap to lift out residual stains.
6. Pet Urine
Theres not a pet owner out there whose dog or cat hasn't done its business on the carpet, likely out of spite. My entire condo features hardwood floors throughout with one white area rug in the living room. Out of 900 square feet that my dog Jaxon can have an accident, he chooses the 5-foot by 7-foot area that he thinks will make daddy happy. Those are the days I need to count backward from 10 and remind myself that he's too cute to make it on the mean streets of New York City.
Blot up as much of the accident you can from the area, Reichert suggests. Sprinkle the area with baking soda to absorb the moisture. Pick up any moist baking soda and sprinkle more on the area. Spray with hydrogen peroxide. You can then continue to clean the area with dry towels. Finally you can spray the area with an enzyme cleaner that can be bought at a pet supply store or make your own with orange peels and brown sugar. The enzymes are actually good bacteria that will eat the urine until they go dormant. You want to keep the area moist as the enzymes go dormant when they dry up.
7. Permanent Marker
I used to practice my threes and fives on the back of my closet doors when I was a kid. I imagine that my parents needed to count backward from 10 and remind themselves that I was too cute to make it on the mean streets of New York City.
Use non-gel toothpaste to remove permanent marker from cabinets, advises Meg Roberts, president of Molly Maid. Apply a small amount of the white paste directly on the marker stain and use a clean, white cloth to wipe along the grain on the cabinet to remove the stain.
How-to site Sussle also has a few solutions.
8. Coffee Pot Residue
I learned how to clean coffee pots working a bowling alley when I was a teenager using salt, ice cubes, and cold water, but Roberts offers another tactic.
Take some powdered dishwasher detergent, shake it into the bottom of a cool coffee pot and fill with hot water, she says. Let it sit for an hour and it should be good as new — no scrubbing, no boiling, no replacement needed.
9. Oil on Upholstered Furniture
Couch potatoes with junk-food addictions are probably familiar with oily food stains, but it can happen to the best of us.
Family movie night is fun, but hands from buttery popcorn can leave spots on your upholstered furniture, Roberts reminds us. When that happens, place a brown paper lunch bag on the oily spot to absorb the grease and run a warm iron over it to lift the mark away. For leather furniture, sprinkle cornstarch on the spot, let it sit for two to four hours and then wipe away.
Another hack is to use a clarifying shampoo on the oily stain, according to Pump Mama, a site for practical tips resourceful living.
10. Rusty Toilet Bowl Rings
How toilet bowls get those rusty rings is quite baffling — it's ceramic, after all — but you can attack them with an unlikely ally that you'll have to ask your grandma for.
To easily clean toilet stains including stubborn rust rings, drop two Polident denture cleaning tablets in the bowl and let them fizz for 15 minutes. Gently scrub the bowl with a toilet brush and flush to rinse, Roberts explains.
11. Ink
You can add ink to the growing list of things with which we clumsily ruin our clothing. Make them last a little longer with this tip from self-love coach Shera Lee.
Simply add the alcohol to a cotton ball, or if it's a tiny stain you can use a Q-tip, she says. Then blot the ink stain. Don't rub it around, otherwise the stain will spread. The alcohol absorbs into the cotton ball. Blot until the stain is full removed. You may need a couple more cotton balls if you run out of room for the ink, depending on how severe the stain.
For the remaining 11 hacks, check out Part 2!
Photo Credit: SixRevisions