I don't know about you, but I find a lot of things in life that often make me stop and just shake my head in pure bewilderment. For example, why do tourists go to the top of tall buildings and then put quarters in telescopes so they can see things on the ground? And I still can't figure out why Hawaii has Interstate highways.
Then there are the audacious prices some folks are charging for the most mundane products. In 2012, somebody actually paid $8100 on eBay for a Chicken McNugget that looks like George Washington. (The fact that George Washington struggled with personal finance problems for many years obviously didn't affect the final sales price.)
Since these so-called "deals" tend to disappear almost as quickly as they show up, I made sure I took a screen shot of the sale for posterity: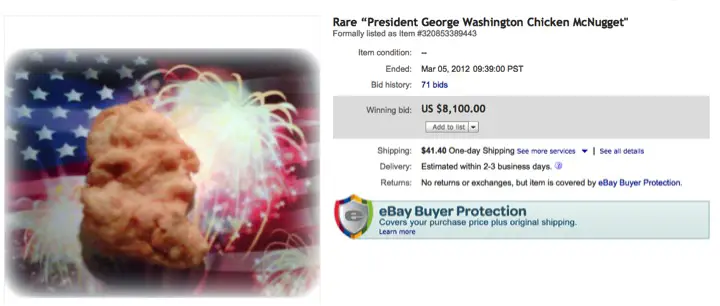 I'll be honest; to this day I regret not trying to sell the McNugget my daughter found in 2009 that looked like Connecticut. No, really. Spitting. Image.
By the way, this ain't the first time I've found everyday products on eBay and Amazon that were being offered for ridiculous prices — it's just that this is the first time I've ever seen somebody actually pull the trigger. For example: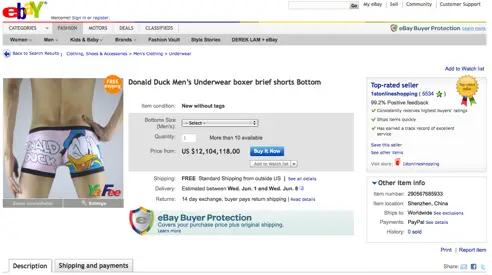 Product: Men's underwear
Price: $12,104,118
Offered at: eBay
Key selling point: Even though it comes from China, there's no extra charge for shipping.
Comments: It appears as if the declining value of the US dollar is worse than I thought. Heck, for $12 million I could start up my own underwear factory here in the States.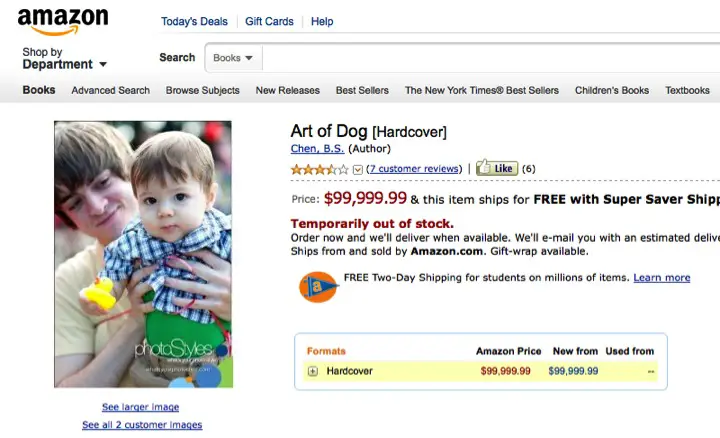 Product: A book entitled Art of Dog, by B.S. Chen
Price: $99,999.99
Offered at: Amazon
Key selling point: It's the hardcover version. (!)
Comments: Assuming this is legit, the book is currently out of stock. Then again, I don't think it's a coincidence that the author's first two initials are B.S.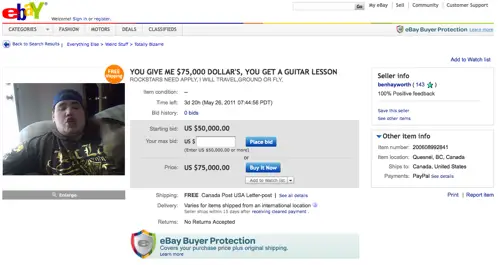 Product: One (1) private guitar lesson from some guy in Canada named Ben
Price: $75,000
Offered at: eBay
Key selling point: But wait, there's more! As an added bonus, Ben will throw in his own Fender guitar. And, ladies, he's single too.
Comments: Ben doesn't list his bona fides, but for $75,000, I'm sure he's right up there talent-wise with some of the world's other great guitarists like Joe Satriani and Carlos Santana. By the way, since Ben doesn't have a passport, non-Canadians will have to go see him. Of course, you'll have to pay for your own transportation.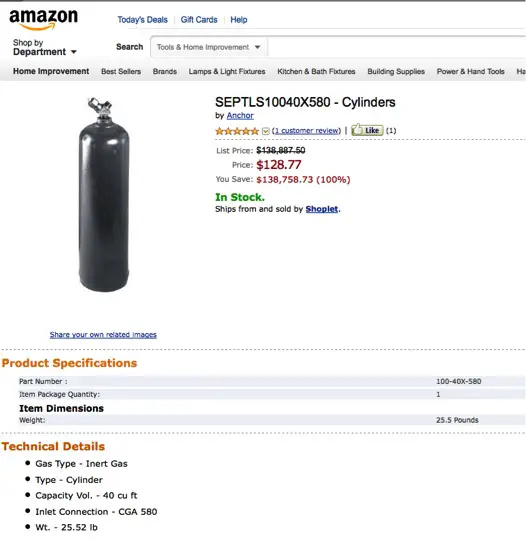 Product: A gas canister
Price: $128.77
Offered at: Amazon
Key selling point: I know what you're thinking, but it's on sale. That tank normally sells for $138,887.50.
Comments: If you've ever thought about taking up scuba diving for a hobby, you might want to do it now — or at least before the sale ends.
Product: A "slightly used" roll of toilet paper
Price: $85,000 (plus $15 shipping and handling)
Offered at: eBay
Key selling point: Well, according to the seller, it's "fairly soft."
Comments: No word on whether the toilet paper is single or 2-ply, but for $85,000 that stuff better be softer than the skin on a newborn-baby's bottom. And if you do buy it, just be sure you really want it because the seller doesn't accept returns. To be honest, I wouldn't either.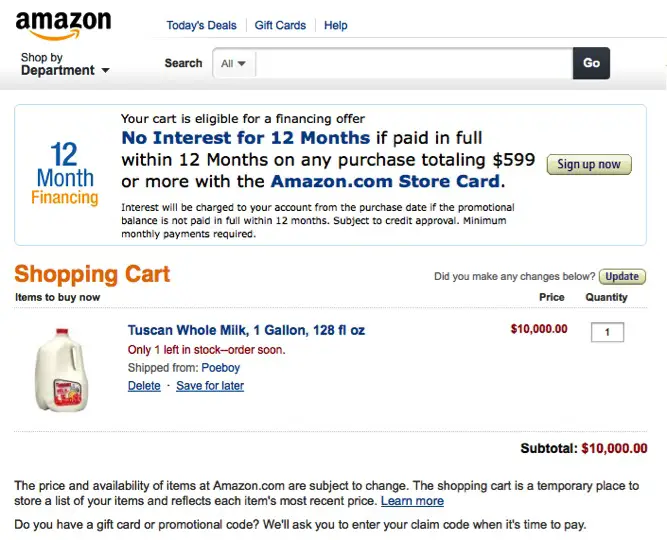 Product: One gallon of Tuscan brand milk
Price: $10,000
Offered at: Amazon
Key selling point: According to the seller, the milk will be "hand delivered by a real Tusken cattle herdsman." For that price, hopefully the milk is also hormone free.
Comments: And you thought a gallon of gasoline is expensive? For those on a budget, a competing Amazon vendor is selling the exact same grocery store milk for "only" $2500 with this promise: "After delivery I'll bake you a delicious batch of chocolate chip cookies." I love the free market!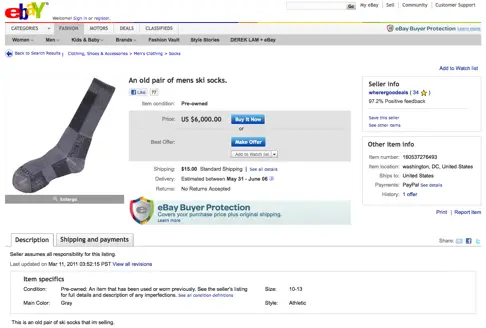 Product: A pair of old ski socks
Price: $6000 (plus $15 shipping and handling)
Offered at: eBay
Key selling point: Um, er, well… they're calf length. (Sorry, that's the best I could do for this one.)
Comments: If $6000 is too steep, you'll be happy to know you can try to low-ball the seller; he's accepting offers.
***
(This is an updated version of an article originally written on May 23, 2011.)
Photo Credit: AP