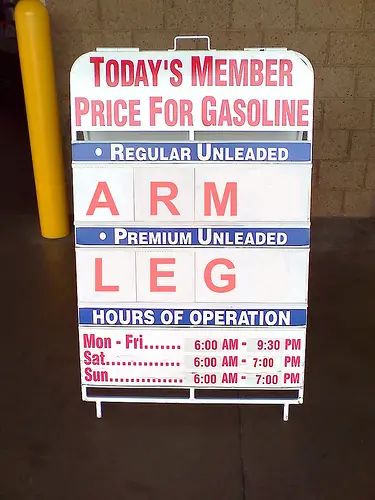 I drove by the corner gas station today, as I do everyday on my way home from work, and I couldn't help but notice that the price of gasoline rose another few cents over the weekend. This time the sign was unapologetically advertising a price of $4.619 per gallon.
You know, I hate that sign. Some days I feel like it is taunting me — especially the ones when I have no choice but to pull into the station and fill 'er up.
"I've read your blog, Penzo," that dumb old sign will say. "You and I both know shopping for low gas prices is a losing proposition, so suck it up and pay the piper."
Owning a Honda Accord that averages about 32 miles per gallon doesn't make it any less painful for me; I'm now dropping more than $50 each time I fill up the tank.
Anyway, when I got home I had to share the latest gas price news with the Honeybee, who happened to be curled up on the couch with a good book (so I'm told). "Can you believe it? Gas is up to $4.62!" I said, not even bothering to say hello.
"That's three cents more than Friday!" she replied, also not bothering to say hello. With that the Honeybee promptly took a sip from one of her favorite drinks — a foo foo iced caramel macchiato from Starbucks. Then she said, "You know, gas prices are just outrageous!"
She was right. But as I watched her take another swig from her drink, it dawned on me that gasoline really ain't such a bad deal when compared to those expensive beverages from the Starbucks menu — or a lot of other everyday products for that matter. Consider that the 24-ounce caramel macchiato in her hand cost $4.75; if Starbucks priced them like Exxon prices gasoline, that drink would cost $25.329 per gallon.
And we're complaining about the price of a gallon of gas?
There are plenty of other examples, of course. Here are just a few based upon a quick online price survey I recently conducted:
| | | | |
| --- | --- | --- | --- |
| Item | Container Size | Price Per Container | Price If Sold by Exxon (Cost Per Gallon) |
| Coca-Cola (12-pack) | 144 oz. | $5.78 | $5.129 |
| Coca-Cola (vending machine) | 20 oz. | $1.50 | $9.589 |
| Budweiser beer (6-pack) | 72 oz. | $7.48 | $13.289 |
| Coffee-Mate creamer | 32 oz. | $4.69 | $18.759 |
| Kikkoman soy sauce | 40 oz. | $6.64 | $21.239 |
| Red Bull | 20 oz. | $4.79 | $30.639 |
| Simply Saline saline solution | 24 oz. | $9.95 | $53.059 |
| Jack Daniel's whiskey | 25.36 oz. | $16.73 | $84.449 |
| Tabasco Brand pepper sauce | 5 oz. | $3.99 | $102.139 |
.
So, as you can see, when put in perspective, gasoline prices really are a bargain compared to many other everyday products — especially when you realize what you get for the money. After all, consider what a gallon of gas buys you. Depending on the type of car you drive, that gallon of gas provides the energy required to quickly transport you, your vehicle, and a load of passengers perhaps as far as 40 miles down the road.
That's not too shabby, considering what Uber or Lyft would charge for the same trip — or the inconvenience and time restrictions associated with public transportation.
Think about that the next time you end up paying the equivalent of $25 per gallon for one of those foo foo drinks from Starbucks … or $100 per gallon for a bottle of Tabasco sauce.
Now that's outrageous.
Photo Credit: AgentAkit