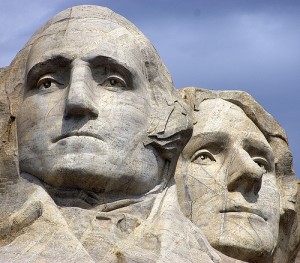 Four US Presidents were born in the month of February, including two who are memorialized on Mount Rushmore: George Washington and Abraham Lincoln. (Ronald Reagan and William Henry Harrison are the other two.) As such, it should be no surprise that Presidents' Day falls on the third Monday of February, which just so happens to be nestled between George and Honest Abe's birthdays.
Of course, Presidents' Day is set aside for us to remember the accomplishments of those few special men who have occupied the White House. While most people remember them for their vision and their courage, it is rare that anyone thinks about our presidents' personal finances.
Yes, several of our most famous presidents — including George Washington and Abraham Lincoln — suffered from serious debt problems during harder times in their lives.
George Washington
Washington's debt problem started in the pre-Revolutionary period of the 1760s. At the time, he was among the richest men in America, presiding over Mount Vernon after marrying the very wealthy widow Martha Custis. However in this era, Washington was one of a number of Virginia planters having difficulty making a profit by selling tobacco in England and overseas.
During this period of time, Washington went significantly into debt to a London merchant named Robert Cary, to whom he had entrusted the sale of his tobacco. Cary also purchased and shipped goods to Washington back in Virginia, including Old World luxuries.
A September 1765 letter from Washington to Robert Cary & Company, preserved in the Library of Congress, captures the difficulty that he faced selling his tobacco at a profit, and voices his displeasure with the process and the trader:
Can it be otherwise than a little mortifying then to find, that we, who raise none but Sweetscented Tobacco, and endeavour I may venture to add, to be careful in the management of it, however we fail in the execution, and who by a close and fixed corrispondance [sic] with you, contribute so largely to the dispatch of your Ships in this Country shoud [sic] meet with such unprofitable returns? Surely I may answer 'No!'
Washington later complains about the expense of the goods that are being sent his way, pointing to an eventual turn to a more frugal lifestyle.
Like a smart person in debt, the Father of the Country also looked for new and creative ways to expand his income — by diversifying his crops, experimenting with new farming techniques, and selling more of his produce locally.
Abraham Lincoln
While Washington was a fabulously wealthy debtor, Abraham Lincoln's debt predicament points to the wisdom of being careful who you do business with.
According to the National Park Service, Lincoln entered into the grocery business in New Salem, Illinois, in the 1830s with a man named William F. Berry. When Berry later died, he left Lincoln with a stack of bills so large that Lincoln, in his ever-present wit, termed it "The National Debt."
The debt would only lift after he became a Congressman.
Other Presidents
Washington and Lincoln were not the only presidents who had money problems.
Harry Truman declared bankruptcy after his hat shop failed in 1922; it took him 12 long years to get completely out of debt.
In 1893, William McKinley declared bankruptcy in Ohio while serving as governor of the state. Even so, he was elected as the US President three years later.
After serving as President, Ulysses S. Grant lost his money in a bad business deal and needed his memoirs to pull him out of debt.
Thomas Jefferson was in debt for much of his life. When he died in 1826 Jefferson still owed his creditors about $100,000, which is more than $1.9 million in today's inflation-adjusted dollars.
Photo Credit: jimbowen0306