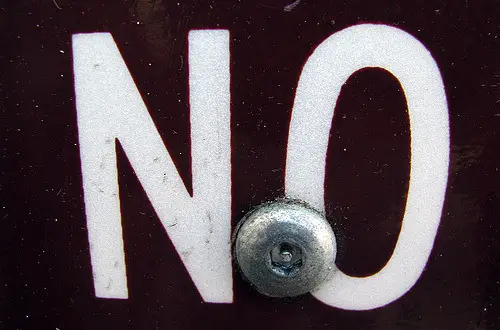 By most accounts, there are more than 250,000 words in the English language.
Of course, I have my favorites.
For example, I've always been quite fond of platypus; I smile every time I hear myself say it.
For some reason, there happens to be a soft spot in my heart for the word kerfuffle too.
And I probably shouldn't admit this, but I also find myself occasionally thinking of ways to insert words like hemidemisemiquaver, snickersnee, slangwhanger and fatuous into some of my blog posts. Unfortunately, I usually strike out.
Then again, I was pretty successful today.
I'm sorry; I'll stop bloviating. (Never mind that bloviate is another word I'm inexplicably attracted to.)
If you asked my kids, they'd tell you my favorite word of all time is "no." They may have a point; it's a word I use freely with them.
"Hey, Dad! Brandon's at the door. Can I do my homework assignment tomorrow?"
"No. Tell Brandon you're busy."
"Hey, Dad! Can we adopt a rabbit?"
"No."
"But, Dad! Jenny said she'll give us the cage and two pounds of carrots for free."
"No."
"Hey, Dad! Can I have cake for dinner tonight?"
"Hmm. I don't see why not."
"Really, Dad?"
"No."
When my daughter, Nina, was 10-years-old she started pestering me for her own Facebook account. And while I admired her tenacity, until her 13th birthday I gave her the same answer all 1576 times she asked. (Yes, that would be "no.")
My kids are, sadly, on the verge of leaving the nest now — but at times they still think I'm taking the easy way out when I tell them "no." Of course, I'm really not.
The truth is, it's not easy saying "no" as often as I do; it takes real discipline. Sometimes it requires a heavy dose of intestinal fortitude.
Even so, when I have to make a tough decision and say "no," I say it. After all, that's part of being a responsible adult.
Saying "no" often requires us to disappoint others, or appear rude. Even worse, if you're dealing with immature people, it increases the risk of personal conflict and lost friendships.
The thing is, if you stand tall and stick to your guns, knowing how and when to say "no" can pay big dividends. For that reason alone, saying "no" is certainly a skill that's well worth mastering — especially when it comes to managing your personal finances. In fact, it's a key trait of effective household CEOs.
Look, it's tough enough spending less than you earn when you've got a limited income — but it's virtually impossible when you can't muster the courage to say "no" to lavish vacations, expensive luxury cars, designer clothes, and impulsive purchases.
And while saying "no" may seem like an almost Sisyphean task sometimes, the good news is that it's really not that difficult as long as you create a household budget to help you. That's because a budget is a terrific tool for instilling financial discipline and guiding your spending decisions.
Believe me; I realize saying "no" is rarely easy. But it's one of the smartest strategies available for keeping your financial house in order.
And if you're really lucky, it'll help keep your kids in line too.
Photo Credit: o5com