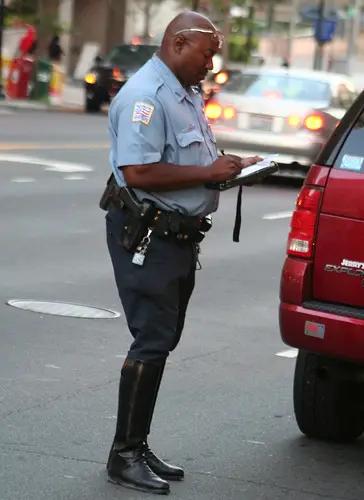 Usually, the only warm-blooded creature in the house that ever bothers to get up and acknowledge me when I come through the front door is my dog, Jack.
So I knew something was wrong when I walked through the door and the Honeybee greeted me with a big kiss.
Needless to say, I cut right to the chase: "OK, what happened?"
"I got a parking ticket."
"How much?"
"Thirty-five bucks. But I'm innocent!"
"Uh huh. That's what all you scofflaws say. Where did you get it?"
"In front of Patti's house."
Patti lives just around the corner from us. It turns out that the Honeybee had the misfortune of visiting her on a day when the city sweeper made its bi-monthly run. Of course, a rascally meter maid took the opportunity to cite her for being "illegally" parked along the curb.
Cities Are Exploiting Curb Taxes

Supposedly, my city's street sweeping enforcement program was launched in response to citizen complaints. Then again, I strongly suspect the only citizens that actually, um, "complained" were the mayor and his five city councilmen.
In reality, cash-strapped cities use parking fines to fill their coffers. For example, there's the retired New York City meter maid who copped to writing 227 tickets during a 5-hour shift. And if you think that's bad, the meter maids in Washington DC are infamously known to crank out parking tickets at the astonishing rate of one every eight seconds, writing nearly 2 million tickets every year that generate more than $100 million in revenue.
How to Fight a Parking Ticket
I fought my wife's parking ticket and got it dismissed. So despite the conventional wisdom, you can fight City Hall. Best of all, you don't have to be Clarence Darrow. However, it does help to follow these simple rules:
Stay calm. When you first see that pitiful pink ticket on your windshield, don't rip it up in a fit of rage and vow never to pay it. Failure to pay parking fines can result in additional penalties and even the impounding of your car.
Gather evidence. Before you drive away, note any evidence or facts that could help you beat the rap. It is critical that you take pictures of anything that might exonerate you. For example, you'll want to show: how and where you were parked, or if there were any missing or misleading regulatory signs.
Look for an easy out. Carefully examine the ticket. Any incorrect information on it is grounds for dismissal. That includes the date, time, location, vehicle code violation, and make or model of your car. There were no mistakes on the Honeybee's parking ticket, so I had to dig deeper.
Educate yourself. Information is power. That's why it is absolutely crucial that you do a little research on the Internet. If I was going to beat the Honeybee's ticket, I had to prove that my city was somehow in violation of the state vehicle code. The Honeybee's citation referenced California Vehicle Code section 22507.6, which states in part:
Local authorities may, by ordinance or resolution, prohibit or restrict the parking or standing of vehicles on designated streets or highways, or portions thereof, for the purpose of street sweeping.
That section also includes this little nugget:
No such ordinance shall be effective until the street has been sign-posted in a conspicuous place at each entrance to the street with lettering setting forth the day or days and hours parking is prohibited.

In my wife's case, the good news there were zero street markings in the vicinity. In fact, the only no-parking sign in the entire neighborhood was two blocks away from where she had parked. So the ticket was bogus!
Don't take "no" for an answer. My city refers all appeals directly to a private company that processes the tickets. So I sent a letter to them explaining why the ticket should be dismissed. I also included pictures and a street map showing the site of the alleged violation and far-off location of the lone no-parking sign. Ten days later I received the verdict: appeal denied. At this point, I think most people would have given up. Not me; I requested a court hearing.
Vigorously defend yourself. Don't be timid when making your case, but always show respect to the judge. On the day of my hearing I presented the same map and pictures, along with a copy of the applicable section of the vehicle code. The judge tried to poke holes in my arguments. But I never wavered. The case was dismissed in less than five minutes.
The Bottom Line
In all, I reckon I spent six hours researching, gathering evidence, writing letters and preparing for court. For many folks, the time and effort involved to fight a parking ticket isn't worth it. But I fought on principle; the ticket was unjust.
By the way, I brought my kids to court too, as a civics lesson to show them how our justice system works. They loved it!
So the next time you get a ticket, don't get mad. Fight back!
Remember, the law works for the benefit of everyone — not just the meter maids who write the tickets.
Photo Credit: Elvert Barnes