My name is Rebecca and I'm so excited that I discovered Len's blog! My family doesn't talk much about money and my friends all represent very different monetary situations so I've been a little over my head since I decided to take control of my finances in January 2013.
I'm the Director of Education for an environmental non-profit in Madison, Wisconsin. I'm 27, not married, and do not currently have kids. I definitely want a family in the future, and I realize that it's high-time that I stabilize my finances before then.
My net annual income is currently $18,169 — that's just $1514 per month. So if I ever make $40,000 I'll be dancing with joy!
Do I budget? Yes!! I started in January 2013 as a challenge to reach six-months of emergency savings. Since then, I've felt awesome watching my savings grow.
Dealing with a Drastic Pay Cut
Unfortunately, my financial situation changed drastically a year ago. I switched jobs so that I could advance my career in a field that I feel very passionate about and believe is very important for the Madison community. Now I have a job that I love each and everyday (cheesy, I know, but so true!) — unfortunately, the new job came with a $10,000 pay cut.
If that wasn't bad enough, soon after I lost a housemate, and found myself needing a new car too. That eventually forced me to reevaluate my goals and budgeting method; the good news is that I'm now making real headway towards refilling my six-month emergency savings and paying off my car loan.
After that massive pay cut, I got a new housemate and cut my cell phone bill in half, but for the most part I didn't change my ways at all. I continued spending about $350 per month on unnecessary things. In fact, I'm embarrassed to admit that, for the longest time, I sacrificed saving to make up the difference.
Then, a few months ago I went on a spending diet where I limited my discretionary spending to $100 per month; I started prioritizing my expenses so I could actually do the things I wanted, like going on vacation and visiting far-away family, while still putting money into savings, retiring my car loan early, and buying things I truly needed like new glasses.
Expenses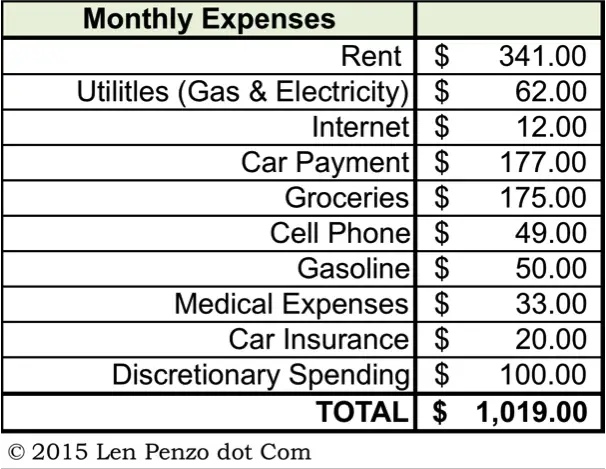 My car payment is $177 per month. I bought a used Subaru Forester — it's perfect for Wisconsin's winters.
My car insurance includes both comprehensive and collision; risk-averse girl here! I pay it in full every year to avoid the fees, but it's the equivalent of $20 per month. I recently started setting aside a small chunk of funds each month automatically that goes towards my annual car insurance and registration.
I work with kids so I catch every germ in the book. My medical insurance premiums are $100 per month. I also spend an additional $33 per month, on average, for expenses like doctor visits, contact lenses, and medicine.
I pay $62 per month for gas and electricity. Television has never been a big part of my life so I have no cable or satellite expenses.
I limit my discretionary spending to $100 each month. That includes everything from alcohol, eating out, gifts, and clothes to makeup, hair cuts, trips, and any "mistakes" I make like parking tickets and other unforeseen expenses.
Since I started my spending diet, I've cut my grocery bill by 75% and eliminated my hair appointments. I've also significantly reduced gift-giving, clothes shopping, and dining out; if it doesn't fit within my budget, I won't do it.
Savings
As for my savings, I currently have $4000 — but my goal is to have $6000, specifically for emergencies. I also want to save an additional $1000 for car maintenance.
Right now I set aside approximately $200 each month to reach my $6000 savings goal. Some months I've saved as much as $600; on those occasions I put most of it towards my car loan. Regardless, I intend to make it to six-months of savings by end of 2015!
Whenever I get extra income from side jobs or being really budget-savvy, I make sure that half of the money is used to save for fun things like vacations.Visiting family and friends, and taking time with loved ones to relax and refocus is very important to me, so I definitely put money aside for this too, even if it means delaying my emergency savings goal.
I have no retirement savings right now — but I'm going to start funneling money into this as soon as I reach my emergency savings goal, and pay off my car loan!
Closing Tips and Thoughts
I think it's important to share your goals (and woes!) with friends and loved ones. This has helped me in several different ways:
First, I gave my friends access to a Google spreadsheet where I record all of my daily expenses so they can help me stay accountable.
Second, friends have awesome leads like housesitting, babysitting, places for free workout videos or books, and other things. I also got a great tip on Community Shared Agriculture winter storage where I picked up two HUGE boxes of delish veggies for only $2!
Finally, friends are giving. All of my friends help each other out. For example, they teach me how to sew the holes in my clothes or repair my torn up shoes, lend me their extra curtains and rugs to make my place warmer in the winter without turning up the heat, and even help me dye my hair in the bathroom sink. That last one alone saves me $60 per month!
***
If you're a household CEO who is successfully making ends meet on roughly $40,000 per year or less, I'd love to hear from you. Contact me at Len@LenPenzo.com and be sure to put "$40,000" in the subject line. If I publish your story, you'll get a $25 gift card or 1 troy-ounce of pure silver!
Photo Credit: Rebecca