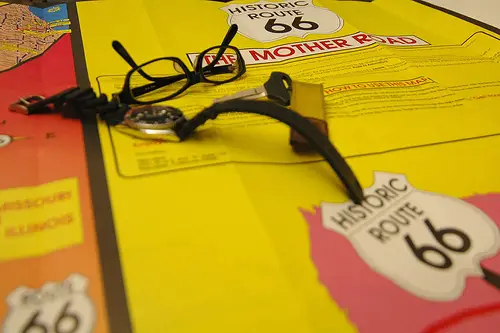 This past weekend a good friend of mine told me that, after faithfully keeping a strict budget for more than a decade, he finally stopped — and now he was feeling guilty about it.
I know what he means. Although I've written before about the importance of following a budget, the truth is I ditched one of our household budgets quite awhile ago too.
Okay … I can hear you now: What do you mean one of your budgets?
Well, the truth is, for many years our household had two budgets:
a short-term spending budget for basic living monthly expenses
a longer-term savings budget for bigger-ticket items.
The former is what most people think of when they're talking about budgets; a monthly spending plan for things like the rent, utilities, groceries, entertainment, and other monthly non-discretionary and discretionary expenses.
The latter, however, is not so much a budget per se — rather, it's more like a financial road map, or a long-term spending plan. I look at it as a financial crystal ball that anticipates significant upcoming purchases like houses, cars, and family vacations. It also includes other things that folks typically need to set aside extra funds for including:
paying off large credit card and other debts
building up a rainy day fund and/or a retirement nest egg
putting the kids through college
home renovations
the kids' weddings
elder care for parents
In other words, a long-term savings budget covers future expenditures that will require larger future outlays.
One of the very first topics I ever covered for this blog explained how to build your own strategic savings plan. Although I won't rehash that for this piece, here is a very simple example of one from the article:

Now despite the fact that the Honeybee and I finally stopped following a rigid monthly household spending budget several years ago, we'll always maintain, update, and follow our strategic financial road map. Why? Because the need for us to constantly plan and replan future expenditures is never ending.
By the way, in case you're wondering, we no longer have a monthly short term spending budget because several years ago we finally reached the enviable position where our income became high enough that we now have plenty of wiggle room to handle modest budgetary overruns resulting from the occasional desire to splurge — or any other unexpected expenditures, whether they're discretionary or not.
That's not to say that the Honeybee and I have thrown fiscal responsibility out the window. After all, it's not as if we have stopped tracking how we spend and save every penny we earn. In fact, we're just as vigilant as we've ever been about maintaining financial discipline. It's just that we're now reaping the many rewards that we've sown during the past two decades by: 1) faithfully living well below our means; and 2) keeping our income steadily growing.
Having the financial freedom to finally get by without following a strict spending budget is certainly one perk I happily enjoy now — and unlike my good buddy, I don't feel guilty about it either.
Neither should you.
Photo Credit: Wei Hsin Li