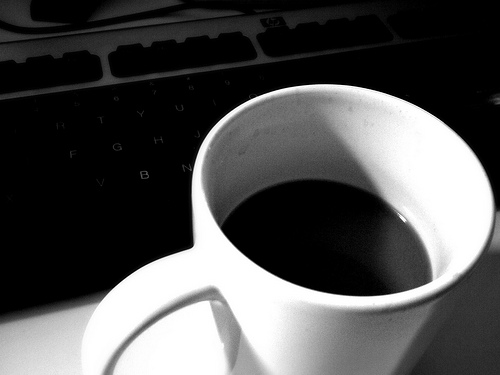 It's time to sit back, relax and enjoy a little joe …
Welcome to another rousing edition of Black Coffee, your off-beat weekly round-up of what's been going on in the world of money and personal finance.
Thanksgiving is right around corner — and I can't wait! It is, without a doubt, my favorite holiday of the year.
This time we're skipping the traditional turkey. Yep. We'll be having ham instead.
I blame it on me being lazy. Ham is easier to prepare and the cleanup is bit easier too. If you're having something other than turkey this year — or have had something else in the past for Thanksgiving — let me know. I'd love to hear about it!
The Question of the Week
 Loading ...
Last Week's Poll Results
How many jobs/employers have you had during your lifetime?
More than 5 (61%)
4 or 5 (19%)
2 or 3 (13%)
1 (5%)
0 (2%)
More than 300 people responded to last week's question. I've collected paychecks from four companies during my lifetime: a grocery store, a media company, and two engineering firms. That's it. The survey shows however, that most people have had more employers than me. In fact, more than three out of five of respondents have had at least six paying jobs during their lifetime. I figured I was in the minority all along.
Credits and Debits
Debit: Whether it's the Fed, the ECB or the Bank of Japan — central banks everywhere are clamoring for inflation, thinking that it will solve the malaise that is plaguing their respective economies.
Debit: Don't tell that to the good folks in Florida. More inflation is the last thing they need. According to United Way, nearly half of all households there don't earn enough money to cover their basic necessities.
Debit: The situation isn't much better in Connecticut, where fully one in four households there are struggling to meet their basic needs — despite being above the federal poverty level. Why would they ever want inflation?
Debit: I suppose Fed Chair Janet Yellen is happy to know that, with Thanksgiving here this week, the wholesale price of turkeys is at an all-time high; the birds cost about 10% more than last year.
Credit: The good news is it looks like most grocery stores will end up absorbing the price increase. They always seem to do so for turkeys during Thanksgiving.
Credit: One thing is for certain: All of that central banker inflation talk is putting a damper on the $20 per month cost of living increase Social Security recipients were told they're getting next year.
Debit: Inflation is taxation without representation. After all, if you earn 3% on a savings account (I know, but just play along), the financial end result is the same whether you pay 100% tax on the interest income with 0% inflation, or zero income taxes with 3% inflation.
Credit: Of course, the real reason the central banks need inflation is because our debt-based monetary system cannot function without it. If deflation were to ever take hold, the banking system would implode. Psst. Guess what — it's taking hold.
Debit: Deflation is gaining the upper hand at the moment because there is so much debt on the books that the world is increasingly unable to take on more. Almost everyone is tapped out — which is why commodity prices are falling precipitously at the moment.
Debit: Stocks and home prices should be much lower too, but the Fed and other central banks have been propping them up for several years now. As deflation intensifies, the central banks will continue printing their currencies at a blistering pace to counteract the effects until hyperinflation occurs.
Credit: The math doesn't lie, folks — there is no way out for the central banks. In either scenario, the current international monetary system is doomed; desperate bankers are only buying time now. How much is the big question. Hedge accordingly.
Debit: If I were king, I'd pick death by deflation because, well … inflation makes people angry. Just ask the guy who shot up a Taco Bell back in 2011 because they raised the price of their Beefy Crunch burritos more than 50% in a single week. I know.
Credit: Can you imagine what might have transpired if that guy knew Taco Bell doesn't use 100% pure beef? Ay caramba!

Debit: Then again, I love Taco Bell's less-than-pure-beef meat filling. No, really. And I'm not the only one. One guy loves their beef so much that he firebombed a Taco Bell after he ordered a Chalupa and discovered that the, um, "chef" failed to stuff it with enough meat.
Credit: Yeah, yeah … that's yesteryear's news too — but Taco Bell stories never get old. (Especially ones like this, this, this, this, and this.)
Debit: Frankly, Taco Bell seems to attract more than its fair share of unstable customers. Just a few weeks ago, a woman was viciously assaulted by an angry customer who blamed her for missing Taco Bell's breakfast menu cutoff. Wow. I guess I'm going to have to try one of their egg burritos.
(The Best of) By the Numbers
Here's a few more tasty morsels on Taco Bell:
5600 Restaurants in the US.
11 Restaurants in Alaska.
11 Days between visits for the average customer. (No, really.)
1 billion Burritos served annually.
2 billion Tacos served annually.
288 million Pounds of ground beef consumed annually by Taco Bell diners.
0 Authenticity meter score when comparing Taco Bell to real Mexican food.
Sources: Gizmodo; Los Angeles Times; MyStore411
Other Useless News
Here are the top 5 articles viewed by my 6163 RSS feed and weekly email subscribers over the past 30 days (excluding Black Coffee posts):
An Insider's View of the Millionaire Mind
The Importance of Long-Term Savings & Strategic Financial Road Maps
Hey, no matter how you got here, please be sure to:
1. Click that Like button in the sidebar to your right and become a fan of Len Penzo dot Com on Facebook!
2. Make sure you follow me on Twitter!
And last, but not least…
3. Don't forget to subscribe via email too. Thank you!
Letters, I Get Letters
Every week I feature the most interesting question or comment — assuming I get one, that is. And folks who are lucky enough to have the only question in the mailbag get their letter highlighted here whether it's interesting or not! You can reach out to me at: Len@LenPenzo.com
From Alicia:
How come you didn't give your blog a catchy name like some of the other personal finance (websites) I read?
Well, to tell you the truth, "Len Penzo dot Com" seemed pretty catchy at the time.

I'm Len Penzo and I approved this message.
Photo Credit: brendan-