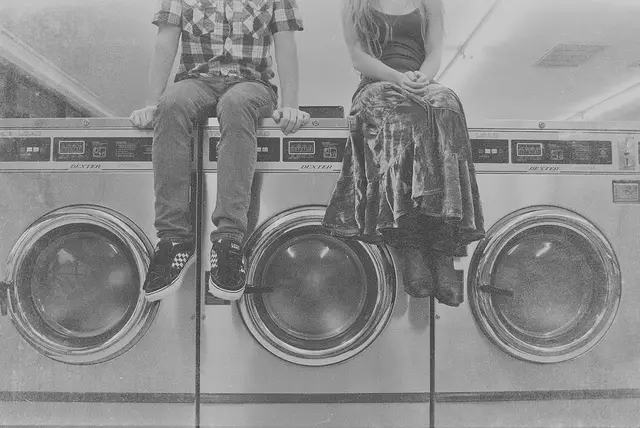 Nobody likes doing the laundry. Well, at least nobody I talk to.
I know for a fact that the Honeybee never looks forward to laundry day. Even so, she won't let me come anywhere near the washing machine because she hates the way I do laundry. Apparently, mixing whites and colors are a big no-no with her. For someone who hates washing clothes, I consider her stance to be a bit ironic. After all, my way is more efficient than breaking the wash into separate loads — but, hey, what do I know?
Frankly, my banishment from the laundry room is a real sore spot with me, if only because the Honeybee considers any loose change she finds in pockets while sorting clothes — including mine — to be a tip. She tells me her biggest payday was $50. No, that wasn't my money; it seems that little laundry-day windfall of hers occurred before yours truly came into the picture.
Anyway, knowing the Honeybee's m.o., I try to never leave any spare change in my pockets. At least not if I can help it.
Unfortunately, I'm not always successful.
Speaking of big laundry paydays, Mom and Dad recently reminded me about how they manage to save a good chunk of change every year just by doing the wash.
It turns out that, way back in 1997, Dad was on an association board for the 108-unit apartment complex where my folks lived. Part of his job was managing the complex's revenues. That is when he noticed that the washers and dryers in the complex laundry room were raking in $2300 per month. Remember, that is way back in 1997 — that's equivalent to more than $3700 today!
Eventually, my folks left the apartment and moved into a home of their own. Mom never forgot what Dad had told her about the washer and dryer revenue at their old apartment complex, and that got her thinking: Now that they had their own washer and dryer, they could save a lot of money if they paid themselves $1 every time they washed or dried a load of laundry.
And so that's what they did. The laundry room was equipped with a coin jar and, from that point on, Mom and Dad started paying themselves four quarters every time they put a load of clothes in their washer or dryer.
They've been doing that for years now, and average $400 in savings annually — and that's just from the laundry for two people!
If I applied that same strategy at our house, we'd save even more. For example, the Honeybee currently averages 32 washer loads per month, plus an additional 32 dryer loads. At $1 per load, that comes to $64 dollars per month.
So over course of year, that comes to $768 in savings — just by doing laundry!
Of course, if we were really serious, we could charge ourselves, say, $2 per load and rake in more than $1500 per year in savings! Just like those "tips" the Honeybee rakes in from me and the kids — and in a relatively painless manner too … one load at at a time.
Photo Credit: Ashley Campbell Photography