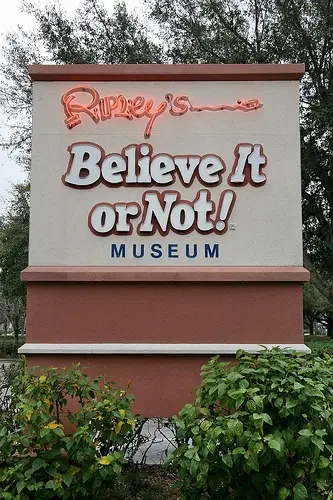 You know, there used to be a guy named Ripley who made a fortune explaining why things aren't always what they seem. For example, a banana tree is not a really a tree at all, but a massive herb that can grow as tall as a four story building.
If you think that's something, koala bears aren't really bears at all — they're marsupials.
And next time you visit New York City, keep in mind that an egg cream contains neither eggs nor cream, but simply chocolate flavored syrup mixed with soda water and milk.
Lead Pencils and the Drive for Cheap Gasoline Prices
I bet you didn't know things aren't always what they seem when it comes to buying gasoline either.
With the cost of living higher than ever, it seems like more and more people are suddenly doing their best to try and stretch a dollar — especially here in Southern California.
Yesterday the Honeybee came home from shopping at Costco and informed me that there were so many cars lined up to take advantage of their low-priced gasoline that the queue stretched around the corner. There were so many cars in line — including a neighbor of ours — that she guessed the wait had to be at least 20 minutes.
Obviously, the discount being offered by Costco was big enough to entice people to wait that long to fill up their tanks. On that particular day, the price for regular gasoline at our local station barely a mile down the road was $3.91.
Care to guess how much the folks in line at Costco were paying? Three dollars and seventy-nine cents. Yep. A whole 12 cents per gallon less.
Is waiting in line for 20 minutes truly worth the hassle of saving a measly 12 cents per gallon? If you ask me, it's pure lunacy. After all, for a ten-gallon fill-up, that's a very modest savings of $1.20. Heck, for $2.40, even a 20-gallon fill-up isn't that impressive.
Then again, the reality is, just as a lead pencil contains no lead, the frugal fuel shoppers who waited in that long line at Costco to save 12 cents per gallon probably didn't save any money at all!
Penny Wise, Pound Foolish
A shooting star is not a star — it's a meteoroid — and more often than not shopping for low gas prices isn't a smart idea. This is especially true if you have to drive more than a short block or two out of your way to take advantage of a lower price. That's because the savings at the pump are almost always eaten up driving around to get the bargain.
Then there is the seemingly niggling issue of idling cars. When it comes to fuel consumption, the California Energy Commission notes that two minutes of idling is equivalent to driving one mile. So a car idling for twenty minutes ends up burning the same amount of fuel required to drive 10 miles.
With all that in mind, let's examine just how much money my frugal neighbor really saved.
It turns out that Costco is a 12-mile round trip from our houses. Since our local gas station is but a 2-mile round-trip, my neighbor had to drive an extra ten miles out of his way. Add to that the extra fuel he burned by keeping his vehicle idling in line for twenty minutes and he used enough fuel to drive 20 more miles than if he would have simply paid $3.91 at the corner gas station.
Now, if I assume the average fuel mileage of my neighbor's car is 20 miles per gallon, he burned an extra gallon of gasoline — not to mention at least a half hour of his life — just so he could save 12 cents per gallon.
Based on my very reasonable assumptions, you can see that, at best, my neighbor spent $3.79 to save roughly $2.40. In other words, he would have been much better off financially ($1.39 to be exact) buying the more expensive gas.
The truth is, an English Horn is actually an oboe that originated in Poland, and folks that strive to save a nickel or three for a gallon of gas usually end up paying more money than those who don't try at all.
Believe it, or not.
***
(This is an updated version of an article that originally posted on May 14, 2011)
Photo Credit: Cliff1066™