My name is Jonathan. I'm 27 and I've been married to my wife, Kate, for almost four years. We have three girls, ages 3, 1, and a newborn.
After graduating from college, Kate worked for two years at a job that paid $35,000 annually. Then, after our first child was born, she became a stay-at-home mom.
We try to live a simple life because we think God is calling us to have a big family and we want to have the joys of kids and grandkids. We're breaking Len's number one rule about not having children too early, but we're prepared to make the necessary sacrifices.
Income and Expenses
For the past three years, I've had a full-time job working for a large bank doing entry-level tasks. My current salary is $32,430 annually, but I've been able to work overtime and Kate has tutored, which brings us to around $40,000 per year. I'm also a representative for Lighthouse Catholic Media which specializes in providing awesome inspirational talks.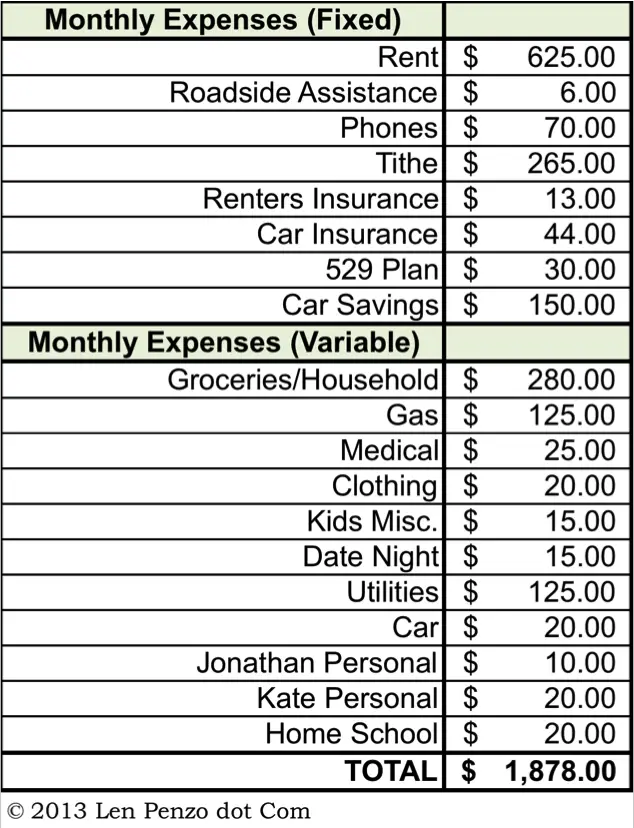 After employer deductions for taxes, health and life insurance, and our 401k retirement savings plan, there's about $1900 available every month. We usually overshoot the budget, but it's no big deal because we don't budget my whole income.
Non-discretionary expenses like rent, food, utilities, car insurance, and gas to get to work is roughly $1000 per month. The remaining $900 is reserved for everything else. More often than not, most of that buffer ends up going into our savings; we're saving about 35% of our take home income every month, and giving away 10% of our gross income to charity.
So far, we have approximately $10,000 saved in retirement 401k plans. I currently deduct 5% from my paycheck to take full advantage of the company's matching contribution. We also have $5000 in our emergency fund.
Last November, we finished paying off $40,000 in student loans.
Living the Simple Life
We basically just try to follow Dave Ramsey and live simply.
We're renting a townhome for now but we've been saving up for a house down payment. We currently have $16,000 saved up.
We own two cars, a 2002 Honda Odyssey and a 2002 Ford Explorer. They're both paid for.
We sold a lot of our stuff when we got married. We've also been given many gifts and are very grateful for the incredible generosity of our family and friends.
Closing Tips and Thoughts
If I could offer a few tips to share with you, I'd say these are some of the most important ones:
1) Study and learn as much as you can before making decisions.
2) Set short, medium and long term goals and stick to your plan when it gets hard.
3) Really dig in and understand the difference between needs and wants.
4) Shop as little as possible, and stay away from commercials and "wants." Get rid of cable.
5) Sweat the big stuff — things like cars and housing.
6) Always have a side hustle! Sell the old stuff that you never use or find other ways to make extra money.
Finally, do your best to be generous, humble and thankful. Rather than trying to compare yourself to your neighbors, look at how you're doing when compared to the whole world. Compare your life to the poorest of the poor, and remember your blessings.
***
If you're a household CEO who is successfully making ends meet on roughly $40,000 per year or less, I'd love to hear from you. Contact me at Len@LenPenzo.com and be sure to put "$40,000" in the subject line. If I publish your story, you'll get a $25 gift card!
Photo Credit: Jonathan