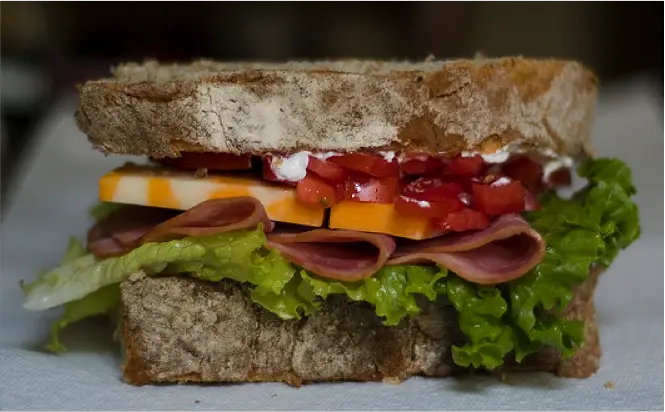 This is the third year in a row that the price of the unappetizing school lunches being served at my kids' school will cost $2.75. As a result, there may be more than a few parents struggling to make ends meet who mistakenly believe that's a relative bargain — especially since grocery bills have been rising sharply in 2015. But at that price, a family with two kids will spend $990 on school lunches over the course of a 180-day school year.
The truth is, despite those ever-increasing grocery bills, for most people, brown-bagging a sandwich, piece of fruit, and carrot sticks or a serving of chips is less expensive than buying lunch — regardless if they're at school or work.
Of course, as I've pointed out before, not all sammies are created equal: Just ask the Expensive Sandwich King, celebrity chef Martin Blunos, whose $184 cheese sarnie caused quite a stir a few years ago. The good news is, the results of my seventh annual brown bag sandwich price survey show that most folks will spend far less than that in 2015 — even for the most expensive sandwich on the list!
How the Survey Was Conducted
As I have every year since conducting my first sandwich survey way back in 2009, I visited my local grocery store and recorded the per-serving costs of various ingredients for ten of the most common brown bag sandwiches: peanut butter & jelly; bologna; tuna; ham & Swiss; roast beef & cheddar; egg salad; salami; American cheese; turkey; and bacon, lettuce & tomato.
As in my past sandwich surveys, for consistency in determining prices of the individual sandwich ingredients, I only selected items with the cheapest per unit costs, regardless of brand. To keep it simple, I also assumed all sandwiches would be made with wheat bread.
Survey Results
Here are the results of my price survey, conducted August 12, 2015. The first graphic shows the sandwich serving sizes and per-serving costs for each ingredient. It also includes the percentage increase or decrease in the per-serving price of each item from last year's survey: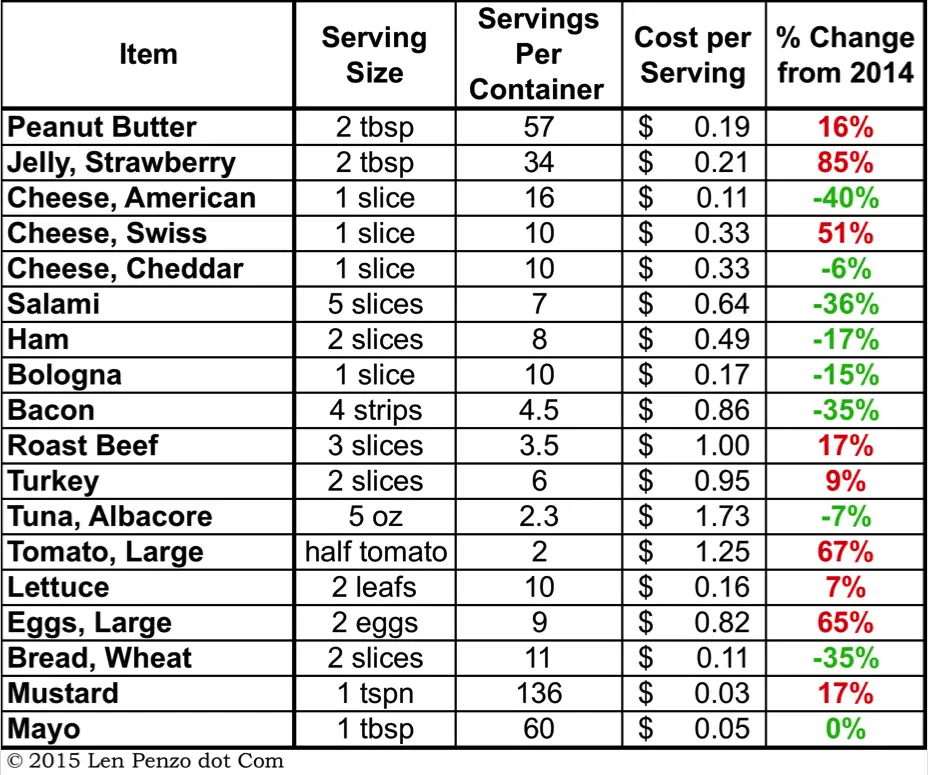 With that data in hand, and using my handy spreadsheet, it was no effort at all to determine the most economical sandwiches.
Here are the official Len Penzo dot Com rankings of the ten most common brown bag sandwiches in 2015. Rankings are based upon total ingredient unit costs, from least to most expensive. As you can see, at a cost of just 35 cents per sandwich, bologna wins this year's award for the most economical sandwich.

The next chart shows a year-by-year comparison for each sandwich since my first survey in 2009. Back then, the average price of all 10 sandwiches was 82 cents. It's now $1.14 — and while that's a nickel less than last year, it still represents a 39% increase since 2009.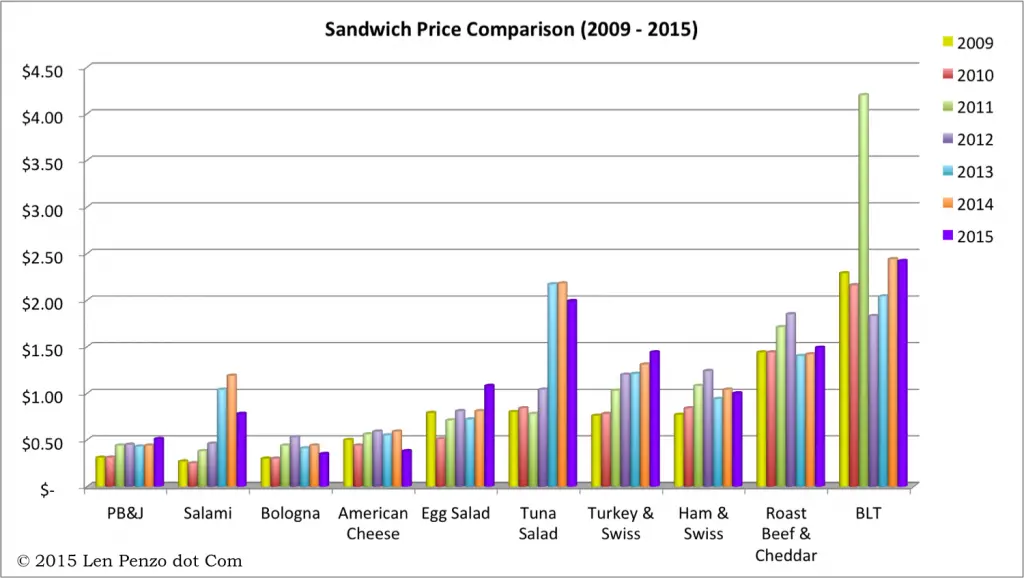 Tips and Observations

While PB&J and bologna are typically the most economical sandwiches in the survey — this year, American cheese is 13 cents cheaper per sandwich than a PB&J.
You can blame the 7-cent increase in the price of a PB&J on the jelly; its price has skyrocketed a whopping 85% over the past year — that's more than any other sandwich ingredient. If you love PB&J, there's no need to worry though; at just 51 cents, the PB&J is still among the most economical sandwiches on the list.
Speaking of PB&Js, don't be afraid to buy store brand peanut butter. As my blind peanut butter taste test experiment proved, it's just as delicious — if not more so. It's also typically 20% cheaper than the national brands.
Don't forget that you can save a significant amount of cash by cooking your own ham or turkey and then slicing it yourself.
Likewise, it's also cheaper to buy block cheese and slice it at home; in fact, on a per-pound basis, block cheese is roughly half the cost of the pre-sliced stuff.
Sadly, the rising cost of tomatoes continue to plague BLT lovers like me; tomato prices have quintupled since 2012. I know. The good news is homegrown tomatoes are not only cheaper, but they also taste much better than anything offered at the grocery store. Of course, I guess that only works if you have a green thumb.
Photo Credit: Ty Nigh