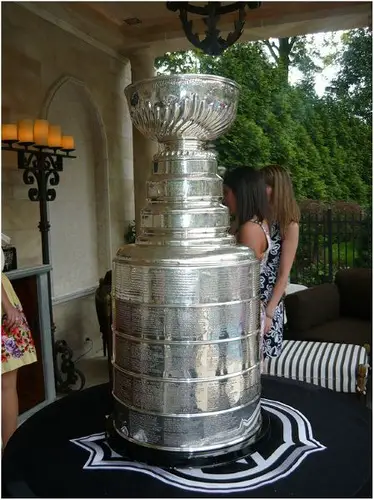 Yesterday I did something I rarely ever do: I threw all caution to the wind and, as a result, I made the biggest spur-of-the-moment purchase of my entire life.
Believe it or not, I spent $2462.35 on a pair of tickets to see a hockey game.
Yep; I splurged. So sue me.
Damn the torpedoes and full speed ahead.
Okay, to be fair they aren't tickets for just any hockey game, they're tickets for a National Hockey League playoff game — arguably the greatest championship tournament in all of sports.
Even better, the tickets are for Game 4 of the Stanley Cup Finals; a game where my team, the Los Angeles Kings, has an opportunity to actually close out the series on their home ice and capture the Stanley Cup for the first time in their 45-year history.
Oh yeah, you bet I'm excited!
Anyway, as soon as I pulled the trigger and parted with all that hard-earned money, StubHub sent me an email to explain "what happens next."
And while the good folks at StubHub deftly described the remaining steps I had to complete in order to receive my newly-purchased tickets, they failed to mention anything about the mental hangover I eventually ended up with after it sunk in that I really spent $2462.35 for two nosebleed seats at a hockey game.
That's the equivalent of four mortgage payments, you moron.

Yes, it is.
It really didn't matter, though, because I paid for those tickets using savings from our household's "mad money" fund, which we tap whenever we want to take advantage of unexpected "pop-up" opportunities like last-minute vacations and once-in-a-lifetime sporting events.
It's easy to keep a fairly well-funded "mad money" account when you live well below your means, as the Honeybee and I do. That's really not so hard for us, primarily because we live in a very modest home compared to what we can afford, and we avoid car payments by driving the same cars we bought back in 1997 and 2001.
As a long-suffering Los Angeles Kings fan, I've lived and died with this team my whole life. I've been to more Kings' hockey games than I can count, including the one back in 1994 at the Fabulous Forum when Wayne Gretzky scored his 802nd goal to break Gordie Howe's record for most goals scored in a career.
I was also at the Forum for Game 3 of the 1993 Stanley Cup Finals. That happened to be the only other time the Kings made it to the finals. For what it's worth, after the Kings fell behind, 3-0, they stormed back to tie the score — only to lose the game in overtime to the Montreal Canadiens, 4-3, on a goal by John LeClair barely a half-minute into the extra period. The Kings went on to lose that series in 5 games.
For the record, I paid $550 for two similar nosebleed seats to that game, which is equivalent to about $880 today. That's significantly less than what I paid for this year's game, although there is obviously a lot more at stake with the Kings having the rare opportunity to actually hoist the Stanley Cup in front of 18,118 long-suffering hometown fans — including me.
Of course, if that's going to happen, the Kings will have to beat the New Jersey Devils one more time.
If the Kings don't win Game 4 I'll certainly be disappointed, but I won't have any regrets. After all, they'll still have three more chances to bring the Stanley Cup to Los Angeles.
I'll just have to watch the remainder of the series on television like everyone else.
Photo Credit: Cup Canal