I know. A lot of you wish you could retire now, looking for reasons to retire early.
However, before that can become reality, it's important to understand our magic number; that magic number, of course, is the amount of money we'll need to have accumulated by a certain age in order to not outlive our savings.
Now I am of the opinion that one can most certainly save too much for retirement.
After all, I'm not working my butt off and diligently sacrificing and saving money so my relatives can receive a big inheritance after I pass away. Sorry.
To me, I've planned my retirement perfectly if I pass away with enough money and assets left over to cover my funeral and provide for the Honeybee until her time comes.
But, Len, what about your kids? Yeah, yeah, what about them?
Even though they are still pre-teens, I'm already teaching the little buggers that they need to be personally responsible for their own financial well-being. Rest assured after they leave the nest I'll continue to provide for them and my grandchildren – but it will be on my terms while I am alive and can savor the joys of helping them out. That's not to say they won't receive something when the Honeybee and I are finally gone, but they shouldn't expect anything because I'm not planning for it.
When saving for retirement, it is important to occasionally take a step back and reassess why you're doing what you're doing.
So just what is the right magic number for retirement?
That depends on the individual, of course.
For me, it is important to ensure that I don't over-save for retirement at the expense of other important financial goals. To do so can be detrimental to other goals, like building a future-home down-payment, an emergency saving account, or simply having a little extra each year to enjoy a nice vacation.
To guard against this, I feel it is important that we all consider whether or not established rules-of-thumb actually apply to us when we're working on our retirement planning.
For example, a classic area where many people get too conservative is their estimate regarding the amount of money they'll spend in retirement. Most people figure that they will spend more money in retirement than they do now, continually traveling abroad, splurging on fine dining, and fulfilling other expensive desires until the day they die.
Yet, a study published in the Journal of Financial Planning found that seniors actually go through less money as they get older – not more – and as a result it suggests that retirement savings may last longer than many people think. According to the study's author, financial planner Ty Bernicke, a typical household whose residents are over 75 only spent $25,763 in 2004, or approximately $29,000 in today's inflation-adjusted dollars.
Am I Saving Too Much?
With that study in mind, I wanted to know whether I have been saving too much. So I ran some rough numbers using MSN's Retirement Planner Calculator. The MSN calculator uses current dollar values and the rate of return on investments is adjusted for a three percent inflation rate.
I understand that uncertainties such as future tax laws, future health care costs, and the availability of social security mean that no calculator in the world can accurately tell us how much we'll really need in retirement. But I had to start somewhere to at least get a gross ballpark figure.
I made some fairly conservative estimates:
1. My expected pre-retirement investment returns are only five percent, and four percent post-retirement.
2. Except for Scenario 4, I assumed I would receive no social security benefits.
3. I assumed no additional retirement income of any kind in half of the scenarios. The other half assumes an extremely conservative figure that represents only a portion of my actual company pension. In reality, I suspect that figure would be significantly higher; even if my company went belly-up (highly unlikely) and my pension was completely obliterated, I expect to be earning some sort of income from ages 55 to 70 either through consulting or other endeavors and projects.
Furthermore, although I can't be 100% sure, it appears as if the calculator does not account for increases in my salary due to annual raises.
In all scenarios except for Scenario 1, I assumed I would withdraw approximately two-thirds of what I currently spend right now to run the household. For example, by the time I retire I expect our home will be paid off, so there will be no mortgage payment to deal with. The kids should also be out of the house by then too, further reducing expenses – with the elimination of the lights and TV always being left on, that should save me enough money to cover my property taxes every year.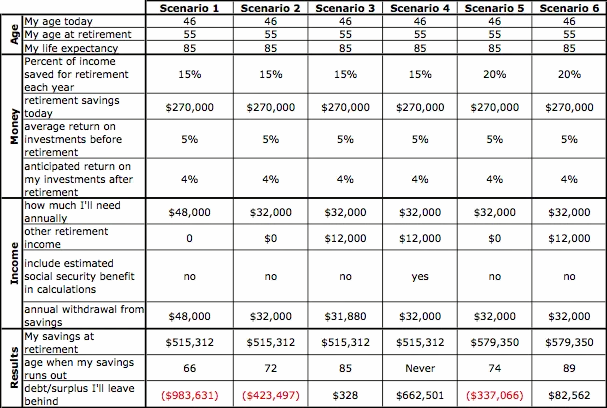 As you can see from the figures above, based upon those assumptions, my money runs out in Scenarios 1, 2 and 5.
However, in the other three scenarios I don't outlive my money – despite the extremely conservative numbers. In fact, in the Goldilocks Scenario (#4) where I naively assume I'll get to draw on Social Security, I would actually leave my heirs a sizable surplus.
Of course, the MSN calculator figures I'll spend the same amount every year throughout retirement, which flies in the face of Bernicke's study; but perhaps that is offset a bit by my lower estimate for how much I plan on spending in the early years of my retirement — that $32,000 figure could be a bit too low early on.
Some Personal Observations
So, based solely on these "back of the envelope" numbers it appears that I'm in great shape for making my goal of retiring at age 55. The bottom line is I am now in a position where I no longer have to devote my future salary increases to my retirement accounts.
Despite the tenor of this post, I firmly believe that it is still a smart move for young people to research various investment brokers and contribute early and often to their retirement accounts.
I started seriously saving for my retirement in my mid-twenties and I have no regrets. Not only is it far better to contribute more early in life and let the compounding returns increase the value of those savings over time, but it also takes advantage of striking before other expenses arise — like weddings, kids, home ownership, and/or unforeseen hardships.
To me, the goal should be to get a head start and reach that magic number earlier than your expected retirement age. Yes, there is significant opportunity cost for each additional fraction of your income that is committed to your retirement savings – but for those who are committed, the long-term payoff is enormous.
That is the place I currently find myself at, and as a result, I have additional options available to me now that I wouldn't normally have had assuming I had waited to start building my nest egg until I was in my thirties. For example, if need be, I can now reallocate money currently being devoted to my retirement savings and use it to help offset large emergency expenses that may temporarily arise knowing that it will have only a minimal impact on my nest egg.
Can We Really Save Too Much for Retirement?
I think it is safe to say that nobody should save so much of their income for retirement that they end up sacrificing their quality of life — but it is just as important to not let living in the moment jeopardize those so-called golden years.
Maximizing your retirement savings early gives you flexibility.
The trick is to decide what mix of saving for tomorrow and spending for today we are comfortable with – understanding that if we neglect to properly take care of the future, we're still going to end up paying for that decision down the road in the guise of reduced financial freedom, and the lack of flexibility to do what we want to do in our later years.