My name is Jeff and I've been reading Len's blog off and on for a couple of years now. I'm 55 years old.
After getting my high school diploma I spent six years in the military, and then followed up my service with a series of various jobs.
My wife is 57 and has a bachelor's degree; she worked in the brewing industry for 22 years before becoming a teacher/tutor.
We've both been retired since April 2012 and we're currently living on IRA and 401k (rolled over into the IRA) distributions that total roughly $25,000 a year.
We take advantage of IRS Rule 72(t), which allows us to avoid the 10% penalty for limited early withdrawals. We can stop the 72(t) distributions in four and a half years — then we'll have greater access to our retirement funds.
Our Household Expenses
We own our house in a small city that's a ferry ride and an hour's drive from Seattle. Fifteen years ago we retired the mortgage early by making extra principal payments every month.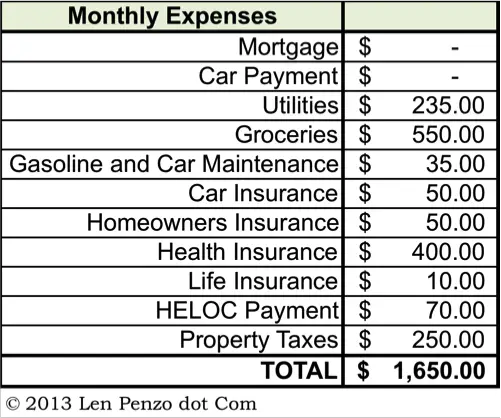 The utilities, including telephone, water, sewer, and garbage payments are $235 per month. Our grocery bill averages about $550 per month.
Gasoline and maintenance expenses for the 1998 Nissan that we purchased in 2000 are $35 per month. The car is parked in our garage most of the time because we ride our bicycles or walk for errands and other activities around town.
We pay $70 each month on a HELOC loan for a home improvement. Our car and home owner's insurance are both $600 per year. We also pay $3000 per year in property taxes.
Although we no longer carry life insurance on ourselves, we do carry it on our son who is still in college to pay off his debts. Health insurance for my wife and boys cost $400 per month; I'm covered by VA health insurance.
We also tithe 10% to our church and have tried to be good stewards of the money God has entrusted to us.
The Secret to Building a Proper Nest Egg
We received one inheritance in the early 1980s: a $50 savings bond. Other than that, we built our entire nest egg by ourselves — and we did it while raising our two sons, who are now 20 and 22. To do that, we made sure we lived below our means, and were careful to pay ourselves first, saving 10% or more every year into our retirement funds and regular investments. As a result, today we have a net worth of more than we've earned, and live quite comfortably.
We have not changed our investment mix since retirement, except to rollover into IRAs — we plan on being retired for at least 40 years, and would like to have the resources to do some good in the community during our lifetimes.
In addition to volunteering in the community and at our church, we enjoy movies, reading books, riding bicycles, and food.
We don't feel deprived, as we can tap into an emergency fund in a regular mutual fund without a 10% additional tax.
Closing Tips and Thoughts
Nobody cares about your family's future as much as you do.
Pay yourself first. Do it automatically — believe me, you won't miss the 10% deduction. Invest in a tax-deferred account to the maximum levels allowed by law, whether it is an IRA, 403b, or 401k.
Live below your means. Maybe you can afford the payments on a new car, but can you also afford the insurance, upkeep, and depreciation? Know the difference between your wants and needs.
Work at what you like, and set a good example for your kids. Even if there are parts of your job you do not like, talk about the good things involved with your job, it will boost your and your kids' self esteem.
Choose the correct spouse; find someone who is thrifty like you.
Buy term life insurance, if a loss of income can't be replaced with your savings. Drop your term insurance, when you're confident your family will not be left in hock, if you pass away.
Invest early, let compounding work for you. The best time to buy shares in a mutual fund, if not today, is yesterday.
Set a goal (like early retirement), plan how to do it, mold it into a doable strategy, and then follow through. If you don't start, you'll never finish. You can always rework an investment strategy as the years go on; circumstances change, and nothing is carved in stone.
View market downturns as a buying opportunity. When the markets turned down in October of 1987, I called in to buy more mutual fund shares and have not regretted it.
Wait on big decisions for at least a week. If a buying or investment opportunity is "too good to be true" and "needs to be acted on immediately", it's not worth the risk.
Read personal finance information from reputable sources. My favorite books include: Common Sense by Art Williams; The Wealthy Barber by David Chilton; Your Money or Your Life by Joe Dominguez and Vicki Robin; Think and Grow Rich by Napoleon Hill; The Richest Man Who Ever Lived by Steven K. Scott; and The Millionaire Next Door by Thomas Stanley and William Danko. Oh yes … I also read Len Penzo dot Com, with my favorite article being 19 Things Your Suburban Millionaire Neighbor Won't Tell You.
Use it up, wear it out, make it do, or do without. This is good advice from my folks.
You can't take it with you. Whatever you save, give away an equal amount. Your donations will come back to you in many ways.
Live simply; don't sweat the small stuff. And remember, this too shall pass.
***
If you're a household CEO who is successfully making ends meet on roughly $40,000 per year or less, I'd love to hear from you. Contact me at Len@LenPenzo.com and be sure to put "$40,000" in the subject line. If I publish your story, you'll get a $25 gift card!
Photo Credit: Chet Rideout