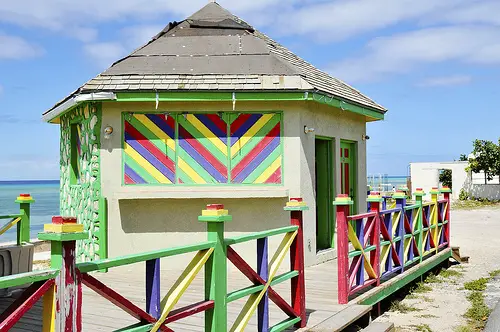 Summer is almost here and many people are gearing up for another vacation season full of fabulous food and frolicking fun in the sun with friends and family.
With that in mind, I thought it would be a kick to relive the worst vacation of my entire life. It's certainly a vacation I'll never forget.
In fact, even though it was 30 long years ago, I still remember it like it was yesterday. As a surprise, my girlfriend, B.H. — before Honeybee — had purchased one of those ridiculously-priced travel package deals to the Bahamas.
And, boy, was she ever proud of the bargain she got. And who could blame her? The package included a romantic "cruise" to our destination in Freeport, and seven days and six nights of lodging at a local "resort" that had a very exotic-sounding name like "Palm Gardens" — or something to that effect — all for the low price of $199.
That's roughly the equivalent of just $390 today.
Of course, the airfare wasn't included, and neither was our food, but we didn't care because it seemed like we got the deal of a lifetime. And being young and naive, I never bothered to consider how anyone could ever offer such a "fabulous" vacation for two at such a bargain-basement price.
In retrospect, I should have.
Our romantic "cruise" was a basically a five-hour ride on a glorified fishing boat owned by some two-bit operation trying to pass itself off as a cruise ship; a Royal Caribbean luxury liner it wasn't.
Still, my excitement level rose as we rolled into port. Then, as we were walking off the boat, the sun went behind the clouds. And the rain began to fall. Actually, it poured so hard that the drops stung as they hit my skin.
When our cab driver stopped at our "resort hotel" I thought he had made a mistake because he parked in front of a dilapidated old apartment building in a run-down part of town. Unfortunately for us, he was at the right address.
And that's when the cold reality of what we got ourselves into hit us both square in the face: The real mistake was my girlfriend's dubious decision to buy such an incredibly cheap vacation package in the first place.
Once we got out of the taxi, things went from bad to worse.
Our room was sparsely furnished with an old lumpy couch in the front room, a small table and several chairs in the small kitchen, and a very uncomfortable — and squeaky — double bed and chest of drawers in the bedroom. The place was filthy too.
Not only that, but we were at least a couple miles from the beach, which was very inconvenient to say the least.
On the second day we looked into staying at the only real resort in the vicinity that we could afford, but it was booked.
Meanwhile, the rain continued to come and go in waves. The sun never came out.
On the third day, completely dejected and with the rain still falling, we decided to cut our trip short and head home.
Looking back, I learned some really valuable lessons from that trip from hell. The biggest lesson, of course, is to always do your research before embarking on a vacation to a new destination. In particular, you should be sure to focus on these four key points:
Be weather-wise. We went to the Bahamas in late September, which just so happens to be the heart of the rainy season there. If we had known that ahead of time, we could have at least mentally prepared ourselves accordingly – if not canceled the trip outright.
Carefully vet your lodging location. If we had at least been staying at a legitimate resort in a nicer part of the Bahamas, it would have a lot easier to make lemonade out of lemons, so to speak.
Don't under-budget. Being just out of college at the time, my girlfriend and I were on a tight budget. The thing is, it was so tight that it prevented us from rectifying the unfortunate lodging situation we found ourselves in once we got there.
Be especially wary of incredible deals. Yes, it's cliche; but it's true just the same. If you see an incredible vacation package that seems too good to be true, it probably is. If you don't believe me, ask my ex-girlfriend.
Photo Credit: Nigel Morris