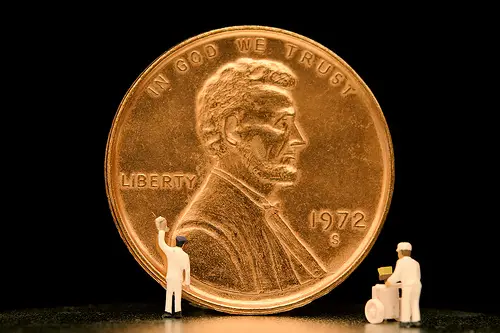 Several years ago I moved into a new office at my place of employment. When I looked in the desk, I found 162 pennies in one of the drawers. I can only assume that the previous owner used the desk as his chosen repository for all the pennies he received in change whenever he went out for lunch.
I can't really blame the guy who did that. In fact, I think pennies are an anachronism and need to be removed from circulation. Yes; the US Mint announced it is going to stop penny production in 2023 — but they will still be legal tender, and therefore handed out as change.
With that in mind, here are several reasons why the penny needs to be entirely removed from circulation:
1. Inflation has made the penny irrelevant.
In 1857, the United States Congress stopped production of the half-cent piece. In 1857, one-half cent had the purchasing power of 14 cents today. In essence, when the half-cent was finally discontinued the penny had more than 28 times the purchasing power it does today. If the Congress of 1857 was still in power today, not only would the penny be discontinued, but so would the nickel.
2. Pennies are expensive to produce.
By the end of 2020, it cost the US about 1.8 cents to make a penny. That means that the US Mint is increasing the national debt with every penny they produce.
3. You can't use them in vending machines.
Well, at least I've never seen a vending machine that accepts them.
4. They slow down transactions at retail establishments.
While not as bad as the time I got stuck in line behind a lady who paid for her groceries with only quarters, I hate it whenever I have to wait for folks who dig into their lint-filled pockets for pennies in order to avoid receiving any more of the dreaded coins in their change.
I know what you're thinking: But, Len, won't elimination of the penny result in increased consumer costs?
Uh oh. I see you've fallen for the fairy tales being spouted by Americans for Common Cents, a pro-penny group that is backed by the zinc industry (pennies are almost 98% zinc). Let's look at their two primary arguments in favor of keeping the penny:
1. Rounding prices up to the nearest nickel would result in higher prices.
Past evidence shows that this claim is utterly baseless, for if this were true one would expect inflation to have occurred in the years immediately following the abolition of the half-cent in 1857. However, in fact the opposite effect occurred; the United States actually enjoyed a sustained period of deflation the following year.
To wit, here are the rates of inflation between 1858 and 1861:
1858: -7.1% (deflation)
1859: 3.8%
1860: 0.0%
1861: 0.0%
2. Many charities are totally dependent on pennies for their donations.
This claim is so absolutely preposterous that it should be dismissed out of hand, but I'll address it anyway. Such an argument presupposes that Americans — the most charitable people on earth — would suddenly refuse to put money in the Salvation Army kettle, or stop donating to charities simply because the smallest coin in their pocket would be a nickel instead of a penny.
It actually makes more sense that charities would see an increase in their contributions because, although a nickel is worth five times as much as a penny, it does have one big thing in common with its copper cousin: absent additional cash, you simply can't buy anything with it.
The United States Congress is responsible for regulating the national currency. What do you think? Should Congress abolish the penny? If you've got a moment to spare, please share your thoughts on this, because I'd love to hear it.
In the mean time, I'm going to the grocery store to find something I can buy for $1.62 — all in pennies, of course.
Hopefully you won't be the lucky person that gets stuck behind me at the checkout counter.
Photo Credit: JD Hancock