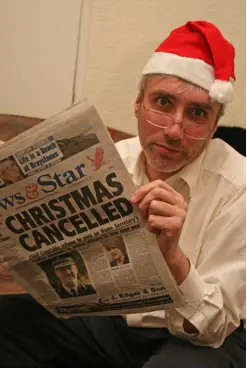 Every year, especially around the holidays, I get hit up by solicitors asking me to donate to charity. The requests come from every direction. When people aren't knocking on my door with their hat in hand, then the requests come by mail and on the television.
It's not just the professional solicitors either. Hobos often approach me in parking lots looking for a handout. Hardly a day goes by without someone asking me for money.
I'm a single professional with quite a bit more disposable income than the average American. However, I've never been able to justify giving one penny to charity.
You may consider me to be a cheapskate and accuse me of being a scrooge, but I have more than a few good reasons why I don't give to charity:
1. I already indirectly contribute to charity through my taxes. My federal, state, FICA/medicare, sales, property, registration, and other taxes are already taking away close to half of my income every year. Much of this money is spent by the government on welfare for the poor, disaster relief, parks and nature, the arts, and other forms of charity, so I'm indirectly donating heavily to almost every charitable cause now.
2. Over time, charity contributions add up. The average household donated almost $3000 to charity in 2013. Over a 40-year career that amounts to $400,000, assuming I earn a 5% return. Until my retirement savings are fully-funded, annual donations to charity could ultimately be harmful to my financial health.
3. Charity promotes dependency. When I give money to a beggar, there is little motivation for him to improve his situation.
4. The money I donate to charity may not be wisely spent. How do I know the homeless guy asking me for a handout isn't going to take the money I give him to buy booze and drugs? Even with professional charitable organizations, how much revenue is wasted on bloated overhead and salaries for their administrators?
5. I'm not the only one who doesn't donate to charity. One in four people don't give at all. Somewhat ironically, liberals actually donate the least; conservatives donate 30% more money on average.
6. Charity won't necessarily be there when I'm in need. Sorry, but I don't buy the argument that if I give my money away, someone else will be there to pick up the tab when I'm in need. I say it's better to rely on my own cash when I encounter a rainy day.
7. It makes more sense to donate my time instead. Why should I slave away at my job all day, just to give what's left of my hard-earned money to someone else to do the charity work I care about? It is a lot more efficient to volunteer my time, especially if it's a cause I am passionate about.
8. I won't be rewarded in the afterlife for making charitable donations. Besides, if my only motive for giving was getting to heaven, I'm sure God would see right through my false sincerity.
Of course, there are exceptions. If you are fortunate enough to have more money than you can possibly spend, please give it away to those who need it.
However, for the rest of us stuck with underfunded retirement and/or kids' college accounts, or wallowing in debt with huge mortgages and/or credit card balances, it just doesn't make any sense to risk our teetering finances any further.
About the Author
Ebenezer Scrooge (not his real name) is a well-paid thirty-something professional who prefers to remain anonymous. Not because he's afraid of the backlash, mind you. It's just that if you're down on your luck he doesn't want you asking him if he can spare a quarter.
Photo Credit: alancleaver_2000
(This is an updated version of an article that was originally posted on December 6, 2010)