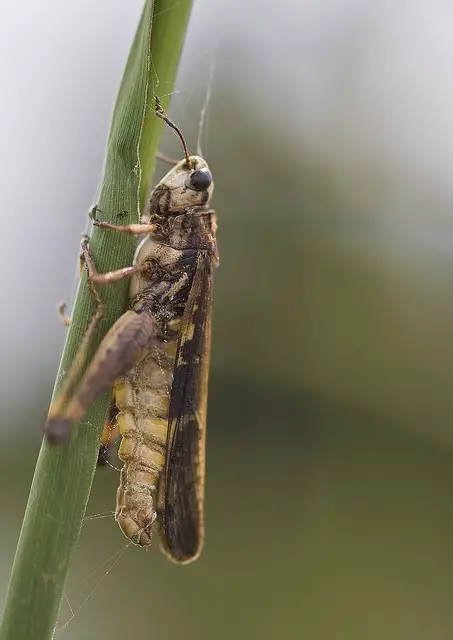 One of my favorite fables attributed to Aesop is The Ant and the Grasshopper. You know the story; the grasshopper spends all summer long partying it up like a rock star while the ant prepares for the coming winter by building a shelter and storing food.
Of course, winter eventually arrives and the industrious ant finds himself well-fed and toasty-warm while the improvident grasshopper simply ends up as, well, toast.
The fable offers a terrific lesson for kids and adults on the importance of saving and hard work.
Why I'm Constantly Saving for Winter
Now, as an engineer, I occasionally have to endure business cycles where my employer has to layoff employees. It's the nature of the industry and one that I have always taken very seriously, especially since I am the sole breadwinner for my family. Never mind that the threat of layoffs are even greater now that we're in the midst of a very significant economic slowdown.
If I were laid off tomorrow, I would be entitled to five months of severance pay, after which I'd be eligible for unemployment benefits of roughly $2000 per month before taxes — which poses a tremendous problem because our household expenses are currently, on average, more than $9000 per month.
Don't Panic — This Is Only a Drill
With that in mind, several years ago I decided to undergo a little layoff drill to try and ascertain exactly how much we'd have to cut back to make ends meet on unemployment benefits alone.
Luckily, the Honeybee and I have been using a spreadsheet to meticulously track our monthly expenses for 20 years, so we've also had an excellent handle on exactly where all our income is going.
Anyway, I asked her to propose what cuts she would make to our household budget in the event that I was laid off. Meanwhile, I independently made my proposed cuts.
The results are shown in the spreadsheet below. Now some of our expenses have changed since we originally did this — at the time, our average monthly expenses were $8100, which is slightly less than they are today in 2020 — but that doesn't change the message.
As you can see, we disagree somewhat on the scope and magnitude of the cost cutting; she knocked down our budget by almost half, while I was a bit more draconian, slicing our spending plan by two-thirds.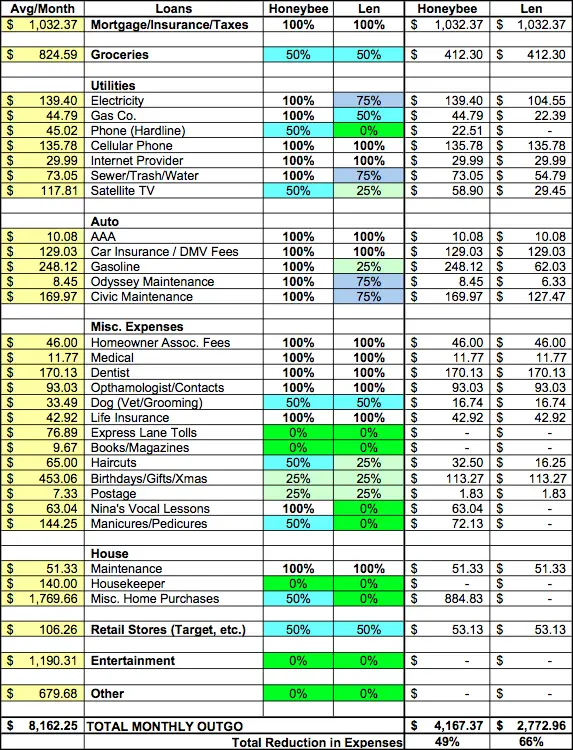 Although we disagreed with our first pass on the size of the cuts, neither of us were able or willing to pare the budget to a degree that would allow us to live on unemployment benefits alone.
Back to the Ant and the Grasshopper
On the surface, it might seem like our family will be in a very tough predicament if I end up losing my job.
Fortunately, I've never forgotten about the ant and the grasshopper. As such, even though I am very well-paid, I've always tried to live well below my means and save up for that dreaded day when I may finally lose my job — as such, we try to always keep a cash cushion of at least $25,000 on hand.
For the sake of argument, let's assume we agree to split the difference on our proposed budget cuts so that our monthly expenses top out at, say, $3500 per month. Add another $1250 per month to extend my health benefits through COBRA, and that brings our total monthly expenses to $4750. So in order to pay all the bills we would need to draw down our savings by $2750 per month, assuming unemployment benefits of $2000 per month. At that burn rate, we'd have at least a six-month cushion beyond the five months of severance pay I'd receive. That's comforting to know.
The Moral of the Story
Don't be a grasshopper and fool yourself into believing unemployment benefits will be sufficient to sustain you if you lose your job; for most households they won't.
I can't imagine the upheaval that our family would face if I was laid off and we didn't have a healthy amount of cash saved up to get us through a financial "winter."
Having a large savings cushion gives us the ability to postpone — if not outright avoid — the extremely tough decisions we'd have to make when living on unemployment benefits alone. And going through a layoff drill like this not only helps hone a plan of attack prior to facing a severe financial challenge like a layoff — it also shows how well you're prepared should such a disaster strike right now.
Photo Credit: mickeymox