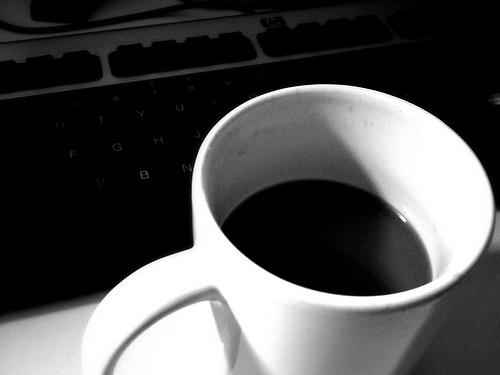 It's time to sit back, relax and enjoy a little joe …
Welcome to another rousing edition of Black Coffee, your off-beat weekly round-up of what's been going on in the world of money and personal finance.
Another glorious week comes to an end. Off we go …
"Gold is money. Everything else is credit."
— J. Paul Getty
"Gold is honest money, which is why it's disliked by dishonest men."
— Ron Paul
"It is much better to have your gold in the hand than in the heart."
— Thomas Fuller
Credits and Debits
Debit: Don't look now, but the Millennial generation is no longer taking out loans solely for cars, houses and college expenses. According to MarketWatch, they're now financing everything — from luxury bed sheets to concert tickets. Yes, bed sheets. No, I don't understand it either.
Debit: In other news, this week China admitted their version of America's Plunge Protection Team "stabilized" the Chinese stock market by purchasing $150 billion worth of various company shares. I know. It's just more proof that legitimate price discovery is dead. The real markets died during the Great Financial Crisis nearly a decade ago.
Credit: China's declaration prompted Zero Hedge to ask: "If Beijing has to hold ($150 billion) in stocks when the 'market' is stable, what will happen when things start turmoiling once again?" That's easy: they'll just buy the entire market. But then what?
Debit: On a somewhat related note, this week the European Central Bank chair, Mario Draghi, proclaimed that quantitative easing (QE) — which is a purposely-misleading euphemism for unfettered money printing — has "made the world more resilient." He has a point, I guess — in the same way that North Atlantic icebergs made the Titanic "more resilient" too.
Credit: Meanwhile, over at the Global Macro Monitor, they see a world powered not only by fake news, but also by "fake economies based on fake demand that's dependent on asset bubbles, and fake markets dependent on QE and low interest rates. The $75 trillion global-economy question is: When will Truman Burbank realize his world is fake?" It makes you wonder, doesn't it?
Credit: Thankfully, a recent opinion piece in the UK's Evening Standard highlighting the systemic fraud within the global financial system and its inherent dangers, suggests that maybe — just maybe — the world is finally beginning to wake up. Hopefully it doesn't hit the snooze button, turn over, and resume dreaming. (h/t: Ubik Kosmil)
Credit: For his part, Senator Rand Paul (R-Kentucky) says it's time to audit the Fed. For the first time since the Fed was created in 1913, Paul's bill would shine a light on Fed agreements with foreign governments and central banks, its discount window and open market operations, Fed members' bank reserves, and Fed committee directives.
Credit: If I didn't know any better, I'd say that it's almost as if Senator Paul no longer trusts the non-federal Federal Reserve Bank — another purposely-misleading euphemism — to put its private banking-cartel interests ahead of what's best for the United States' people.
Credit: Speaking of waning trust, this week the Bundesbank announced it finished repatriating 674 tons of German gold stored in New York and Paris, three years ahead of its seven-year schedule. Then again, considering that it's not a serious logistical challenge to transfer gold in such large quantities, the task shouldn't have taken even seven months. Er, unless it was missing and difficult to replace.
Credit: With that in mind, perhaps it's no coincidence that US Treasury Secretary Steven Mnuchin visited Fort Knox this week; supposedly to make sure America's gold was still there. He's the first Treasury Secretary to visit the Fort Knox gold hoard in 70 years — which is odd because the US Treasury Secretary is the primary custodian of our national treasure.
Credit: Of course, my tin foil hat is probably on too tight again. To be fair, however, I'm not the only person wondering why, after seven decades of indifference, a US Treasury Secretary would decide to announce that he was going to personally check on the Fort Knox gold hoard now.
Debit: Others are calling it a PR stunt — and an amateur one at that, considering that the Fort Knox visit was announced the morning it took place, and there was no evidence that any media were allowed to participate.
Credit: The good news is, after the tour, Secretary Mnuchin tweeted: "Glad gold is safe!" In other words, put the scales and drills back into storage, place the gold bar lists back in their file cabinets, and call off the assayers. Obviously, any doubts about the sanctity of America's gold have been thoroughly squelched. It's settled science. (Um, as my anthropomorphic global warming climate change friends like to assert.)
Debit: Then again, the Secretary didn't mention how much gold he was talking about, did he? After all, there's no way he could have verified all 4582 tons of the yellow metal that the US claims to hold there during his brief field trip.
Credit: Frankly, I'd never declare that much gold to be "safe" after merely peeking into a single compartment and eyeballing the contents — or holding a single bar in my hand. But, hey … that's just me.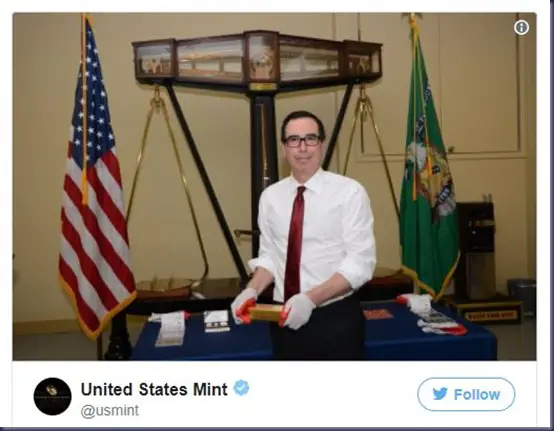 Credit: Finally … There's a reason why I store nearly 200 gallons of potable water in my home: Simply observe the local stores in Texas shortly before the recent arrival of Hurricane Harvey; there were many reports of unprepared shoppers fighting over dwindling bottled-water supplies. Sad. It's a shame that most folks still look at the fable of the Ant and the Grasshopper as just that — a fable. Don't be a grasshopper.
By the Numbers
Gold is extremely rare, which is why it's so valuable. In fact, you have a better chance of finding a 5-carat diamond in the ground than a one-ounce gold nugget. Here are a few more golden numbers to consider:
101,433,250 Troy ounces of gold mined globally in 2015.
5,465,500,000 Approximate troy ounces of gold mined during all of human history.
68 The size of a cube, in feet per side, that could be made from all of the gold ever mined. (In other words, it would comfortably fit inside a baseball diamond.)
261,500,000 Troy ounces of gold the US claims to have stored at Fort Knox, West Point and other vaults across the country. That's less than an ounce for every American.
$61,500 Approximate debt share for every American based on the $20 trillion National Debt.
$1000 Approximate per capita value of America's gold stockpile based on the yellow metal's current "market" value.
$10,000 The implied current approximate non-inflationary price of the yellow metal under a gold standard with 40% backing.
Sources: The Motley Fool; Daily Reckoning
The Question of the Week
 Loading ...
Last Week's Poll Results
Do you prefer spearmint or peppermint?
Spearmint (37%)
Peppermint (32%)
I'm not sure. (31%)
More than 1100 people responded to last week's question and one thing is clear: There are more than a few people out there who say they aren't sure of the difference between spearmint and peppermint — almost one in three, in fact. Of those who do have a preference, spearmint got the nod, but just barely. Put me in the spearmint camp too; I prefer its milder flavor. That's not to say I don't enjoy the occasional peppermint stick or Christmas candy cane too.
Other Useless News
Here are the top five articles viewed by my 15,891 RSS feed, weekly email subscribers, and other followers over the past 30 days (excluding Black Coffee posts):
My 9th Annual Cost Survey of 10 Popular Brown Bag Sandwiches
Hey, while you're here, please don't forget to:
1. Click on that Like button in the sidebar to your right and become a fan of Len Penzo dot Com on Facebook!
2. Make sure you follow me on Twitter!
3. Subscribe via email too!
And last, but not least …
4. Consider becoming a Len Penzo dot Com Insider! Thank you.
Letters, I Get Letters
Every week I feature the most interesting question or comment — assuming I get one, that is. And folks who are lucky enough to have the only question in the mailbag get their letter highlighted here whether it's interesting or not! You can reach out to me at: Len@LenPenzo.com
After reading a post from the bi-weekly "Grandfather Says" series by R.D. Blakeslee on the best thing about getting old, Ken in NZ added this:
"The best thing about being 60, 70, 80, or 90 is that you've made it that far."
Pro tip: Regular naps actually prevent old age — especially if you take them while driving.
I'm Len Penzo and I approved this message.
Photo Credit: brendan-c