My name is Tracie and I'm 30-years-old. I'm an associate chemist in coastal North Carolina. I have an eight-year-old son and I'm engaged to his dad.
I wasn't always financially responsible — I was saddled with $10,000 in consumer debt. Twice.
Then I found Dave Ramsey.
I currently have no consumer debt. I have no student loans and never have; my parents paid for my college.
My Household Expenses
I grossed $39,796 last year. After deductions for retirement savings, insurance, and taxes, my take home pay is a little more than $2000 per month.
While my fiance is temporarily unemployed, he's being a stay-at-home dad and handling the laundry, dishes, yard work and house-cleaning. Right now he's saving us $120 per week in daycare costs while our son is on summer vacation.
I live in a 1300 square-foot home on acre. Our house payment, including taxes and insurance, is $1013 per month. My water bill, which includes sewer and trash pick-up, is $66 per month. Electricity averages $130 a month. Digital cable and Internet service costs $90 each month. I have two smartphones that only cost us $80 per month through Verizon; the phones are a good deal because I'm grandfathered on an old contract with Alltel.
We spend about $275 per month on food. I realize that doesn't seem like much, but I get off work at 3:30 p.m. and so I'm able to make the majority of our meals from scratch. We eat a lot of rice and pasta, but we also have meat for every dinner. I've made friends with the butcher at the local grocery store, so I always know about the sales in advance.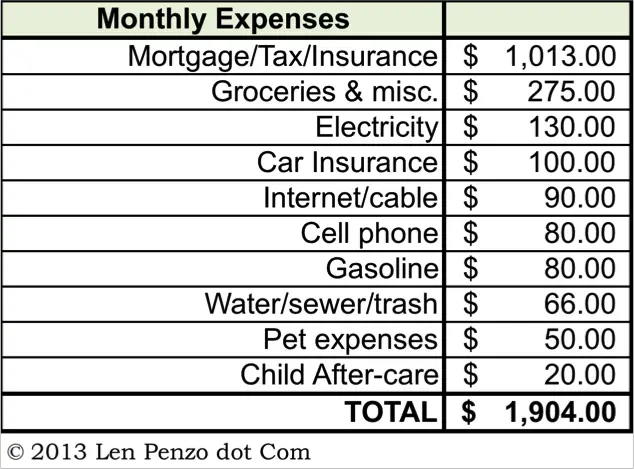 My fiance and I have two cars that are paid in full. Last year I bought a 2009 Hyundai Santa Fe, which doesn't get driven very much; in the interest of gas conservation I drive my fiance's 2001 Ford Focus. Between the two cars, we typically spend only $80 per month on gasoline, as the farthest I drive on average is 10 miles round trip and that is to my parents house. I live three miles from work and pass a grocery store on the way home.
For entertainment, we watch television and pay-per-view fights, go out to dinner, play the Xbox, go to the library and drink at home with friends. In the summertime, we often take our son to the beach and go to the aquarium, hike in the national forests, or swim in Grandma's pool. Once a month we have a family movie night. We also have family game nights, and family dessert nights where we eat cake for dinner and nothing else. (I like to bake.)
I think it helps that we live near the beach. It's a free source of entertainment and whenever our son gets bored we tell him to "go play outside."
Savings and Other Automatic Paycheck Deductions
The beauty of automatic deductions is that I don't actually feel like I'm "paying" for them, seeing as how they are paid for before I even get my paycheck.
I put aside 6% of my income for my 401k and my company contributes an additional 4%. Over the past seven years, I've been able to accumulate $33,000.
I also have life insurance on my son and a high-deductible HSA plan for health insurance for my son and I through my employer. The insurance is $40 dollars per pay period and I contribute $50 per pay period to the HSA; my company contributes an additional $1000 a year to it. My fiance is uninsured.
I claim zero deductions for withholding purposes — so I usually get a $4000 rebate at tax time.
We Still Struggle
We aren't diligent — but we do try to plan our meals. I manage our finances using Mint.com, but I still feel as if I'm flying by the seat of my pants.
There isn't always a lot of money left over at the end of the month. I don't feel deprived though because we don't really do all that much. My son isn't into sports, but he's in the Cub Scouts — and I'm the Cubmaster! We could cut a lot of expenses (like cable), but I don't want to because I like watching the Real Housewives on TV.
I try to maintain an emergency fund. In theory I should be able to save up to $200 every month, but it seems as if something always comes up. I only have $50 in there now because I just spent $700 on new brakes for the car.
Closing Tips and Thoughts
Be happy! I think it's important to make do with what you have and not feel sorry for yourself.
Sure I could pout that my girls' nights include cheap wine and free Lifetime movies on demand, but in the end it's just as fun. As cheesy as it sounds, as long as all my needs are being met there's a silver lining to every dark cloud. I make a conscious effort to be happy with what I have. In today's economic climate I'm doing better than a lot of people, so I feel guilty complaining that I have to buy Two Buck Chuck instead of fancy wine.
When I was deep in debt, we were a two income family. I'm thankful that all of the debt was paid off before we became a one-income family two years ago.
Although we're living paycheck-to-paycheck right now, I know we could cut the fat from our household budget if we had to — but I would definitely miss watching the Real Housewives!!!
***
If you're a household CEO who is successfully making ends meet on roughly $40,000 per year or less, I'd love to hear from you. Contact me at Len@LenPenzo.com and be sure to put "$40,000" in the subject line. If I publish your story, you'll get a $25 gift card!
Photo Credit: Tracie