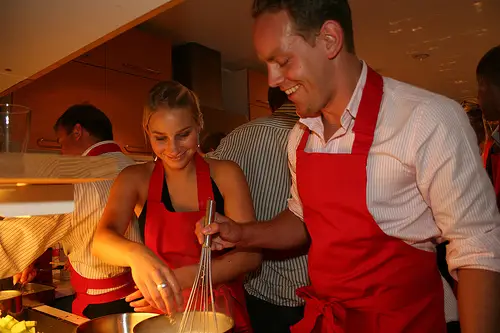 I was on an extremely tight budget when I was in college, so I had cheap cooking down to a science.
Back then, dinner was number four on my list of priorities; right after tuition, beer, and rent — in that order.
Many people on limited incomes pride themselves on their ability to create some truly delicious and cheap dinner ideas.
My grandmother, who was born in Italy, was always on a tight budget. One of my favorite dishes that Grandma used to serve was nothing more than white rice mixed with her leftover homemade spaghetti sauce. Some people call that dish "red rice," but Grandma just called it, well, "rice with sauce." Clever, huh?
I recently asked a few friends if they would be willing to share any cheap dishes that they use today or that their family served to them back when they were kids. Some were apparently more delicious than others. Here's a summary of the results:
Coconut Cream Rice
Craig from Money Help for Christians used to live with his family in Papua New Guinea where they used to enjoy coconut cream rice.
My wife would head down to the market and buy a bundle of greens, four or five sweet potatoes, and a coconut. Including the cost of rice, we could feed our family of five for about two dollars. The best part is that it tastes great, and all the food at the market was fresh and organic!
Swamp Gravy
My good buddy Dr. Dean from The Millionaire Nurse Blog shared this great story that his father told him long ago regarding a cheap meal that his grandfather, a sharecropper, used to make:
When the men had finished their field work for the week, they rode the mules to a local creek. They fished and sipped homemade whiskey all day. They'd fry their catch on an open fire by dipping the fish in fresh milk and then cornmeal. After cooking the fish, they'd save a small amount of lard from the pan and the left-over cornmeal that had settled to the bottom. Then they'd cut up a few old onions, peppers, tomatoes and potatoes, or whatever else they had scrounged up from his mom's garden, cook them until they were done and then serve that beside the fish. When everyone had their fill, they spread out their blankets and slept by the fire — after telling a few lies I'm sure. Nothing was store-bought about that meal, except the frying pan, purchased from the traveling salesmen.
Eggplant Parmesan
I'm not a big fan of eggplant. Not only is the name unappetizing, but I refuse to eat purple vegetables; purple is a color that belongs on fruit.
One person who isn't intimidated by them is Amanda from Frugal Confessions:
Eggplants are pretty cheap, definitely cheaper than meat. For eggplant Parmesan all you need is the eggplant, some tomato sauce, cheese and seasonings.
Sloppy Joes
I love sloppy joes. Or as my mother-in-law calls them: sloppy yos. (Just kidding, Mom.) For those who get tired of the same old Hamburger Helper all the time, it doesn't get much better than a little seasoned ground beef in tomato sauce on a bun. If you really want to splurge, top it with a slice of cheddar or American cheese; we do at my house.
If you want to save even more money, Jesse from PF Firewall passes along this little tip:
Substitute oatmeal flakes for beef. They are a bit more sloppy, but very inexpensive – three to four dollars for the whole meal including buns.
Ramen
I used to buy ramen at my local grocer for nine cents a package. Nine cents! Even today, you can take a package of ramen noodles and dress it up with an egg and some fresh vegetables for less than a buck a meal.
The great thing about ramen is that you can add just about anything and it will taste great. For those who are concerned about the high sodium content, Maximizing Money wisely suggests using only a portion of the flavor packet.
Quesadillas
When we were kids, my sister used to make "pizza quesadillas" that were absolutely delicious — and easy to make. She simply folded a flour tortilla that was filled with a little spaghetti sauce mozzarella cheese, and then warmed it up on a flat skillet or in the microwave.
Jeff from the Sustainable Life Blog has his own inexpensive recipe:
Cheese, tortillas, canned black beans and corn, and a green pepper will get you a lot of quesadillas, with room for leftovers.
Tuna Bread Salad
Jeff also passed along an inexpensive dish he enjoys called "Tuna Bread Salad." Really? Has anybody else heard of such a thing? Obviously, the dish was named by the same folks who came up with the term "eggplant."

Stir Fry
Elle from Couple Money remarked that stir fry meals were a quick and inexpensive college staple for her:
Stir-frys are incredibly cheap and versatile. I add garlic, olive oil, and oregano for a little Italian flair.
Meanwhile, Forest Parks from Frugal Zeitgeist suggested his own budget-friendly stir fry:
Uncle Ben's two-minute rice mixed with cabbage, onions, soy sauce and a little sugar, fried in the wok for a few minutes.
Macaroni and Cheese
Kraft debuted its boxed macaroni and cheese dinner back in 1937 during the Great Depression. Today I make my own mac and cheese using a simple stove top recipe, but in my college days I used to fortify those inexpensive boxed macaroni and cheese dinners with cut-up hot dogs.
And if hot dogs aren't your thing, Crystal, from Budgeting In the Fun Stuff, told me that she often stretches that meal by adding a can of tuna and some green peas.
Pasta
Besides being extremely inexpensive, the great thing about pasta is it can be dressed up in hundreds of different ways. Craig from Free from Broke suggested using butter, a little olive oil, and a pinch of salt.
Barbara Friedberg recommends mixing pasta with an inexpensive sauce made from olive oil, garlic salt, canned spinach, cream of mushroom soup and a bit of water — then top it with lots of Parmesan cheese.
To save money, Khaleef at KNS Financial prefers to mix his plain pasta with tuna.
Finally, The Saved Quarter shared a family favorite at their house:
Pasta with three-bean salad, a little olive oil, and tuna or sardines. Capers are an optional, but yummy, addition. It's inexpensive, but super tasty and easily feeds four!
Beans and Rice
Beans and rice are a tried and true low-cost staple and, like pasta, there are many variations. Heather Sokol, who is the founder of the frugal blog Inexpensively shares her favorite way to enjoy it:
We add a leftover grilled chicken to rice & black beans. It's an easy, inexpensive meal!
Spaghetti in the Oven
A colleague where I work shared a recipe for something he used to eat as a kid. His mom would cook up some spaghetti, then place the noodles in a casserole dish and mix them with a three cans of cream of mushroom soup. She'd then toss the mess into the oven for a half-hour or so.
My colleague said he absolutely hated the stuff.
I don't blame him. Then again, it could have been much worse — at least the recipe didn't include an eggplant.
Photo Credit: K.I.T.