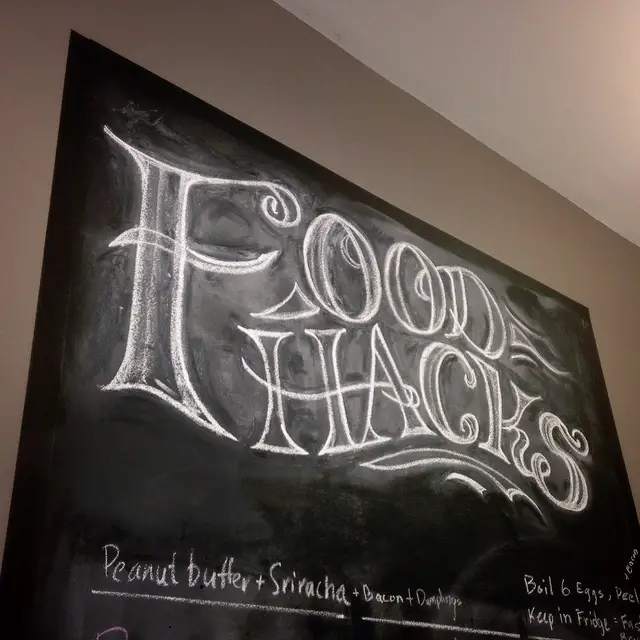 Feeding yourself hot, healthy, delicious meals that you've made with your own two hands isn't easy — which is why many people strictly eat food from a box, can, or bag. But that lifestyle can lead to all kinds of issues, like obesity and financial deflation; it's not cheap to eat out everyday, after all. The alternative, is learning how to cook.
Alas, learning your way around the kitchen takes dedication, basic know-how, and a lot of trial and error — and that makes many would-be cooks nervous enough to avoid the prospect altogether. On the flip side, sometimes all you need is a gentle nudge in the right direction to gain the confidence to give it a go.
If you've never boiled an egg, broiled a chicken breast, or chopped a vegetable, it's time to man up and learn the rudiments of domestic survival with some basic kitchen hacks.
Don't worry — I've got the fire department on hold.
Make Recipes With Few Ingredients
The easiest way to learn how to cook is by using simple recipes with minimal ingredients. For instance, soup generally doesn't require a ton of ingredients and it's a one-pot dish, so even novice cooks can handle the job. You can make full meals too, so long as you keep them manageable for your skill level.
You can get away with a five- or six-ingredient meal most of the time. I stick with protein and vegetables for dinner, and the only other ingredients I use include staples such as extra virgin olive oil, lemon juice, salt, pepper, butter, and dried herbs.
Start Out With Semi-Homemade Recipes
When I first started cooking, I took it slow by doctoring up premade items. Food Network personality Sandra Lee has built an entire brand based on the concept of semi-homemade cooking, and her shows are an excellent resource to try this method. Food and entertaining expert Clair Jones recommends jazzing up a frozen pizza with your own toppings, or making a cake using a boxed mix as the base.
Consult Websites and Apps for Assistance
You can take a virtual cooking class in your own home by using websites and apps to help you along the way. One of my personal favorites is SideChef, which offers detailed instructions to help you along the way, but there are plenty of other options out there.
"If you get nervous following recipes, try a website like iFood.tv that has hundreds of dishes with instructional videos to guide you through the recipe step-by-step," Jones says. "And you can rewind the video as many times as you like until you get the hang of it!"
Buy a Slow Cooker
Any cook will tell you that one of their most important appliances is the slow cooker or Crock Pot — especially if you have a busy schedule.Louise Hendon, author of 30 Paleo Meals in Under 30 Minutes and cofounder of Paleo Flourish Magazine, recommends investing in one.
"The recipes for these are often very simple," she says. "It's mostly just throw all the ingredients into the pot, set to a temperature, leave for several hours (or overnight), then eat."
I like making soups in my slow cooker, but I've also made pot roasts and pulled pork — which probably sound super advanced but become crazy simple in a slow cooker. It's a great way to impress someone, for sure.
Ask a Friend for Free Demonstrations
If you lived near me, I would totally come to your home and teach you a few of my signature cooking tips. But since we're not neighbors, perhaps you can ask one of your kitchen-friendly friends for a live tutorial instead; people who know how to cook generally like to cook, so it's really no burden on them. Plus, the teacher gets a free meal out of the deal.
Watch Cooking Shows
I observed and helped my mom and grandmom cook when I was growing up. That gave me a basis for cooking, but it certainly didn't provide all the skills I needed. So when I got older and had to fend for myself on a regular basis, I started watching cooking shows. They're not only entertaining, but you'll learn lots of hacks, like how long to boil an egg, how to know when a chicken breast is cooked all the way through, how to make al dente pasta, and a million other tips.
Pick Up a Few Beginner Cook Books
Hard-copy cookbooks may seem primitive, but they're not obsolete. They can provide easy recipes with simple instructions that help you through the entire process. I also like real cookbooks because I can keep them open to the same page while I'm making the whole recipe whereas when I'm using my computer, phone or tablet, I often have to turn the device back on with messy hands if they've gone into sleep mode.
Schedule Meals
A lot of people don't like to cook because they don't know what to make. I'm sure you've been there before yourself. You come home from work, open the fridge, and just stare. To remedy that issue, I make a meal calendar that features what I'd like to eat all week along with the recipes. I use this calendar to shop for all the ingredients I need as well so everything is on hand when it's time to cook.
Get a Meal-Planning Service
If you have trouble coming up with the meals on your calendar, you can find help for that, too. "Use services like Menu Planner; Pepperplate; or The Fresh 20, which uses just 20 simple food items with recipes that use overlapping ingredients for a variety of different meals throughout the week," says consumer and money-saving expert Andrea Woroch.
Spend One Day Preparing All Your Meals For the Week
Woroch also suggests spending one day a week preparing most of your meals."Find a day you have some extra time to prepare food for the week," she says. For instance, chop all your vegetables and clean and make quick meals that your family can pop in the microwave before and after work or school.
On Sundays, after grocery shopping, I prepare, cook, and portion most of my lunches and dinners so they're ready to heat and eat when I'm hungry.
Stock the Freezer With Basics
From frozen vegetables to frozen meats, stocking your freezer with food basics ensures you always have ingredients on hand to cook with. "Throw frozen vegetables in a stir-fry or toss in an omelet for a quick meal," Woroch suggests.
Have Meal Kits Delivered to Your Door
Delivery meal kits, like those from Blue Apron aren't cheap, but they're a good way to get started in the kitchen if you have no idea where to begin. The kits come with all the ingredients you'll need for the included recipe, plus detailed instructions.
Learn How to Repurpose Leftovers
Once you have a few cooking skills under your belt, you can turn leftovers into a whole different meal. "Repurposing leftovers to make the meal new again is a great way to avoid food waste, beat cooking a new meal, and save money at the same time," Woroch suggests. "Check out LoveYourLeftovers app for ways to remake yesterday's meal."
Take an Introductory Cooking Class
Of course, if you're not into the DIY way of learning how to cook, you can always sign up for professional classes. They're going to cost you, but you'll get hands-on experience from expert instructors who will teach you a host of new skills that that you can take home and put into action right away. Look online in your area — Craigslist and your local community boards are good resources — for classes near you.
Photo Credit: kurafire