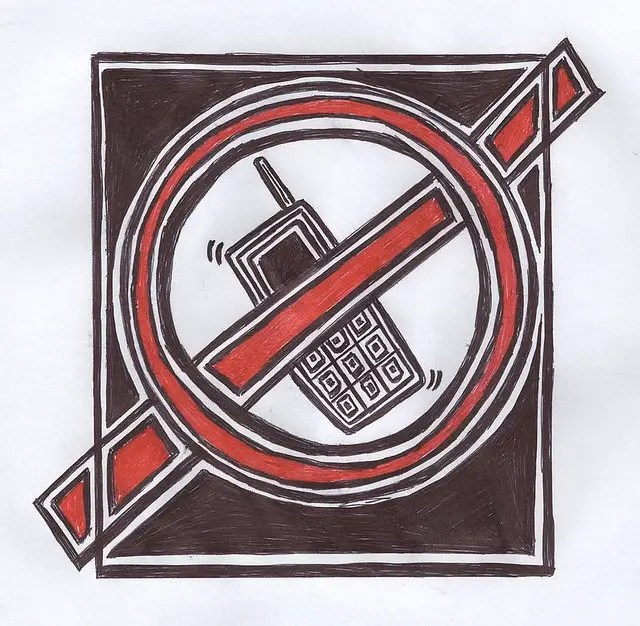 We held out for as long as we could. We really did.
Despite an intense and relentless lobbying effort from my son, the Honeybee and I stayed strong and denied his repeated requests for a cell phone.
And, boy, were there a lot of requests.
I can't remember the exact day he first requested his own cell phone, but I am quite certain the first letters he learned in school weren't A-B-C. They were A-T-(T).
When Matthew turned 12, we decided it was finally time to grant his wish. The only condition was that he had to pay us $25 per month to maintain his account. Knowing that he could easily earn $40 per month by simply mowing the lawn and doing chores around the house, Matthew readily agreed — and so we got him his phone.
Three months and two missed payments later, Matthew's coveted phone was "repossessed" by the First National Bank of Dad for failure to fulfill his end of our contract. I know.
Fast forward about a year later.
When my son turned 13, we decided to give him another chance — even though he still has trouble managing his money. And since it was time for the Honeybee and me to replace our old cell phones anyway, we decided to "upgrade" our existing plan with T Mobile and get some new phones for us in the process.
Matthew was ecstatic; he loved getting his phone back. We were pleased too. In addition to getting new phones, it was actually nice being able to phone our son again when he was out playing in the nearby hills and it was time for him to come home for dinner.
Fast forward another month later. The Honeybee pulls our phone bill out of the mailbox and sees a T Mobile bill. The trouble is, it wasn't in the usual letter-sized envelope; for some odd reason, it came in a 9-inch by 12-inch jacket instead.
Of course, after opening the envelope, she immediately knew why: Inside was a phone bill that was so large, T Mobile decided to save postage charges by condensing the original 141-page statement into photocopies placed onto 42 unfolded sheets of 8.5-inch by 11-inch paper. Both sides.
And buried somewhere within all those pages were the ugly details:
Monthly recurring charges: $136.99
Taxes & Other charges: $17.61
Usage charges: $900.60
Text messages sent: 2,276 (2,052 of them by Matthew, God love him.)
Text messages received: 2,131
For those of you who aren't counting at home, the grand total came to $1,055. And twenty cents.
Now, I know what you're thinking: YGTBKM. Unfortunately, I'm not.
Here's the top half of the front page of the 141-page bill: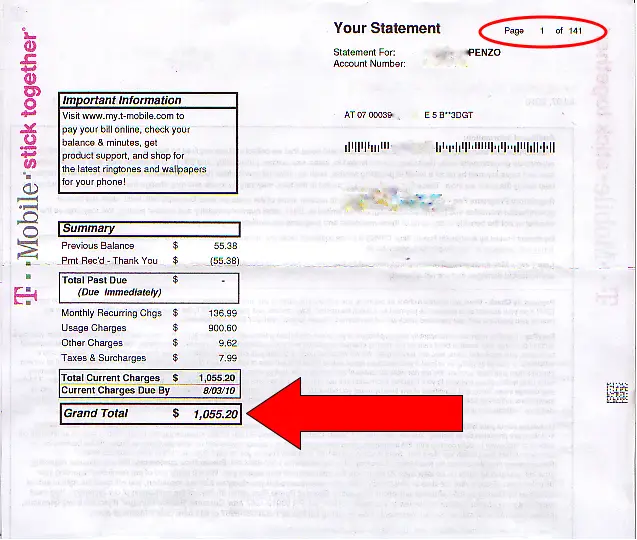 But surely there had to be a good explanation, right?
Well, before I go any further, let me say that T Mobile's customer service department was absolutely phenomenal. They did a great job talking the Honeybee down from a narrow ledge outside our second floor bedroom, convincing her that jumping from there would result in little more than a broken ankle anyway — and then quickly assuring her that all of the text charges would be removed from our bill.
It turns out that when we signed up for our new plan T Mobile had failed to note that our account had unlimited texting. As a result, they had mistakenly billed us for all 4,407 messages.
That's right. T Mobile was FUBAR.
PTL!
I'll close this story with a few final comments and observations:
1) The billing period was 30 days; that means my son averaged 68.4 text messages per day. I'll be honest: I don't think I've ever sent more than six text messages in a single day. And more often than not, they're typically the same three little letters which, coincidentally, I'm going to type again here, if only because I find them appropriate: WTF?
2) On the first day Matthew got his phone, he sent an average of one text message every two minutes — for six consecutive hours! OMG.
3) I wish I knew what my son was conveying in all of those 2,052 texts. Well … aside from the frequent P911 warnings and occasional predictable admonitions to KPC (keep parents clueless). On second thought: no, I don't.
The Moral of the Story
If and when you finally do decide to give your child his own phone, short of blocking all text messages, make sure that you get a plan with unlimited texting. Consider yourself warned.
CWYL.
Photo Credit: Mike "Dakinewavamon" Kline
(This is a repost of an article that was originally published on July 21, 2010.)