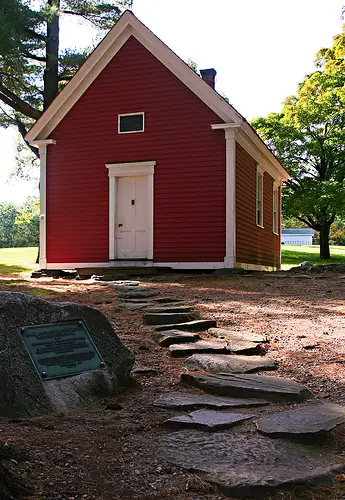 Most parents end up considering private education because they only want the best for their child. But today I'm going to show you why, from a purely financial perspective, private schools are not worth the price of admission.
Well, that is unless you're so wealthy that you can afford to burn $100 bills.
A Little Perspective
Let's start with the basics: Annual tuition at K-8 private schools currently runs about $8,000.
That means over a nine-year period parents will end up spending $72,000 per child — assuming tuition never increases.
But let's keep things in perspective here — private K-8 schools aren't teaching your 10-year-old even the most basic engineering skills required to build, say, a communications satellite.
Furthermore, after completing a nine-year private school curriculum, your child will still be unable to excise a brain tumor, argue a case before the Supreme Court, or have the business acumen to run a Fortune 500 company. Why? Because, with very few exceptions, K-8 private schools are still teaching the same basic stuff that the public schools do: reading, writing and arithmetic.
Yes, I realize most K-8 private schools have benefits like low teacher-student ratios and fancy computers in beautiful buildings with all the amenities — but they're still just teaching the basics.
Who cares if Junior ends up reading in kindergarten instead of first grade, or learning algebra in fifth grade instead of seventh, like his public school peers? That's irrelevant in the grand scheme of life. The learning process is supposed to be a marathon — not a sprint.
I'm sure that many of you will argue that private schools provide intangible benefits that a public school can't. Fair enough.
But it's hard to argue this fact: private schools cost a lot of money. And to prove just how expensive they really are, I'm going to do what most moms and dads fail to do before they send their kid to private school: estimate the opportunity cost of investing the money instead.
Why Private Schools Cost More than You Think
Let's assume that instead of paying $8000 in tuition each year, we invest that cash into a fund that ekes out a 5% annual return. Using my trusty spreadsheet, it would look something like this: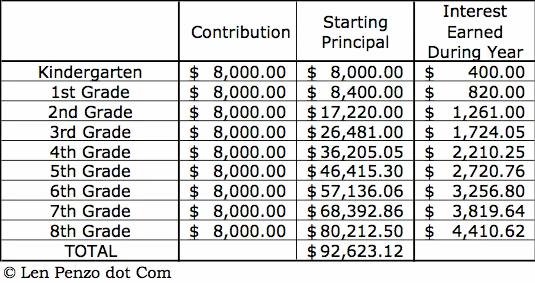 Now let's assume that, for your child's final four years of school, you decide to make no additional contributions and simply let the money you've saved over the previous nine years accrue interest.
Assuming we earn the same modest five percent rate of return, you would have $112,583. That's a pretty decent start on a college fund, don't you think?
If we continued to let the money ride for another two years while our child went to a junior college, we'd have $124,123, as you can see here: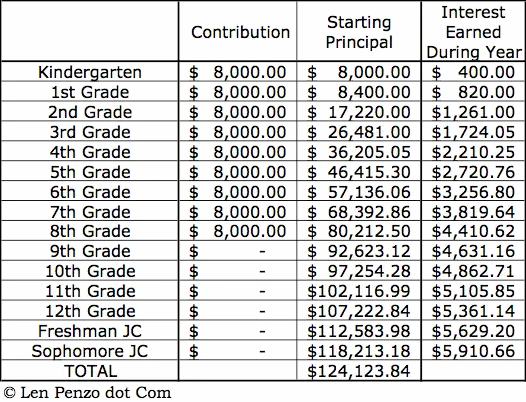 But what if we didn't use that money to pay for college?
Thinking outside the box, what if we went against conventional wisdom, and treated that $124,123 as a sacrosanct nest egg for our kids instead — with the condition that they let the money grow, untouched, until they reached the ripe old age of 65?
Well, assuming an annual 5% return, our child would end up with $1,115,253 — thanks to the magic of compound growth, of course. And that's if he or she never contributed another penny over their lifetime!
Even better, if our child had the financial discipline to contribute an additional $100 per week over those 45 years, that nest egg would be worth an astounding $1,953,679.
Think about that.
Now ask yourself this: How much extra cash do you think your child will earn over his lifetime because he or she went to a private K-8 school instead of a public one? For most people, the answer is not even close to a million dollars, let alone two.
The Bottom Line
For most kids, success in grade school is largely a function of their willingness to learn; kids with a thirst for knowledge will always excel, regardless of their environment. And parents can foster that thirst by nurturing their child's innate curiosity about the world around them — and keeping them away from the television.
So save your money. You'd be doing your kids a bigger favor by using that K-8 private school tuition to save for college or, better yet, help build them a healthy nest egg that they could tap in their retirement years.
And if you insist that lower student-teacher ratios provided by private schools are essential to Junior's learning, you'd still be much better served financially by sending him to a public school and getting a tutor.
That is, unless you like getting ripped off — or enjoy burning $100 bills.
Photo Credit: Liz West